Stefan Nellshen (pictured), CEO of the Bayer-Pensionskasse, tells Carlo Svaluto Moreolo about the fund's ALM approach
Bayer, one of the largest and oldest pharmaceutical companies in the world, also happens to be the sponsor of one of the oldest corporate pension funds in Germany, and therefore probably the world. The Bayer-Pensionskasse was founded in 1897, just over three decades after the company opened for business as a dyestuffs company. At the time, Bayer's scientists were working on what would become the company's trademark product, aspirin. The drug is widely used to this day to treat a huge variety of diseases, including COVID-19.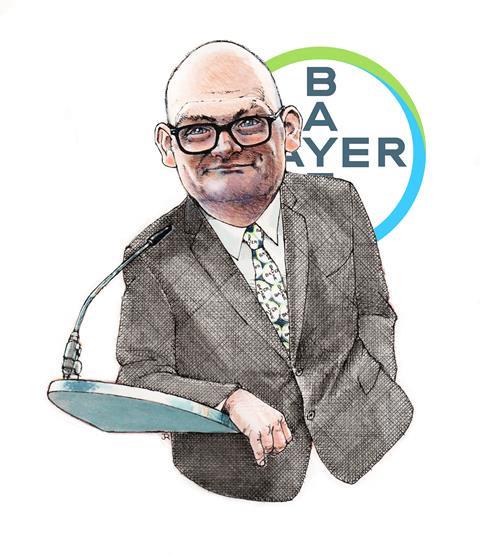 The Bayer-Pensionskasse, which had about €9bn of assets, in terms of book value, as of the end of 2020, is the largest among the pension plans sponsored by Bayer and one of the largest occupational pension funds in Germany. But Bayer, owing to its multinational presence, sponsors several other plans around the world. In total, the assets of all Bayer-related pension schemes amounted to €25bn, according to the relevant local actuarial valuation principles, at the end of last year.
The person who is responsible for the whole of the Bayer group's pension plan assets and liabilities is Stefan Nellshen. He is, at the same time, CEO of the Bayer-Pensionskasse and the other German Bayer-related pensions institutions, and a prominent figure in the German and European pension landscape.
Nellshen received his PhD in mathematics in 1994, four years before joining Bayer's finance department. He quickly rose through the ranks, becoming CIO of the Bayer-Pensionskasse in 2003. Today, he represents German pension funds on EIOPA's Occupational Pensions Stakeholders Group (OPSG), and advises the German occupational pensions' associations, aba, and PensionsEurope.
As a representative of German pension funds on EIOPA's OPSG, Nellshen has long argued against the implementation of harmonised quantitative capital requirements based on Solvency II-type methodologies for pension funds at European level. He was a vocal opponent of the proposal to extend Solvency II-type measures, such as EIOPA's holistic balance sheet (HBS) proposal, which was originally discussed as part of the most recent update to the IORP directive.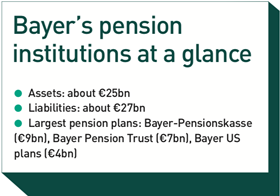 Perhaps thanks to his academic background, Nellshen has developed an extremely rigorous methodology for running Bayer's complex pension machine. He describes his approach with the elegance of a mathematician, starting from a straightforward premise. "Our investment philosophy is very simple. Asset-liability management is the basis of all we do. We are strict ALM investors, and deeply driven by that principle," he says.
"The first step is to determine what the efficient portfolio is for each given level of risk, while taking into account the respective legal framework which we have to adhere to. The latter sometimes regulates the maximum exposure we can take in certain asset classes, such as equity and real estate. German Pensionskassen such as Bayer-Pensionskasse cannot invest more than 35% of their portfolios in equities and 25% in real estate, for example.
"We then take each efficient portfolio and simulate how the assets and liabilities would behave in random scenarios. We do that by running a stochastic simulation, simulating several thousand random scenarios with regard to capital markets and biometric changes usually for up to 18 years, or sometimes even further, into the future", says Nellshen.
Thanks to advances in computing power, the simulations can be run on a personal computer in a few minutes. But the process generates over 50,000 possible outcomes in terms of simulated balance sheets and P&L results, says the CEO.
"That is a very large number, yet we can count in how many and in which of those scenarios we would reach our funding targets. In any case, we are left with a number of decisions to make, primarily what our funding targets should be. Having made those decisions, we can then select the portfolio that gives us the optimal probability of reaching our targets."
Nellshen's goal is for the methodology to be as objective as possible, making it independent from personal views. But the quality of any financial model depends, in no small part, on the quality of the assumptions that are fed into it. For that reason, Nellshen and his team run a yearly poll among its asset managers to derive consensus estimates on long-term average returns. The estimates are used for the ALM models of all pension funds sponsored by Bayer.
"Objectivity is a cornerstone of our philosophy. Each individual may be entitled to their own opinions, but no one really knows where equities or rates will be in a year's time. We want to make the methodology as less dependent as possible on personal convictions," Nellshen says.
"We also need assumptions regarding the volatility of asset classes and the correlation levels between them. We get those looking at 10-year rolling historical data."
Nellshen says that deriving consensus estimates from polls of global investment managers has not proved particularly difficult, at least in recent years. In other words, estimates rarely change significantly from year to year.
"Our investment philosophy is very simple. Asset-liability management is the basis of all we do. We are strict ALM investors, and deeply driven by that principle"
"We have not observed big changes over the past few years. Diverging forecasts between different investment managers are sometimes due to an investment firm's specialities. For instance, an equity-focused house may sometimes be a bit more pessimistic about fixed-income yields. If we saw views that were obviously too self-interested or extremely far away from the consensus, we would exclude them. In general, however, asset managers have become more pessimistic about long-term returns over recent years. That is to do with the low-yield environment", he says.
The implementation of the Bayer pension fund's portfolios follows the same objectivity principles. Therefore, it is no surprise to learn that the Bayer Pensionskasse invests in liquid equity markets with a strictly passive or passive-enhanced approach.
Nellshen says: "We do not believe anyone can systematically outperform a deep and liquid index, such as the S&P 500, the FTSE 100 or the Euro Stoxx 50, over the long term. Active management, from our point of view, only makes sense in niche markets, where liquidity is not very deep."
A fully passive approach may be dangerous with equity markets reaching all-time highs, driven by the stellar performance of a handful of richly valued stocks. But the CEO maintains that any deviation from the "optimal" portfolio, carefully determined by a thorough and objective ALM study, adds an unnecessary additional level of risk that the fund will not reach its targets from an ALM perspective.
For similar reasons, Nellshen is not convinced about the usefulness of smart beta approaches. "The original idea was that there are independent risk factors that drive investment performance. We do not see much of that in the market today. Often, risk factors are defined in a non-objective way by practitioners and therefore can be found to be indeed correlated to other factors", he says.
The Bayer-Pensionskasse, however, does have active investment mandates in place for asset classes where, for Nellshen, it pays to be active. One such area is corporate bonds. "Our experience shows that it makes sense because our mandates have outperformed in the long run," he says.
The fund's equity portfolios, which are run by external managers, are hedged, among other things by using sophisticated option-based strategies. "We assign a risk budget to our equity portfolios, which determines how much we can afford to lose every year. The overlay strategy is also implemented externally but we decide how we do the hedging," says Nellshen.
Part of the fund's fixed-income portfolio is managed externally but Nellshen's team retains internal control of a large portfolio of German registered bonds, which is managed fairly statically, he says.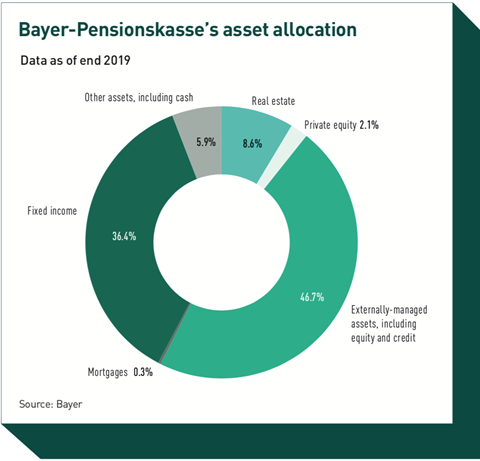 The Bayer-Pensionskasse is an experienced private-equity investor, with investments both in primary funds and funds of funds. The fund is currently increasing the allocation to private equity, but it will be kept within the single digits, according to Nellshen.
A significant part of the fund's internal resources is spent on managing a large real estate portfolio. "We have invested in the asset class for many decades. We have a preference for direct investment rather than funds, and our internal team invests directly in the markets where it has the necessary experience, particularly Western Europe," says Nellshen.
"At times, we invest in funds, but that is the exception rather than the rule. When we do that, we make sure that the fund is joined by a closed circle of investors with similar backgrounds and long-term objectives like ourselves.
"We invest in club deals when the originator has particular expertise in the field and access to markets that we do not have access to," says Nellshen.
Pursuing objectivity and independence can lead to choices that will be different from the majority. The Bayer-Pensionskasse and the most relevant other Bayer-related pension institutions participate in the sweeping trend of sustainability, but do so on their own terms. It was decided that the institutions would not become signatories of the UN Principles for Responsible Investment (PRI).
Nellshen says: "We have a sustainability statement in place for all our largest pension plans since 2014. The statement has two main components. The first describes the general investment principles we commit to, which are very similar to the UN PRI. But we have not signed the UN PRI, because if we wanted to fulfil them completely, it would be inefficient and impractical for us.
"In our view, the UN PRI are very abstract principles. They concretely do not say what to do or what not to do. In our sustainability statements, we have as a second additional component defining practical dos and don'ts for different asset classes. But I want to stress that sustainability is one among many criteria. It is not an overarching principle."
The CEO elaborates further by saying that the Bayer-Pensionskasse does take into account sustainability as a risk, in the form of a stress test for the portfolio using a pre-defined ESG-risk scenario, which is presented to the supervisory board of the fund annually.
One concrete example of how the CEO discusses sustainability concerns real estate. "We would never rent part of a building to a tenant that is active in the sex industry, for example, as that might also restrict the kind of other tenants that the building attracts. That would put us as a financial disadvantage," he says.
"The low-yield environment is obviously the biggest challenge for all of us and if such an environment persists forever, it will create huge problems for every institution providing long-term guarantees. However, we need to find creative solutions to address that, at least to a certain extent"
The COVID-19 crisis has not caused any significant changes to the core of the Bayer pensions strategy. Nellshen takes pride in his rigorous methodology, which is primarily striving for safety of Bayer's pension assets and liabilities, even in the face of an uncertain outlook for the global economy and the financial markets.
The CEO says, however, that the challenge for his institution is the same as for all other European pension funds. "The low-yield environment is obviously the biggest challenge for all of us and if such an environment persists forever, it will create huge problems for every institution providing long-term guarantees. However, we need to find creative solutions to address that, at least to a certain extent", he says.
"That is one of the issues we are focusing on at the moment. One possibility we are considering is to broaden the issuer base within our fixed-income portfolio, without generating too much additional risk. We already took steps in that direction in the past years, but we are looking further in that direction, while strictly taking into account the regulatory constraints."