Frank Naylor (pictured), CIO of the UK's BT Pension Scheme, talks to Carlo Svaluto Moreolo about building a resilient portfolio
By 2035, all of the members of the BT Pension Scheme (BTPS), the UK's largest private sector defined benefit (DB) pension scheme) are expected to be retired.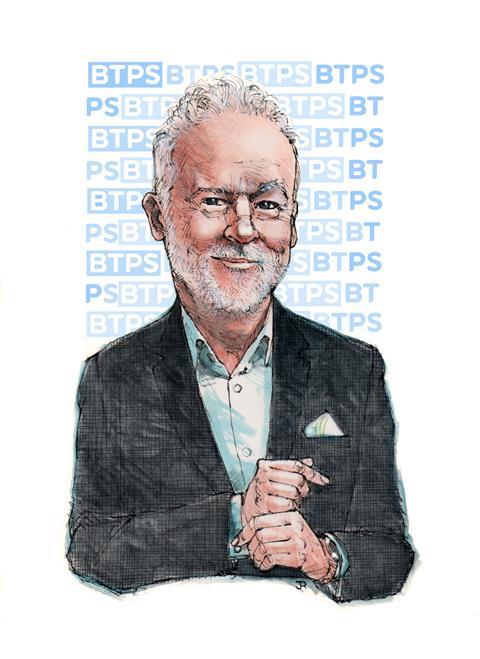 The scheme's strategy, correspondingly, is to gradually replace all risky assets, such as equities, with bonds and other cashflow-matching assets by that date.
From then on, each remaining benefit owed to retired members will be paid using the cashflows generated by the scheme's investment portfolio, without the need to generate additional returns. The kind of matching assets the scheme plans to invest in will protect it from fluctuations in interest rates and inflation.
The strategy is the same as what most DB schemes seek to achieve, at least those that are closed to new accrual. It may sound simple, but the sheer size of BTPS, which had £57.5bn (€62.3bn) of assets on 30 June 2020, means implementation is incredibly complex.
Over the years, the scheme has experienced pressure because of its growing deficit. The deficit was about £7bn at the January 2014 valuation, when assets were about £40bn, and jumped to over £11bn three years later, as assets grew to about £50bn.
The scheme's sponsor, BT Group, has agreed to a series of recovery plans, the last of which consisted of a cash injection of £4.5bn between 2018 and 2020, further annual payments of £700m for two years, and then £900m per year until 2030.
The scheme is undergoing a valuation exercise but in March 2020 BT's accounts showed that the pension deficit, on an accounting basis, had fallen to £1.1bn.
However, every year BTPS pays out about £2.5bn in benefits. "That is a significant outflow on a net basis, reflecting the fact that three-quarters of our members are retired," says Frank Naylor, CIO of BTPS.
"We started the journey investing cashflow-matching assets around three years ago. We felt it was important to get started, because the scheme is so large.
"Although we could come out of equities quickly if we really needed, if we want to exit less-liquid strategies or to build investments in less-liquid, credit-like investments, we really want to take our time, so we are not rushed to do it when the market conditions are not right.
"At the moment, our bond and cashflow-generating assets cover 40% to 45% of our benefit outflows. The plan is to incrementally grow that, but with the flexibility to go faster if the market conditions are attractive or to slow down if they are not," Naylor says.
The size of BTPS has many implications, not least the fact that the health of the scheme matters greatly to its sponsor.
"In terms of our investment activities, our team works very hard to be as transparent as possible. Being an internal team, we have more discretion, but if we want to maintain that, we need to be transparent"
Naylor is reluctant to offer too much detail about the relationship with BT Group but says that it has been collaborative, with frequent dialogue beyond the regular scheme-valuation periods.
"There is a lot of interaction on investment issues. Clearly, when it comes to discussing the valuation outcome and what it means, inevitably that is going to be an intense discussion," he says.
"BT have internal resources dedicated to the scheme, which makes discussion about innovation much easier.
"As a team, we have learned that there is real value in spending time explaining what we are doing in detail, both to our trustees and the sponsor."
"In terms of our investment activities, our team works very hard to be as transparent as possible. Being an internal team, we have more discretion, but if we want to maintain that, we need to be transparent."
This collaborative environment has enabled BTPS to become one of the most innovative in the UK's pension industry.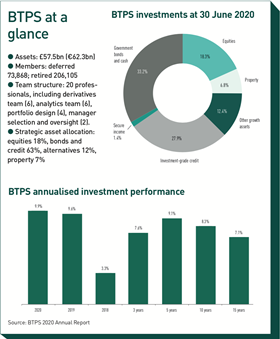 BTPS was one of the first schemes in the UK to set up an in-house asset manager. It was established as PosTel Investment Management in 1983, two years after the new statutory company, British Telecommunications, was spun out of the UK's postal company, the Post Office. In 1995, BTPS became the sole shareholder and the company was renamed Hermes.
The firm went on to become an undisputed leader in responsible investment. It also grew more independent from BTPS by increasingly acquiring third-party assets. At the same time, BTPS set up a separate wholly-owned executive arm, BTPSM, to support the trustees. Eventually, BTPS sold its majority stake in Hermes to Federated Investors in 2018, which led to the creation of Federated Hermes in 2020. BTPS retains a 29% stake in the company.
Having an in-house executive arm certainly helped BTPS in terms of innovation along the way, as the key decisions are taken internally. In 2012, the scheme started using derivatives to hedge interest rate and inflation risk. The hedging is fully managed by an internal team, to complement the in-house management of the Gilt portfolio.
In 2014, the scheme completed what was the largest longevity-risk transaction at the time, insuring 25% of its longevity risk with the Prudential Insurance Company of America (PICA). By creating a wholly-owned insurance company subsidiary, BTPS accessed the reinsurance market directly and avoided paying intermediary fees in the £16bn transaction.
There may be scope for offloading more longevity risk in the future, according to Naylor, but the internal hedging programme is the main priority for now.
"We set a target to be hedged against around 85% of our interest rate and inflation risk by the middle of this year, and we are about there. Now we focus on maintaining the effectiveness of this hedge and on adding some value in how we manage it," says Naylor.
"When we decided to do the hedging in-house, we felt we would get better outcomes if we were able to tailor what we were doing to the needs of the scheme. I understand that our hedging portfolio is the third or fourth-largest in London, even allowing for the LDI [liability-driven investment] managers.
"If we gave the LDI portfolio to an external manager, they might focus too much on following a benchmark. Also, they would likely have to share any transaction with other clients," he says.
That hedging activity has evolved into a much more sophisticated affair, in that the scheme's derivatives team now manages equity, credit and currency risk as well as interest rates and inflation risk.
"Having the capability to control the range of outcomes in different scenarios really paid off when the markets crashed last year. The risk-management activity we had in place helped limit the impact of the crash," says Naylor.
Other than Gilts and derivatives, the scheme's assets are managed externally. The scheme is a strong believer in active management but has reduced the number of mandates over the years.
"There are a number of benefits in having larger portfolios," Naylor explains. "We can negotiate lower fees and, as a result, our investment costs have been significantly lower than other schemes on a like-for-like basis.
"It also helps maintain the focus on the role of each mandate, and has enabled us to establish strong partnerships with the managers. The new equity mandates are quite concentrated, with anything from 20 to 80 holdings each. We really want mandates that are benchmark-agnostic, as we prefer to look at manager performance in absolute terms over a three-to-five-year window," says Naylor.
The size and structure of the internal investment function reflects the overall size of the scheme. The team is made up of 20 professionals, including Naylor and his deputy, Wyn Francis. It is divided into smaller teams – one managing the derivatives portfolio, an analytics team, a portfolio design team and one devoted to manager selection and oversight.
The investment team is supported by an in-house legal team, which helps with structuring derivatives contracts, among other aspects.
"We see our role as managing the funding risk in the scheme, and building towards a DIY buyout," says Naylor, who has been with the scheme for 12 years. Prior to that, he was working for Hermes, with responsibility for building a fund of hedge funds portfolio.
Naylor has some actuarial knowledge and a background in investment banking, but he has spent most of his career in investment management, mainly with the German banking group once known as West LB and quantitative investment boutiques.
"When Hermes and BTPS started diverging, because the scheme was moving out of risky assets like equities and property and moving into bonds, I had a decision to make. I went for BTPS because it was new and intriguing, but I must admit I did not think it would be as interesting and challenging as it has been," he says.
In fact, while his job may be simply to execute a DIY buyout while keeping the funding risk under control, the size of BTPS means there is a lot to that task.
"We are trying to create a portfolio that is as resilient as it can be, while at the same time generating the necessary return. We do that by controlling risk using derivatives and doing scenario analysis," Naylor says.
"It is more important to build a diversified portfolio of cashflows that is resilient through a range of outcomes"
"The other part of the strategy is trying to create sustainable value. We focus on that, rather than outperforming an index. Because we are moving towards a cashflow-matched portfolio, another concept we are focusing on is diversification of cashflows.
"While we had not planned for the pandemic, when the crisis struck it became clear that, thanks to changes we have been making, moving away from indices and towards managers who focus on fundamental analysis and sustainability, meant that we generally tended to underweight the sectors that have been most negatively affected."
As part of a search for diversified cashflows, BTPS has developed an innovative approach to investment in credit, partnering with managers that offer sophisticated transactions in the sector.
"We introduced a credit opportunities allocation after the 2008-09 financial crisis, to invest in heavily discounted assets. We have kept that ever since, as we have had some of our best investment returns for single investments from that allocation," says Naylor.
That approach now goes further. According to the CIO, managers are encouraged to present BTPS with complex investment opportunities. The scheme is willing to invest in those as long it understands the risks and is comfortable with it.
By partnering with managers, a large investor like BTPS can structure investments in sizes that are material at overall scheme level.
The manager-selection and oversight team is responsible for analysing these opportunities. "If managers see something they would not normally do because it is too big for their mandate, they understand we may be happy to do it. It is surprising how often these opportunities come up. There are usually several of these investments being evaluated at once," Naylor says.
Perhaps these opportunities, most of which are in the alternative credit space, will emerge in larger numbers as a result of the COVID-19 crisis. Investing in some of them will help BTPS meet its return needs faster.
However, Naylor does not want to be drawn into predicting the impact of the pandemic. Instead, his focus is on maintaining a portfolio that is resilient to different outcomes.
"Rather than trying to grapple with questions like the trajectory of globalisation or the growth of global debt, which usually have no single answer, for us it is more important to build a diversified portfolio of cashflows that is resilient through a range of outcomes," he says.
Nowadays, building a resilient portfolio means addressing sustainability as well. Recently, the scheme has taken a significant step towards that objective by setting a net-zero carbon emissions target by 2035 for the whole portfolio.
"We've had climate change in our risk register for five years as something we need to monitor, but after reviewing our responsible-investment strategy and seeing how many resources our managers are putting towards identifying the risks and opportunities arising from climate change, we realised we needed to see it as a current risk, as opposed to a risk for tomorrow," says the CIO.
"We think the opportunity is through engaging with companies. The main challenge in the short to medium term is about good data. But the lack of it at the moment is not a reason to postpone getting started on reducing emissions."