André Heimrich (pictured), CIO of the Bayerische Versorgungskammer (BVK), and his team speak to Carlo Svaluto Moreolo about the pension fund's global diversification strategy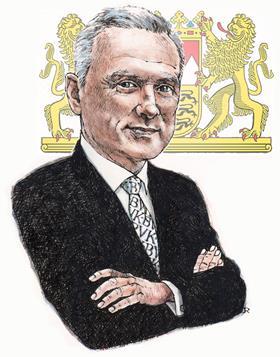 In the business world, the Free State of Bavaria is known for being the cradle of some of the largest and best-known companies in the world including Adidas, BMW and Siemens.
Institutional investment enthusiasts may also know that the wealthy southern German region is the home of one of Europe's largest pension funds, the €93.3bn Bayerische Versorgungskammer (BVK).
BVK, which is also Germany's largest pension fund, manages 12 pension schemes for professionals in a variety of sectors, including physicians, lawyers and artists.
It is a modern public-sector institution that shares several traits with those Bavarian corporate behemoths. BVK's history spans over three centuries, as it traces its roots to the Bayerischen Brandversicherungsanstalt, a fire insurance company founded in 1811 by King Maximilian I Joseph of Bavaria. BVK is also a relatively large employer in the region, with about 1,350 employees.
The institution has a local character and is committed to the development of the region and the country, particularly through its large real estate investments. But much like its Bavarian corporate peers, BVK has clearly achieved a global vision.
André Heimrich, BVK's CIO, explains that the institution has pursued a diversification strategy in recent years. He says that BVK is determined to maintain this course despite the headwinds generated by the COVID-19 pandemic.
Heimrich joined BVK in 2002 as head of asset management, and was promoted to CIO in 2013. He has overseen the growth of the fund into an increasingly sophisticated global investor, despite the tight regulations that bind the organisation.
BVK's sustainability journey
BVK was among the first German investors to subscribe to the UN-backed Principles for Responsible Investing (PRI), having joined the initiative in 2011. Nicole Becker, head of the staff unit for board affairs and sustainability, says that the fund has always considered sustainability issues in its investment strategy, owing to its long-term investment strategy.
However, signing up to PRI and choosing engagement as the main strategy signalled a step change for its sustainability strategy. Today, BVK is firmly committed to sustainability and is implementing ESG factors across its portfolio.
Becker says: "We marry our objective of generating stable returns and integrating sustainability criteria in our investment strategy and in our asset management. The focus is on engaging with our investee companies.
"We exercise our voting rights and collaborate with our managers on engagement initiatives. We also collaborate frequently with other investors, through initiatives such as Climate Action 100+ and the special initiatives organised by the PRI."
The fund is yet to make explicit commitments to decarbonisation but CIO André Heimrich says that the board will be asked to consider such commitments in the near future.
Becker points out that the fund has introduced sustainability measures within all asset classes, including GRESB (Global ESG Benchmark for real asset ratings) for its indirect real estate investments.
In addition, BVK's large German property portfolio is an important channel for the fund's responsible investment efforts, particularly during the COVID-19 crisis, according to Becker.
"As one of the largest landlords in Germany, we can act very fast and with conviction," she says. "We are competitive but also fair. Throughout the crisis, we have been talking to our tenants to understand their needs and support them. This meant we could manage the impact of the crisis on the portfolio and contribute to the community.
"Our focus on sustainability is paying off. We have the ability to create our own investment opportunities by managing or building core properties, and at the same time we can bring added value by being a responsible owner and investor," Becker says.
"Diversification is one of our main investment beliefs, and is reflected in the asset allocation strategy. The other main belief is in investing with a very long-term view," Heimrich says.
"Over the years, the financing systems for some of our schemes have changed from fully-funded to partial-funded, which has given us enough space to invest in long-term assets. Volatility is not really a problem for us.
"Our main objective is building a safe and sustainable investment portfolio with a broad diversification and mix of investment forms with which we can meet our pension obligations in the long term.
"That is why we have been gradually shifting our portfolio from traditional fixed income into real assets over the past years."
The fund has increased the allocation of real estate from 12% to close to 25% in the space of seven years, according to the CIO. It has also increased its allocation to private equity, infrastructure and listed equity.
To implement this diversification strategy, BVK relies on a careful combination of in-house and external management expertise.
"We manage assets both in-house and through external mandates in asset classes like equities, fixed income and real estate. Generally speaking, if we do not have the expertise in-house, we buy expertise in the market. We have external managers for investments in regions like the US, Asia and Australia," says Anselm Wagner, head of fixed income, equity and alternative investments.
"We see this as an advantage, as it gives us the flexibility of changing strategies and managers as we need. We plan to build on our internal capabilities for equities and fixed income in the future, step by step."
Heimrich adds: "We have reduced our reliance on fund of funds investments for private equity and infrastructure. It was a big step, as it allows us to choose managers directly and save on fees."
A large share of the real estate portfolio is managed by an internal team. BVK has built its own expertise in the German market and is now one of the largest property investors in the country. This allows for better dialogue with global real estate managers too, according to Norman Fackelmann, head of real estate investments.
He says: "We can discuss with real estate managers on the same level. We have a global platform and plan to grow our overseas investments, but having internal expertise on this asset class is key."
A strategy founded on a fundamental belief in diversification and the power of long-term investing implies a pragmatic approach to the active-versus-passive debate.
The fund has actively-managed portfolios of assets such as emerging market equities and debt and small-cap equities, while some of the more liquid asset classes are managed passively.
"We believe there are certain asset classes where it is very hard to produce alpha, while in others it is very important to be active. It is also a question of fees," says the CIO.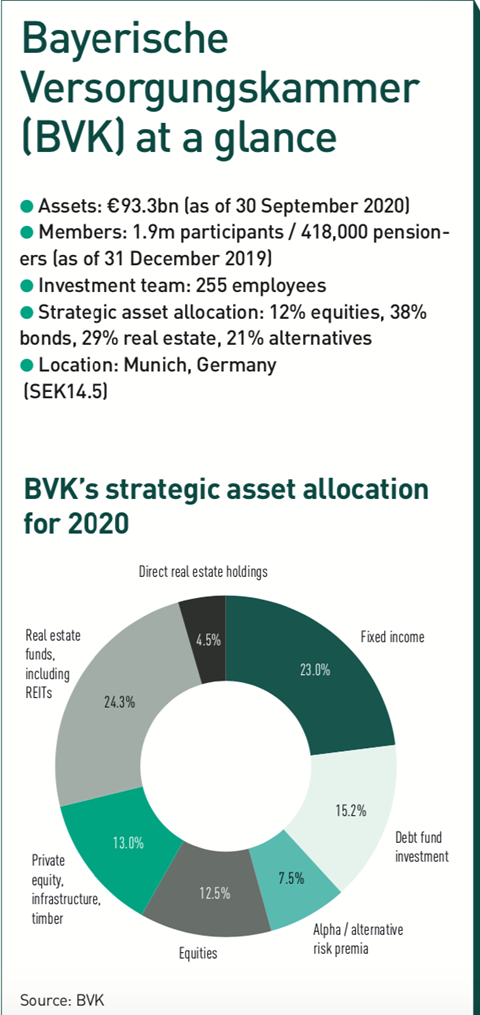 Investing in real assets is a good defence against market events like COVID-19, Heimrich says. More importantly, it consists of the fund's long-term strategy to deal with the low-interest-rate environment.
"We can capitalise on the fact that the fund will be receiving contributions for many years in the future. This means we can act as truly long-term investors by buying into less liquid assets, and get the extra yield that comes with that," says Wagner.
Heimrich adds: "At the same time, we believe that traditional fixed-income investments such as government bonds, as well as offering no yield, carry an extremely high level of risk. There is potential for a lot of volatility on fixed-income markets if rates eventually rise.
"In the wake of the COVID-19 crisis, governments are significantly increasing their spending, which means that the quality of government bonds suffers a lot."
The CIO argues that new issuance from governments or even supra-national institutions such as the EU is unlikely to offer attractive risk-adjusted returns characteristics for a pension fund like BVK.
"Long-term securities with yields of 1% or below may have a place in liability-driven portfolios, but in our view they still carry a high risk. These are all reasons why we are trying to avoid those investments," says Heimrich.
The crisis did not derail BVK's diversification push – in fact, it reinforced the arguments behind it. The impact on the portfolio was limited, according to the CIO, partly thanks to the quick recovery of equity and bond markets.
"Our main objective is building a safe and sustainable investment portfolio with a broad diversification and mix of investment forms with which we can meet our pension obligations in the long term. That is why we have been gradually shifting our portfolio from traditional fixed income into real assets over the past years"
"The recovery was much faster than expected, given the risk of a second lockdown in Europe and the impact on the economy. The speed of the recovery was made possible by the intervention of cen tral banks. Now the question is whether central banks can support the economy going forward. We believe that is the case, and for the reason we expect that drawdowns will not be as severe in the coming months," says Wagner.
Even so, BVK's real estate portfolio was affected by COVID-19. Fackelmann says: "The portfolio's net operating income could be down by around 10%, but we expect that the total return will be positive at the end of the year. That shows that our portfolio is stable and sustainable, thanks to its broad diversification.
"We are invested in retail assets and hotels, but a significant share of the portfolio consists of residential, student housing, senior living and logistics. These assets have weathered the performance of retail and hotels. In the future, we plan to focus more on residential, logistics and offices."
Heimrich says that the organisation reacted quickly when COVID-19 spread across Europe. In March, up to 80% of staff were allowed to work from home within two days of the management's decision. The management conducted business as usual, according to him.
Similarly, on the manager-selection side, activity did not stop. "We did not want to interrupt the development of our investment strategy. We decided to continue with our planned manager searches, and replaced onsite visits with video conferences and increased use of references from other investors."
Furthermore, the fund also carried out virtual visits to real estate assets. COVID-19 aside, the main challenge for institutional investors large and small is finding yield while dealing with the inevitable spikes in volatility, owing to negative economic data or geopolitical issues.
To tackle that complex picture, Heimrich says that BVK is developing the diversification strategy while at the same time working with regulators to relax the limits to its investment universe.
He says: "Due to our regulatory framework, we have more limited capacity to invest in illiquid assets than we would ideally like. But those are the assets that will allow us to reach our goals.
"Therefore, we are in talks with our supervisors to make changes to regulations. Those are discussions that may take months, or even a year, to produce results. But that is a challenge we are willing to take for the good of our member funds."
Heimrich says that one of the fund's priorities during the COVID-19 crisis was, and still is, to maintain the trust and confidence of BVK's member funds. The CIO says: "We tried to be very transparent with our clients, informing them as often as possible about the fund's results, of how we invest and what our outlook is.
"When we can show that we invest in an anti-cyclical way, while equity markets suffer heavy losses, for them it is a sign that our long-term strategy is working."