Mike Weston (pictured), CEO of LGPS Central, talks to Carlo Svaluto Moreolo about creating a state-of-the-art investment-management operation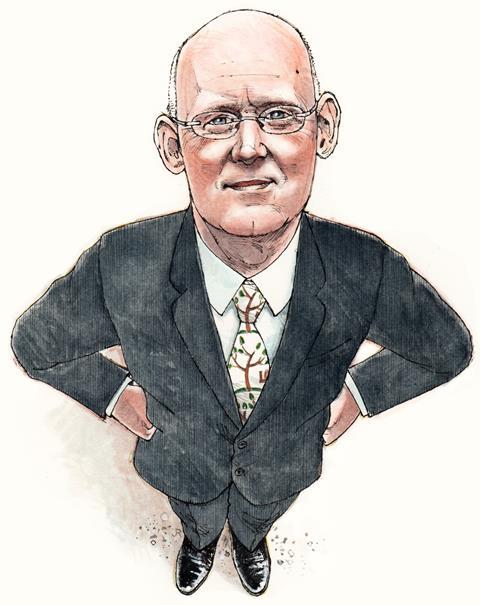 There is no shortage of UK institutional investors based outside the City of London, but the same cannot be said about their service providers, most of which are based in the UK's financial hub. This is just one of the many regional differences within the UK economy, which policymakers have long been trying to smooth out.
But the emergence of influential organisations such as LGPS Central, a £23bn pool of UK local government pension scheme (LGPS) assets, could help towards easing regional economic differences.
In 2015, the UK government devised a plan to pool together LGPS assets. The objectives were to reduce costs of running LGPS through economies of scale, optimise governance, increase investment in infrastructure and improve access to financial markets.
Since then, eight LGPS 'pools' have been created. Their local authority pension scheme clients, which are also their owners, have worked to set up modern asset management organisations.
Posing a challenge to the dominance of London as a financial centre was not among the main objectives of the plan but it could arguably be a potentially useful by-product.
LGPS Central Ltd, the company formed to manage the asset pool, is mainly based in Wolverhampton, a city in the West Midlands region. The area was once a key centre of the Industrial Revolution thanks to its coal mining, steel production and manufacturing industries. Today the city's economy is based around the engineering sector.
The organisation is recruiting among the city's and the region's graduates, which Mike Weston, LGPS Central's CEO, says is helping to build a diverse workforce. This year, LPGS Central will run its second graduate scheme.
"There are benefits from not being based in a financial centre," says Weston. "Schools and universities in the Midlands regions produce great graduates and we can tempt them to join by offering the experience to work at an innovative investment management organisation. Those who joined our 2019 graduate scheme were enthusiastic and we were able to rotate them across the organisation to help them learn skills in different areas."
The challenge, he adds, will be to retain the talent that LGPS Central produces as the organisation grows. But that is a challenge he relishes. "You do not get many opportunities to build a £45bn investment manager from scratch. That is one of the reasons I joined," says Weston, who is a veteran of the UK pension industry.
Among his career highlights are a seven-year term as director within the company that is now Federated Hermes, where he managed a £1bn equity portfolio between 2001 and 2008. Weston also spent a five-year term as CIO of the Daily Mail and General Trust's pension scheme between 2009 and 2014. He was a board member at the UK's National Association of Pension Funds (now PLSA) between 2010 and 2014 and led the Pension Infrastructure Platform, a UK manager of infrastructure investments, between 2014 and 2019.
"There are benefits from not being based in a financial centre. Schools and universities in the Midlands regions produce great graduates and we can tempt them to join by offering the experience to work at an innovative investment-management organisation"
Including graduates and more senior staff members, LGPS Central has built a 70-strong team. The organisation was set up to eventually manage all of the assets of eight DB local government pension schemes in central England. The schemes have combined assets of about £45bn and about 1m members.
"The other reason I joined is that LGPS pools combine the public sector ethos with the private sector experience," says Weston.
"We are focused on more than just reducing costs for our clients. We have to deliver superior investment performance, because if we do not do that, our clients will lose way more money than we will ever save them by shaving off a few basis points of costs."
Like the other seven LGPS pools, once established, LPGS Central had to set up operational and investment capacity and start transitioning its clients' assets into its funds. So far, LGPS Central's clients-owners have entrusted the organisation with about half of their cumulative assets, spread across 14 sub-funds investing in different asset classes.
"The process of deciding which assets classes we will focus on is an iterative one. Our clients remain responsible for their strategic asset allocation. But our market-focused professionals have views on how markets are going to develop. We discuss those views, the needs of our clients and what commitment it takes for us to launch each fund," Weston says.
Among the latest launches is a £680m multi-asset credit fund. It was launched earlier this year and managed by BMO Global Asset Management and Western Asset Management, which were selected out of 80 managers that had expressed initial interest.
Between 2019 and 2020, LGPS Central launched an emerging markets equity active multi-manager fund, a global investment-grade corporate bond fund and a global active emerging market bond fund.
One of the company's largest funds, launched in October 2019, is an all-world equity climate multi-factor fund, that now has around £3bn of assets.
Recently, the company announced a search for managers for a targeted-return fund, which it expects to reach around £700m in AUM when launched.
Over the next year, LGPS Central's clients are prioritising the launch of further funds investing in private equity, private debt, indirect and direct property, as well as global sustainable equities.
"The majority of our time and efforts are spent developing mandates, selecting external managers for the assets that are managed externally and making sure we are picking the best ones on a multi-manager basis. We want to ensure the complementarity of the managers. Once we have done that, managers have the full delegated authority to manage within the investment mandate that's structured around those particular asset classes."
LGPS Central's peers are similarly working towards building investment capacity, both internally and through relationships with external managers. As nascent organisations, all LGPS pools are experiencing the trials of building a modern, in-house investment-management business. But Weston says that there are important differences between the models chosen by each LGPS pool.
"Out of eight pools, five are authorised and regulated by the Financial Conduct Authority, and we are among those. We are one of only three that are full-scope alternative-investment fund managers (AIFM) under the old EU designation. We are also among the only three pools that have established internal investment capabilities, so far, in passive equities and Gilts," says Weston.
"Our aim is to become the principal manager of our client-owners' assets. By logic, the more of their assets we transition into our funds, the more savings we will deliver for them. But it is a long development process, and the guiding principle is that we need to deliver superior net returns for them."
This year, the UK government has plans to review the status of the LGPS pooling process, which is still in its infancy and not set in stone.
Each pool will evolve depending on various factors, including the individual circumstances of participating funds, the evolution of the markets, and the government's guidance. But each pool will be judged on whether it is capable of achieving the government's four objectives as well as delivering the returns needed by its clients, Weston points out.
He says: "To an extent, we could still be classified as an experiment, given that this year we celebrate our third anniversary, and our clients' investment horizon is much longer.
"Some models will be more successful than others. At LGPS Central Ltd, so far we have generated over £14m of gross savings. We've always known that due to the start-up costs of the company that it would take some time to hit our break-even point and deliver net savings for clients. I'm pleased that we are on track to make forecast net savings of £270m by 2033-34.
"There is a unifying belief among our partner funds that there is no point in generating great investment returns, if when people retire decades in the future, they have an ugly world to live in. And equally, it's no point creating a great world if the retirees don't have a pension to enjoy it with"
"Once we have transitioned enough assets into our sub-funds, we will move to a business-as-usual phase, where we focus on managing the assets and optimising the various internal processes. There is plenty of work to do, but we feel we are very much on track."
The COVID-19 pandemic was a huge test for a fledgling organisation like LGPS Central. Weston says that the company was able to switch to a remote-working environment and to service clients efficiently during 2020. The several fund launches in the recent months, he adds, are testament to the resilience of the organisation.
"From a market perspective, it is now crucial for us to reflect on what the recovery from COVID-19 will look like. The crisis has revealed a lot about many asset classes," Weston says.
The crisis has opened up many questions, according to the CEO. He says: "The assumptions about infrastructure being able to deliver steady cashflows have to be reassessed, especially if you look at assets such as airports and motorways.

"Earlier this year there seemed to be a strong consensus that inflation would not materialise, going forward, and I always worry when there is such strong consensus. As investors, we have to be mindful of how our societies will deal with the vast quantities of additional debt that has been created as a result of the crisis, especially given that a large chunk of it is negative-yielding.
"There is also the ongoing equity investor rotation from growth to value. Generally speaking, the pandemic has taught us, once again, that sometimes investors have to completely rip up the historical playbook."
Perhaps the biggest question, however, is how green and sustainable the recovery from COVID-19 will be, and how investors like LGPS Central can contribute to that.
As a collaboration of public pension funds, LGPS Central has always put responsible investment among its priorities. To Weston, the challenge is to develop the responsible investment approach while taking into account the different sensitivities of each partner fund.
To do that, LGPS Central has set up an internal responsible-investment team of four, and set out four themes to focus on. They are climate change, single-use plastics, tax transparency and the impact of technology.
The organisation believes in engagement and pursues portfolio-construction methods to achieve sustainability objectives. It will be launching a global sustainable equity fund for its clients for this year.
Weston says: "Initially, the pool set up a responsible-investment working group to establish what our clients' priorities were. All of our mandates have an integrated responsible-investment approach and we are members of several collaborations of institutional investors, including Climate Action 100+.
"In the future, we recognise it might be difficult to keep a shortlist of priorities that everyone agrees on. That is why when we engage with individual companies, it is important that we do it in partnership."
"There is a unifying belief among our partner funds that there is no point in generating great investment returns if when people retire decades in the future, they have an ugly world to live in. And equally, it's no point creating a great world if the retirees don't have a pension to enjoy it with. So we have to balance those two elements. Our view is that investing responsibly, in sustainable industries, actually leads to a better world and higher investment returns."