Flavio Cateni (pictured), former head of DB pensions at Pirelli, now acting as an adviser to the company, outlines a far-sighted fiduciary management strategy and a robust risk management approach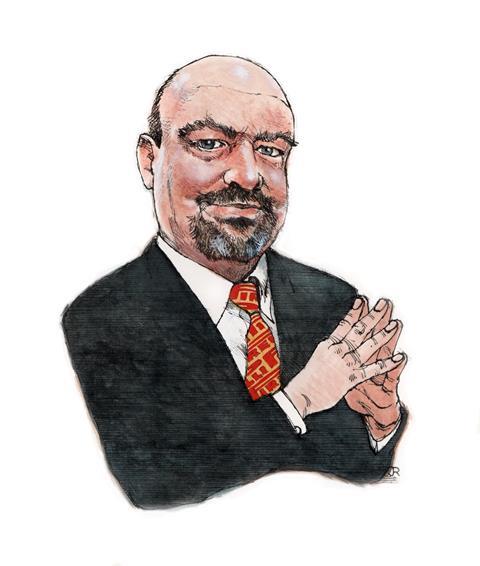 When discussing defined benefit (DB) pension schemes from a corporate sponsor's perspective, it is often said that paying pensions is not a core business. However, as any company executive knows, DB pensions have to be dealt with carefully, as they can affect a company's balance sheet performance and cashflows. In that sense, although DB pension risk is a risk corporates tend to want to dispose of, the de-risking process often requires thoughtful planning and dedicated resources.
In the context of multinational companies, DB de-risking is particularly demanding, as group pension heads must deal with the added complexity of foreign regulations. Flavio Cateni, who until last December was head of group financial controlling and DB corporate pensions at Italian tyre manufacturer Pirelli, can testify to the complexity of the task. But the story of the DB pension schemes sponsored by Pirelli, as told by him, is one of learning and good governance, and it appears to be heading for a happy ending.
The story is mostly set in the UK, where Pirelli became the sponsor of five DB schemes thanks to a series of acquisitions.
Cateni was a long-time employee of Pirelli, who at one point was chief financial officer of the company's UK subsidiaries. He now advises the company on DB pensions and other matters.
He says: "As a non-UK company, running a portfolio of UK DB schemes is tricky. The company has to contribute to closing the deficit but has relatively little power when it comes to decisions on how the schemes are run. However, there are regulatory requirements to fulfil, as well as costs and balance sheet volatility to bear."
"Some sponsors therefore might tend to focus on avoiding problems and to not invest enough resources on scheme de-risking."
When, in 2008, Cateni was given responsibility for the company's five DB schemes in the UK, the situation was "suboptimal", he says. From a sponsor perspective, there was reluctance to get deeply involved in the running of the schemes. The trustee boards' strategies, on the other hand, were largely driven by the investment adviser, which was Mercer at the time.
"The adviser would present trustees with asset investment products or strategies and list the pros and cons, but trustees would be wary of investing in anything new, for fear of getting it wrong. The schemes would end up in a constant state of semi-paralysis," says Cateni. "For example, in one case it took more than two years for the trustees of a couple of UK schemes to get to the verge of implementing a simple hedging programme consisting of buying Gilts, when the credit crunch came the programme was only very partially implemented. The next few years were positive in terms of the asset portfolio, but deficits grew significantly as yields dropped."
The way out of the impasse was to convince the sponsor and educate the trustees. "I was helped by the fact that fiduciary management was gaining popularity as a concept at the time. We helped trustees learn about fiduciary management and accept that it does not mean forsaking responsibility and control.
"The trustees realised that, thanks to fiduciary management, they could delegate tasks such as manager selection, which brings no added value when carried out internally. Instead, they would be able to focus on strategic decisions on investment policy and the use of the risk budget.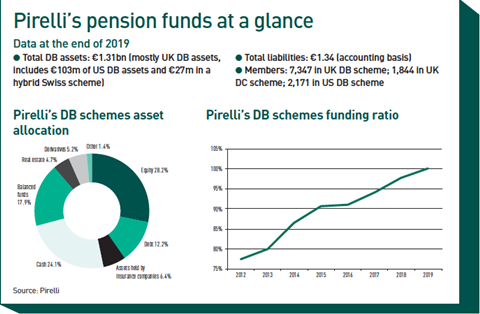 "We thought we would implement the model a step at a time, but the trustees got gradually but firmly convinced, thanks to the quite extensive selection process, and opted for full implementation," he says.
Meanwhile, having identified the correct instrument in fiduciary management the sponsor also set out DB pension de-risking as a clear priority.
With some assistance from KPMG, which was later appointed as covenant assessor, the trustee boards ran a tender process in which all 12 providers of fiduciary management services at the time participated. The process took about 18 months, and saw Willis Towers Watson and Cardano go head-to-head in the final round. Cardano came out on top. "The process was so detailed and deep that we were invited to present it at Warwick University and Pensions Trustees Circle events," says Cateni.
The year was 2011, eight years before the UK's Competition and Markets Authority (CMA) ran an inquiry into competition between fiduciary managers. The CMA was called to investigate whether the usual process of UK schemes hiring their existing investment adviser as fiduciary manager was harmful to competition.
From this perspective, the Pirelli funds were a precursor. Their adviser, Mercer, did participate in the fiduciary management tender. "We could have fallen victim to the practice of advisers convincing clients to switch to their offering of their in-house version of fiduciary management but we thought that it would be best practice to run a tender. Seeing different providers also helped in terms of education. At that time each potential provider had a different name for it," says Cateni.
More recently, the funds have also hired Buck, a consultancy, to oversee the Cardano fiduciary mandate. Cateni says: "This is also best practice in our view. Buck provides regular quarterly reports on Cardano's work and we also meet at least once a year. We did not hire them to second-guess Cardano's investment strategy. Instead, they help us understand whether they are meeting all the requirements and how efficient they are. This is so we can have a more constructive dialogue with our fiduciary manager."
The five schemes have set up a common investment fund to pool the assets. There is a single return-seeking portfolio representing 70% of the assets. The hedging strategy, though, is different for each of the five schemes.
All schemes, however, hedge 100%, in terms of asset value, of the interest rate and inflation risk, thanks to the use of leverage. Recently, the hedging has been raised on a tactical basis to between 110% and 115% of the risk, resulting in a hedging ratio of about 80% on a solvency basis.
Cateni says that the trustee board is more than satisfied with Cardano's work. The firm was given a strict mandate in terms of risk budget and 12% tracking-error volatility in relation to the schemes' liabilities. The performance target for the liability-driven investment portfolio is 3% net of fees. Since inception, Cardano has met the target while keeping the tracking-error volatility to about 4% to 6%. "This means we will not have to increase the risk level of our portfolio in order to meet our self-sufficiency or buy-out targets," Cateni says.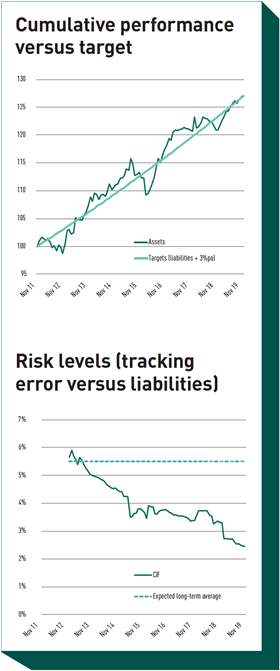 When it comes to adopting the more sophisticated hedging strategies, Cardano retains an advisory role and the trustees retain full decisional power whether to implement the strategies.
Pirelli also sponsors a medium-sized DB scheme in the US, which is run by SEI on a fiduciary basis. The scheme is also planning to complete a buy-out deal over the next few years.
The firm sponsors hybrid schemes in Switzerland and unfunded ones in Germany and Sweden. The UK DC schemes are more under the remit of the company's human resources department, while the DB ones, are overseen by the finance department.
"The fiduciary management model has really allowed our trustees to get the right balance in terms of strategic decision-making and control. Trustees have gained in terms of knowledge, which they would not have done otherwise. They still exercise control over the asset managers hired by Cardano, and at times the managers have been called to explain why their results were not satisfactory. But the trustees' focus is on fundamental areas, particularly risk management."
The fiduciary management market has come a long way, but there is still room for growth and improvement. As Cateni points out, some traditional asset managers have scaled down their fiduciary operations. The CMA's investigation has addressed some weaknesses in the market – for instance, by forcing trustees to put out tenders and review their existing mandates.
Greater ability to compare fiduciary management results, perhaps through standard performance reports, would be one way to help the industry. Cateni says: "Comparing fiduciary managers can be complex, because liabilities are fund-specific, and therefore results are fund-specific. However, every scheme's objective is to reduce the deficit while minimising the risk."
Because the ultimate objective, for both the sponsor and the trustees, is to de-risk the schemes completely, the trustees have already started working on insurance-led solutions. All five schemes are closed to new entrants and new accrual. Buy-in deals have been struck for the three smaller schemes, and two of the three are heading for a buyout in the coming months.
Pirelli's UK schemes made the headlines in 2016 when it was announced that they had completed longevity swaps worth £600m (€707m) with Zurich.
Cateni says that the schemes were among the first in the UK market to complete non-collateralised longevity swaps. This means the scheme did not have to earmark Gilts or other assets as collateral for the swaps. At the time, the transaction was said to have opened the market for longevity swaps to smaller DB schemes. It was also the absolute first for such a material amount, according to Cateni.
Within the overall plan to gradually de-risk, the company has also carried out other kinds of liability management exercises (LMEs). The schemes recently engaged in enhanced transfer value (ETV) and pension increase exchange (PIE) activities. An ETV deal consists of the employer offering a sum of money to the DB pensioner in return for the pensioner tranferring out of the scheme. In PIE deals, pensioners give up future pension increases in exchange for a higher initial pension. "These activities have been met with satisfaction from members, and have contributed to significantly reduce the deficit and volatility on a solvency basis," he says.
Furthermore, after the last two valuation exercises, contingency funding plans were put in place, as a further risk-reduction measure. These have yet to be used, but as Cateni says: "We haven't left any stones unturned."
There may be corporate sponsors that support the trustees' decision to run schemes to self-sufficiency, or at least to delay access to the insurance market for de-risking purposes. But Cateni says: "I see no fundamental reason why, in normal conditions, outsourcing to the insurance market should not be the ultimate objective of DB schemes."
"It may take some time, and it may not be worthwhile to accelerate the process. Some trustee boards and sponsors may be reluctant to pay a margin to an insurer. But the alternative is keeping all the unrewarded risks on a scheme's and a company's books.
"I expect that foreign insurers, likely from Asia, will flock to the UK market as insurance capacity for pension risk is depleted. It will be a positive, but it may not be easy for non-UK insurers to gain a foothold.
"My hope is that more flexible outsourcing models are developed. For instance, the market would benefit from multi-tranche buy-ins or buyouts. Any solution that allows quicker and more gradual access to the insurance market would be beneficial."