Henrik Olejasz Larsen (pictured), CIO at Denmark's Sampension, talks to Carlo Svaluto Moreolo about the fund's bias towards value equities and its diversification strategy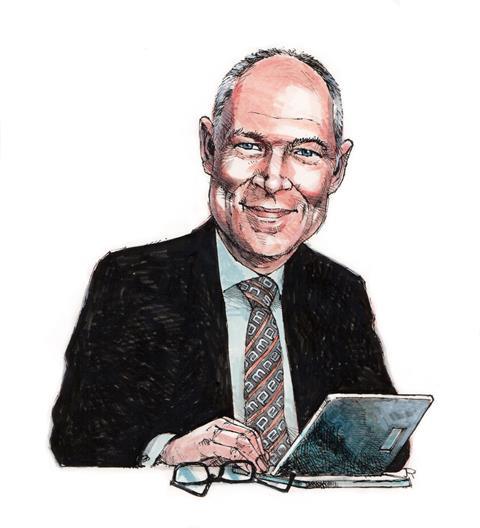 In 2020, Denmark's Sampension gained 31,000 new customers, 12,000 of whom were from new organisations entrusting their members' pension savings with the company. This increase meant that total contributions rose 15% or DKK2.8bn (€377m) to DKK11.7bn during the year. In the Danish pension industry's fiercely competitive environment, that is an undoubtedly positive result for the country's fourth-largest pension provider.
At the same time, Sampension's total investment return for 2020 came in at DKK10.3bn or 49% lower than in 2019. As a result, assets under management for the group only grew by 0.3% to DKK339.5bn.
At one point in March 2020, Sampension's market-rate customers – that is, those holding unit-linked pension products without guarantees – were experiencing a 17.2% drawdown on their portfolios. The fund said that the heavy drawdowns were the result of the structure of Sampension's listed-equity portfolios, which have a distinct value bias.
However, the fund's equity portfolios recovered towards the end of the year, generating an 8.1% return for the year. Bonds and alternatives returned 1.1% and 0.6%, respectively. The fund's private equity investment made excellent gains, returning 21.1%. In the end, the overall return for 2020 was satisfactory, says Henrik Olejasz Larsen, Sampension's CIO.
"Compared with the financial crisis of 2008 and 2009, the COVID-19 crisis was very different, in a general sense and for Sampension in particular. In 2009, we still had a large burden in terms of guarantees that bore heavily on solvency. But during the last 10 years, the guaranteed products have been, for the most part, changed to non-guaranteed products with stated return aims and, as a result, solvency was not an issue during 2020. That said, we approached the year with a higher level of equity risk, partly due to the fact that many of our members have chosen lifecycle products over the past years," says Larsen.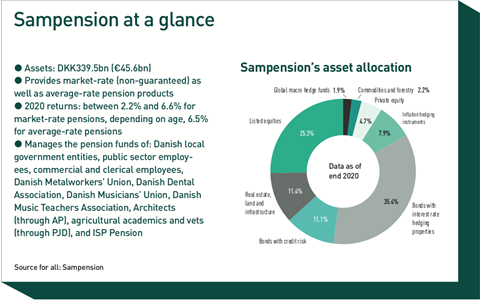 "It was painful to look at the results in March. Some aspects of our positioning did not work in our favour, primarily our value tilt and our underweight position towards interest-rate risk. But the markets recovered unexpectedly quickly and the performance of our private-equity portfolios more than compensated for our drawdowns in the first half of the year."
Larsen, who has led Sampension's investment team since 2007, defends the fund's attachment to value as a fundamental driver of returns in equities. "We believe there is a premium to investing in undervalued equities in the long run," he says. "Markets do occasionally go into a frenzy over popular stocks, and the investment theses behind the high valuations for these stocks become self-reinforcing, raising valuations further, to an extent that is not justified."
"The COVID-19 crisis has provided unflinching support for growth stocks, which were already thriving due to the low-interest-rate environment. Many growth stocks have business models that are very well-suited to the current environment, but the extreme changes in valuations for growth stocks lack a rational, fundamental basis.
"We think that keeping a value bias in our portfolio serves our long-term strategy. Interest rates will normalise, at least to an extent, and the economy will be reopened. Both factors should favour value stocks over growth stocks. Furthermore, value relative to growth was at the cheapest levels earlier this year," Larsen says.
"It was painful to look at the results in March. Some aspects of our positioning did not work in our favour. But the markets recovered unexpectedly quickly and the performance of our private-equity portfolios more than compensated for our drawdowns in the first half of the year"
The CIO concedes that the traditional definitions of value as an equity factor may have become outdated because, for instance, they tend to discount companies' intangible assets. But he argues that investing in value stocks is a good defence against over-exuberant markets.
Larsen says: "Every time we try to make generalisations based on simple statistics, there is potential for errors. With low interest rates, in particular, it becomes more difficult to evaluate companies on a fundamental basis.
But fundamentals, particularly the ability of a company to generate cashflows, are what eventually matters.
"When investors can buy those cashflows at a reasonable price, they can defend themselves against frenzied markets that take good business ideas to the extremes. As an example, look at Amazon, which is a remarkable company with a great business model. Eventually, it will face limitations from regulators and competitors. Other stocks with similarly dominant positions in the past experienced excessive valuations, but eventually those valuations pulled back. That is why we think it is good to have an anchor in our portfolio."
This does not mean that Sampension shuns the tech stocks that have driven much of the equity markets' growth over the past few years. In reality, a large part of its exposure is systematic and diversified factor-based.
"In our experience, while we have been able to find managers that can generate alpha for a period of time, the alpha is reduced over time, often because teams and strategies change. The transition from one manager to another is very costly both in terms of transaction costs and missed opportunities," says Larsen.
"We manage the factor, rule-based strategies at very low cost, compared with traditional benchmarks. The fact that we rebalance in an optimised way and to some extent benefit from a more favourable tax treatment for dividends means we can, at the very least, offset the limited administrative costs borne by those strategies. Typically, we outperform traditional benchmarks. Needless to say, it is very difficult for alpha managers to compete with that."
The company actively manages a relatively concentrated portfolio of Danish equities, a relatively small and illiquid market where Larsen says it makes sense to be active. Sampension also invests in emerging-market equities through external active managers, who help, especially, to select companies with good governance frameworks.
Sampension's listed-equity portfolio is managed by a team of four who select and oversee mandates, as well as manage other instruments such as cross-asset hedge funds and liquid commodity exposures. The team also manages part of Sampension's Danish equities portfolio.
A value bias can also protect Sampension's equity portfolios from the dangers of overvaluation based on environmental, social and governance (ESG) criteria. Sampension is a committed and experienced ESG investor but the CIO says the trend towards ESG investing may have gone too far, in terms of valuing companies with 'green' credentials.
"We have already seen a bit of a pull back in valuations for some of the companies that ESG investors favour particularly," says Larsen.
"As for our strategy, we buy and engage with companies that we think can improve, and we do screen out companies that we do not think cannot be improved. Ours is a full portfolio effort. We are wary of building a portfolio that is concentrated on the few names that appear in every green-labelled product, whatever their intrinsic value."
For similar reasons, Larsen says that the company will not necessarily prefer green fixed-income products over traditional ones, if the green products are significantly more expensive. "We have ample liquidity reserves, which means we can buy bonds that are relatively less liquid, including green bonds, but we will not sacrifice returns for our members," he says.
Sampension does take sustainability seriously. It has a large portfolio of green bonds, and recently announced that it had insourced the management of its portfolio of emerging-market bonds, both issued by governments and corporates. Thanks to that decision, the portfolio was rid of bonds issued by governments with questionable human right records.
The company's fixed-income portfolio is managed internally by a team of six who oversee the exposure to Danish mortgage bonds and European government and corporate bonds, as well as emerging market debt. The team is also in charge of a portfolio of fixed-income arbitrage hedge funds that are managed externally.
Larsen says that Sampension has become a more complex machine over the course of his 14-year tenure. It has taken over several new pension funds over the past few years. From a product perspective, it went from one traditional life annuity to offering several products, the main one being a lifecycle product. The challenge is to keep everything as efficient as possible.
"Our world has become more complicated, because we have many different individual portfolios with different asset allocations and risk profiles," he says. "But at the company level, we have to use the same investment building blocks.
"Diversification does not just benefit our members, but the economy as a whole. Pension funds participating actively and increasingly in capital markets is generally a positive development"
"Integrating the new pension fund's portfolio has been a challenge, too, particularly in terms of consolidating the legacy portfolios. Changes to portfolios have to be discussed by the various pension funds' trustee boards.
"We have recently integrated all portfolios under the same bookkeeping system and are on our way to having one consolidated investment portfolio. But the journey is not yet fully complete."
In the meantime, Sampension has worked on growing the portfolio organically with a focus on diversification. The result, Larsen says, is an asset-allocation strategy that is better tailored to the economy.
"We have a good system, where pension savings reflect what goes on in the real economy. Our portfolio does that not just because we invest in equities, but also all kinds of less-liquid, alternative asset classes including real estate, infrastructure and forestry. It is an improvement from the past, when pension investors would mostly invest in bonds and be at the mercy of inflation," says Larsen.
"Diversification does not just benefit our members, but the economy as a whole. Pension funds participating actively and increasingly in capital markets is generally a positive development."
In that sense, he sees ongoing potential in Sampension and the whole European pension fund community gradually replacing banks in financing certain sectors of the economy, including commercial real estate. Europe's capital markets are still dominated by banks, especially if compared with the US. However, owing to the growing cost of capital for banks, their business models are changing and they are slowly leaving some traditional areas of lending.
A team of three manages Sampension's credit assets, including traditional outsourced credit mandates and a number of less-liquid tailor-made arrangements. "This is where we finance portfolios of securities and directly negotiate credit investments. While we do not lend directly to companies, we can invest in portfolios of private loans. This is a trend that has been growing over the past 10 years," the CIO says.
He adds: "Provided that we grow organically, both from a credit risk and an operational perspective, I see potential for moving into less liquid areas of the credit markets as we become more experienced.
"A similar trend is taking place in listed equities, where the number of public companies and IPOs keeps falling, while the private equity sector keeps growing," he says.
Sampension has invested in private equity for many years. In 2020 its private equity portfolio produced an excellent performance that saw the fund through a difficult year in terms of returns.
"Our co-investments, in particular, performed strongly. We chose a more conservative route consisting of co-investing with funds seeking companies with stable cashflows – for instance, in the pharma industry. That more than compensated our value bias in the listed equity portfolio," Larsen says.
Sampension's private-equity portfolio is managed by a dedicated team. Another alternatives team focuses on direct and co-investments investment in real estate and infrastructure, but also manages segregated real estate mandates in European and US assets.
Despite the hopes that interest rates will normalise in the medium term, having a fully-fledged portfolio of alternative assets and the ability to expand it, will allow Sampension to maintain its lead.
Larsen expects rates to rise slightly in the post-COVID world, but that there are enough reasons to expect that they will stay at historically low levels for much longer. He argues: "It has to do with demography but also the growth of certain sections of global society, for instance the Asian middle class. For large sections of society, the propensity to save is high at the moment."
"There is a risk that excessive indebtedness from governments may eventually become such a problem to turn the tables, but that is yet to happen," he says.