Myriam Métais and Cécilia Lyet (pictured) of France's Caisse des Dépôts talk to Carlo Svaluto Moreolo about managing the reserves of Ircantec, the supplementary scheme for public sector employees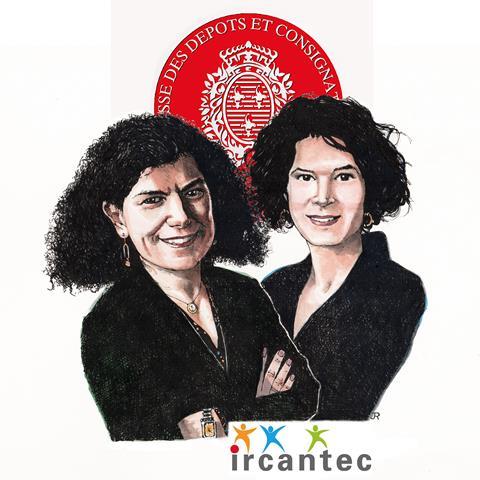 The approval of the 2019 law on energy and climate by the French parliament was a watershed moment, not just for France, but for the entire European economy. Through Article 29, the law sets a high bar for sustainability disclosure. The article requires institutional investors and other financial market participants to provide detailed information on how environmental, social and governance (ESG) criteria are embedded in their investment policies and how investors contribute to the greening of the economy through their activities.
By designing the law, French policymakers made a conscious, top-down decision to put the country's financial sector on the front foot in sustainability. However, the country's institutional investors had already been working from the bottom up for years. There is a long-standing tradition among French institutions, including pension funds, to integrate sustainability within their investment strategies.
Ircantec, the mandatory scheme providing supplementary pension benefits to public sector employees, is an example of the level of commitment to sustainability. The organisation, created in the early 1970s, first announced its commitment to sustainable and responsible investing (SRI) in 2009. In 2013, the first SRI charter was drafted.
Today the scheme has over €14.8bn of long-term reserves, entirely invested according to ESG criteria. Ircantec's board sets the institution's strategic asset allocation as well as the SRI policy, but the actual management of the assets is carried out by Ircantec's fiduciary manager, which is Caisse des Dépôts Group (CDP), the public institution that dates back to 1816. The relationship between the two institutions also goes back many years.
France's mandatory, pay-as-you-go supplementary pension schemes
The French pension system consists of a large grouping of public and semi-public institutions providing basic and supplementary pensions to different categories of workers. One of the main features of the system is that many of the supplementary pension schemes are mandatory and unfunded.
The Caisse nationale d'assurance vieillesse (CNAV) is the basic scheme, and is complemented by Agric-Arrco, a mandatory 'first-pillar plus' scheme for salaried employees, and Ircantec, the scheme for public sector employees. In addition to CNAV, there are over 40 'special regimes', or individual mandatory schemes for different categories of workers. So far, attempts to simplify this complicated system through reform have failed.
Owing to the historical reasons that shaped this system, France lacks a 'traditional' second-pillar pension sector consisting of private occupational schemes, which constitutes the bedrock of modern pension provision in
many European countries. That does not mean, however, that the country's pension industry does not feature examples of cutting-edge institutional investment management. On the contrary, French pension funds are at the forefront in areas such as quantitative investment and, especially, sustainability.
"The SRI strategy of Ircantec is not limited to climate. It is a broad and complete strategy that pays particular attention to social aspects which lie at the core of the objectives of Ircantec as a retirement scheme, one of which is maintaining intergenerational solidarity"

Myriam Métais
Myriam Métais, CDP's director of finance in the social policy department who is responsible for the management of Ircantec's assets, says that the organisation's SRI strategy has gone through several steps and that it will be developed further.
"After the Paris Agreement, the organisation significantly strengthened its strategy, particularly around fossil fuels, with the first exclusion policy announced in 2016. Last year, Ircantec announced further revisions to the climate policy," says Métais.
"However, the SRI strategy of Ircantec is not limited to climate," she adds. "It is a broad and complete strategy that pays particular attention to social aspects which lie at the core of the objectives of Ircantec as a retirement scheme, one of which is maintaining intergenerational solidarity."
In fact, in its latest revision, dated October 2021, the charter identifies sustainability of investments as a key priority, since Ircantec is a pay-as-you-go scheme that "binds generations together in a spirit of solidarity and fairness".
"With intergenerational justice in mind, Ircantec's priority is to maintain the necessary capital to contribute towards future retirees' quality of life in the long term. This means maintaining the financial capital to pay out pensions, but also preserving natural and human capital for current and future generations," states the charter.
The document defines the scope of the institution's SRI policy, its ESG priorities and governance structure to implement the SRI principles. It also defines the institution's climate policies and its ESG criteria for companies and states. In essence, however, the main principles of Ircantec's policy are to incorporate ESG issues into portfolio management, to be an active shareholder, and to contribute to limiting global warming to 1.5°C through its investments.
At the heart of the SRI policy is also a focus on "human welfare and social progress", which means that the scheme pays special attention to supply and value-creation chains, living conditions, gender equality, social dialogue and employability.
In March this year, the board of trustees of Ircantec approved a new roadmap for investment of the institution's reserves between 2022 and 2025. The three main guidelines of the roadmap are: to optimise the return on investments over the long term and limit the risks assumed by the institution in line with the SRI charter; to consolidate the SRI policy and ensure its effectiveness; and to strengthen Ircantec's position as a point of reference in sustainable investment by enhancing communication and transparency.
The new roadmap seeks to increase the diversification of the portfolio and to strengthen the non-financial management of assets. It also incorporates the new climate policy that was announced last year.
Cécilia Lyet, who is responsible for SRI and external management at CDP, explains that the latest revision of Ircantec's climate policy consists of a commitment to align the portfolio to a 1.5°C scenario from 2024, using the Paris-aligned benchmark framework as a basis.
"The organisation opted to commit to a reduction of portfolio emissions by 7% per annum, on average, until 2050, rather than setting a net-zero target," says Lyet. "It must be noted, however, that at the end of December 2020, the overall temperature of the equity and credit portfolios was already compatible with a 1.9-degree scenario."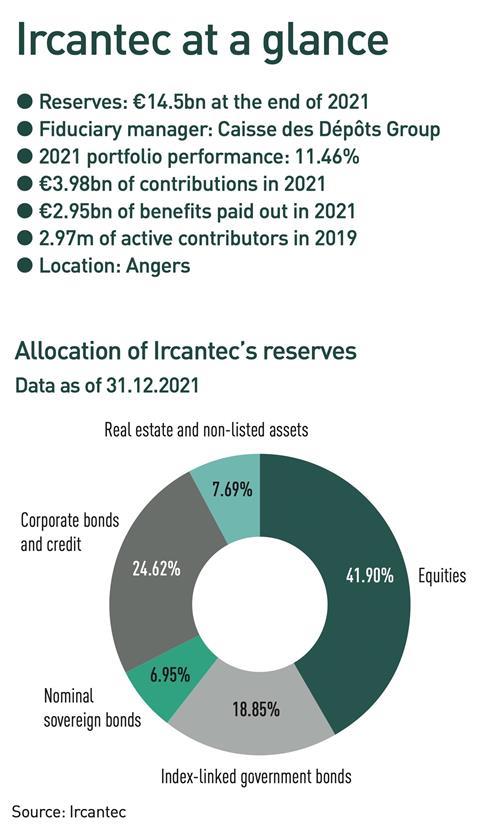 Ircantec's engagement policy complements the exclusion policy to achieve the emission-reduction target. "The organisation does not exclude companies that have a credible commitment to exclude thermal coal by 2030, or companies in the oil and gas sector that have a goal to be aligned with a 1.5-degree scenario. Principally, we run collaborative engagement, with Climate Action 100+ among others," says Lyet.
In April this year, Ircantec reported one of the first results of the new climate strategy, announcing that it had divested from 12 companies in its portfolio – Anglo American, BHP, BP, EnBW Energie Baden-Württemberg, ENI, Equinor, Fortum, Mitsubishi Corp, OMV, RWE, Repsol and Total.
The organisation's engagement efforts are now turning to the financial sector, according to Lyet. "At the moment, we are building up our efforts to engage with financial companies on their activities to reduce carbon emissions. This is a new initiative and there is little collaborative engagement on this aspect, as far as we know. We plan to adapt our voting policy accordingly," she says.
"At the moment, we are building up our efforts to engage with financial companies on their activities to reduce carbon emissions. This is a new initiative and there is little collaborative engagement on this aspect, as far as we know. We plan to adapt our voting policy accordingly"

Cécilia Lyet
The other main areas of focus for the engagement teams are the energy transition, human rights and the 'social pillar'. This year, Ircantec has launched a tender to select an asset manager that will manage a new social bond portfolio in 2023.
The institution is not new to innovation in asset management. In 2021, it launched two tenders for equity and euro corporate bond mandates worth €4bn, where performance fees were to be linked to ESG objectives. Up to 10% of outperformance will be paid to managers at the end of the mandate, and 40% of the performance fee will be based on ESG and climate criteria.
The ESG performance will be measured using the average difference between the portfolio's overall ESG rating and that of the benchmark, and the performance fee will be paid if the portfolio achieves a difference greater than or equal to 10%. The managers will also have to aim to ensure that the portfolio's annual carbon footprint is at least 30% below that of the customised benchmark. The carbon footprint is to be calculated as a composite of the weighted-average carbon intensity and the total carbon emissions per million euros invested.
Given that Ircantec is a public institution, tenders for asset management services are public and the selection process takes about one year, says Métais. "These days, the SRI criteria in our selection process are nearly as important as financial performance and governance aspects," she adds.
"Avoiding greenwashing is one of the core objectives of our selection process. We make sure that the managers we select explain their methodology and security selection process in a very clear manner. We also monitor their activities regularly and frequently to make sure that they respect and apply the principles of the SRI charter. Furthemore, we have an independent consultant to help us with the monitoring process, and Ircantec publishes the details of all its portfolio holdings on its website annually," says Métais.
One increasingly popular investment strategy for Ircantec is impact investing, according to Lyet. Ircantec invests in a real estate impact fund, and the United Nations' sustainable development goals (SDGs) are a building block of the overall sustainability strategy, However, Lyet says that the institution is concerned about 'impact washing' in funds.
Ircantec's investment strategy is set by the board of directors and must follow two prudential rules, as well as the sustainability criteria. The scheme must hold an amount of reserves equivalent to one and a half times the annual amount paid out in benefits over a 20-year period. It must also ensure that the payment of benefits is covered by the projected contributions and the reserves of the scheme over a period of 30 years.
The main pillars of the institution's investment strategy are maintaining a long-term horizon and active management. In that respect, the recently launched passive equity fund based on Paris-aligned benchmarks is an exception. "Our belief is that integrating SRI policies within portfolios is more efficient when portfolios are managed actively," Métais says.
At the end of last year, 41.9% of Ircantec's reserves were allocated to equities. The portfolio consisted of euro-zone equities invested through fundamental and quantitative strategies, non-eurozone Europe and OECD equities invested through systematic strategies as well as thematic strategies, mainly focused on the energy transition.
The credit portfolio, accounting for 24.6% of the assets, was invested mainly in European corporate issuers and a separate green-bond portfolio. Nominal sovereign debt accounted for nearly 7% of the assets while 18.8% was invested in index-linked sovereigns. Nearly 8% was invested in unlisted assets.
The unlisted asset portfolio has grown to around 10% of the overall portfolio since then, consisting of 7% in real estate and two funds dedicated to infrastructure debt and infrastructure equity, one of which carries an ESG label. ESG criteria are integrated throughout the rest of the unlisted asset portfolio.
"Ircantec's asset allocation strategy will help us navigate this period of uncertainty and rising inflation," says Métais. "As much as 20% of the portfolio is invested in inflation-linked assets. We actually started to increase the allocation to inflation-linked assets several years ago," she adds.

Carlo is deputy editor of IPE, having joined as a full-time writer in 2014 after several years spent focusing on Italian pensions in a freelance capacity. He has 15 years of experience as a financial journalist, having worked for publications such as Shares Magazine and Infrastructure Journal.