Alessandro Ciucci, CFO at Previndai, one of Italy's largest pension funds, talks to Luigi Serenelli about its diversification strategy built on alternatives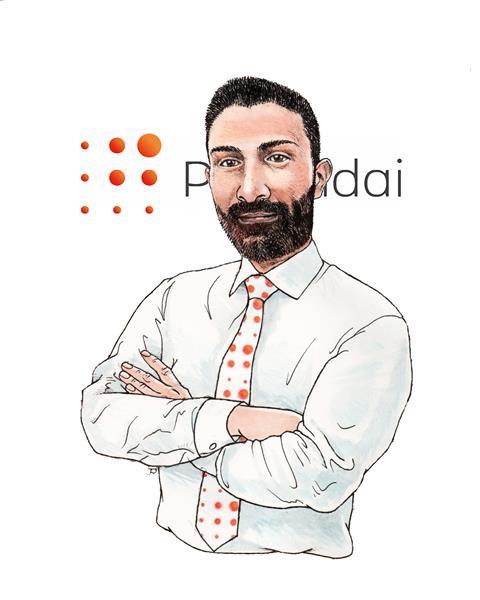 Investing in times of geopolitical conflict, high inflation, crises in the energy and food sectors and disrupted supply chains is an undoubtedly complex task for pension funds. Remaining level-headed and continuing to pursue a planned strategy, while closely looking at opportunities, is a golden rule that Previndai, the Italian pension fund for industrial managers, tries to follow in such situations.
Previndai provides DC pensions to managers of Italian businesses. It is one of many 'fondi pre-esistenti', the second-pillar pension funds that predate the overhaul of second-pillar pension provision in the early 1990s. It is also one of Italy's largest pension funds, with more than €14bn in assets under management at the end of last year.
Previndai expects a scenario where inflation will peak and then stabilise over the next few months. This will be a slow process, by which inflation will fall from the current level, according to Alessandro Ciucci, Previndai's young chief financial officer. The risk remains high, however, that the scenario darkens due to a military escalation in Ukraine and the consequent increase in prices, especially of energy and food, Ciucci says.
Meanwhile, central banks have started to hike interest rates and, as Ciucci notes, "in the last months we have seen a repricing of assets in financial markets, with prices falling on the basis of an expectation that interest rates will rise". Asset prices in the market already embed an expectation of significant increases in rates, both in the US and in Europe. Looking back, the drawdowns on equity and bond markets started before the war in Ukraine began. Ciucci sees a link between the drawdowns, which started in January, and the US Federal Reserve's announcement that it was planning to tighten monetary policy due to rising inflation.
In this scenario, Previndai continues to hold the same high level of attention for all asset classes, both liquid and illiquid, when selecting asset managers. The fund will not make significant changes to its asset allocation for now. In particular, it will not increase equities in the portfolio and reduce allocations to private markets, or vice versa, according to Ciucci. He says: "The asset allocation is based on a mid to longer-term perspective and there are no changes planned in terms of the strategic share of illiquid assets in portfolios."
Previndai's strategic asset allocation model mainly applies to the Bilanciato and Sviluppo sub-funds. The other two sub-funds, Assicurativo 1990 and Assicurativo 2014, represent close to 75% of the fund's total assets. As the names suggest, these consist of insurance policies. In other words, when Previndai's members pay contributions towards the sub-funds, their capital is guaranteed, as is a minimum yearly return. The strategic asset allocation for Assicurativo 1990 and Assicurativo 2014 is structured by the insurance companies that manage them and the assets are almost entirely invested in bonds. The insurers managing the two sub-funds are Generali, Allianz, Reale Mutua and UnipolSai.
Bilanciato and Sviluppo, which represent close to 25% of total assets, are based on an asset allocation strategy that is reviewed annually, with the next scheduled for June. The AUM of Bilanciato and Sviluppo are around €2bn and €1.3bn, respectively.
Ciucci says: "The strategic asset allocation was largely modified in 2015, according to a general change in the investment policy of the pension fund." Currently the strategic asset allocation for the Bilanciato sub-fund foresees 39% of the assets invested in equities while Sviluppo invests 65% of the assets in equities. Both have a mid to longer- term target to allocate 10% of the assets to alternatives through alternative investment funds.
"We have to accept volatility in the short term if we want to achieve higher expected returns in a mid to long investment horizon"

Alessandro Ciucci
The equity component in the Bilanciato and Sviluppo sub-funds is split into three buckets – European, global and emerging markets – according to Ciucci, while the fixed-income portion is broken down into seven asset classes to cover all bond markets. As a result, the portfolio of Previndai is highly diversified in terms of asset classes and geographical allocation. The portfolios of the Bilanciato and Sviluppo sub-funds are also tilted towards the mid to longer term to benefit from the risk premium implied in risky asset classes such as equities. "We have to accept volatility in the short term if we want to achieve higher expected returns in a mid to long investment horizon," Ciucci says. The diversification of the portfolio helps to improve returns with the same level of risk, while tactical bets in the short term might also help in smoothing drawdowns, he adds.
At Previndai, the strategic asset allocation is put in place through multi-asset mandates, delegating tactical allocations to the asset managers, which can promptly shift from one asset class to another according to their short-term views. The fund's asset managers are PIMCO, AXA Investment Managers and Eurizon Capital. They have been assigned a benchmark and can make tactical choices and engage in security selection to beat the benchmark.
"Each asset manager makes its own choices, in terms of cutting the duration and the equity exposure. We have not observed big tactical bets so far, although one manager has introduced equity hedges," says Ciucci.
"Obviously there are some investment guidelines limiting the possibility for the asset manager to change the setup of the portfolios and deviate from the benchmark. In particular, there are limits in terms of maximum and minimum exposure to the various macro-asset classes and in terms of tracking error volatility."
In 2018, Previndai began to look at alternative investments with an analysis of the strategic asset allocation of the illiquid portfolio, and started allocating to alternatives soon after. The fund selected the first alternative investment funds (AIFs) through a public tender. Over 60 asset managers took part in the tender. At the end of the investment, operational and legal due diligence, in 2019, Previndai picked six funds for a total commitment of €210m.
In the first months of 2022, the pension fund finalised a new manager selection process for Italian private equity and infrastructure equity investments. In the second half of the year the fund will look at direct lending in Europe and globally.
"The direct lending products that we select will have to have a senior exposure while mezzanine or subordinated is only marginal. For infrastructure we favour diversification based on sectors, but funds specialising in specific segments of the market are allowed within a certain limit in terms of weight in the overall portfolio," says Ciucci. Previndai requires infrastructure funds to be mainly exposed to brownfield assets and only to a lesser extent to greenfield ones. It will also set requirements in terms of minimum AUM and the track record of the investment team.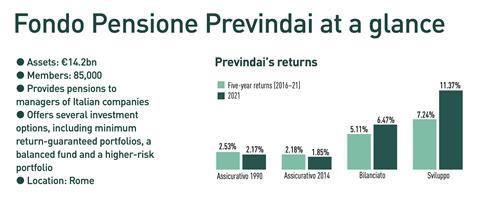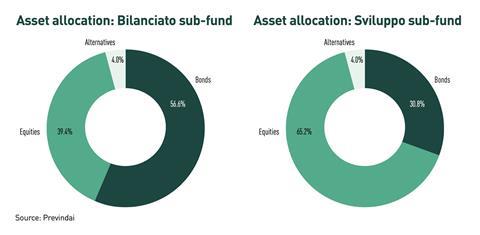 In its alternatives portfolio, Previndai gives priority to infrastructure equity, direct lending and private equity. It has limited the number of alternative asset classes to avoid fragmenting the portfolio. "That would have increased the complexity despite the limited weight of each asset class in the portfolio," Ciucci says. For Previndai, investments in alternatives are critical to increase the expected returns, especially in a context of low interest rates. "We have chosen that path to benefit from an illiquidity and complexity premium. We are aware that private markets are characterised by a high dispersion of performances among asset managers, and the extra performance compared with liquid markets stems from our ability to select the best managers in the peer group," Ciucci says.
Previndai is looking to alternative asset classes, particularly infrastructure and direct lending, to protect its portfolio from inflation and from rising interest rates. Ciucci points out that the fund's direct lending portfolio is mainly made up of floating interest rate instruments, for instance. In infrastructure, instead, the fund looks to the hedging property from the contractual indexation of cashflows linked to projects.
So far, the results from Previndai's investments in alternatives are satisfying. Thanks to the diversification of the portfolio, the fund did not experience the typically negative J-curve effect that characterises the early stages of alternative investment portfolios, at least not to the extent that was expected.
Stepping forward on sustainability
Among Italian pension funds like Previndai, sustainable investment has risen up the agenda. This is driven both by regulation, which increasingly requires pension funds to be explicit on their approach to sustainability, and market behaviour.
Last September, Previndai adopted a policy on sustainability and engagement that includes aspects relating to sustainability, engagement and voting rights within the investment guidelines given to asset managers. "We moved in this direction under the pressure of new rules at European level, in particular the Sustainable Finance Disclosures Regulation (SFDR) and the Shareholder Rights Directive II but also on the basis of an increased awareness that ESG topics are material in terms of impact on return and risk of investments," CFO Alessandro Ciucci says.
Previndai is taking gradual steps in sustainability, integrating sustainability factors into investments but focusing on those aspects that do not negatively impact the financial results of the portfolios. This is based on a belief that integrating ESG aspects into investments can co-exist with the goal of achieving returns. "If a pension fund focuses on precise ESG goals that highly restrict the investment universe, there could be a negative impact on returns of the portfolios, but we don't want to take this direction," Ciucci says.
The pension fund excludes some sectors from investments – for example, controversial weapons or companies violating human rights – but keeps exclusions at a minimum and prefers engagement that tends to improve sustainability practices in companies. "The exclusion approach is quite a blunt one; dialogue is better to improve business models. If dialogue fails, then the asset manager adopts an escalation procedure which may lead to divestment of the issuer from the portfolio," says Ciucci.
When it comes to stewardship, Previndai defines a subset of stocks and gets support from its asset managers in analysing AGM documents and deciding how to exercise voting rights. Currently the pension fund focuses on Italian companies and on the largest ones in terms of weight in portfolios, which may also include foreign equities.
Pension funds find it difficult to check the progress towards sustainability in private markets compared with the public market, but things have started to change, according to Ciucci.
"We have observed that managers of alternative funds tend to pay more attention to ESG issues. They are better at integrating sustainability criteria into the investment process, monitoring and reporting to clients more carefully on sustainability and provide a classification based on SFDR. Although there is still a gap compared to public markets, there have been improvements," says Ciucci.
"Private equity is the asset class that is most exposed to the J-curve effect and represents 21% of the portfolio of the alternatives, so the J-curve effect has been mitigated by the exposure to direct lending and infrastructure that generate and distribute profits more rapidly," Ciucci says.
The deployment of commitments has also been in line with expectations. Around 80% of the funds from the first selection were deployed, and some of them have recalled the committed capital almost entirely. Previndai experienced a hit to performance in mid-2020 because of the COVID pandemic, but it was followed by a quick recovery.
When it comes to infrastructure investments, the pension fund also looks with interest at the energy sector. "We tend to choose portfolios that are diversified in terms of sector, with a share invested in traditional energy and renewable energy, but also other components such as social infrastructure, transport, and telecommunications," according to Ciucci. But in the past few years Previndai has seen growing opportunities in the infrastructure market as Europe and other developed markets have had to invest to replace old infrastructure but also to build new projects.
"Particularly in the Italian market, during the last fund selection process, we noticed an increase in the number of investment solutions," Ciucci says. The CFO argues that programmes such as the Piano Nazionale di Ripresa e Resilienza (PNRR) and the Next Generation EU are likely to generate a growing supply of investment solutions that are suitable for pension funds.

DACH Correspondent