Three European pension funds discuss their outlook for 2021 and beyond, amid the uncertainty caused by inflation and a new strain of the coronavirus

We stick to the long-term plan
While we try not to pay too much attention to short-term developments and to focus on long-term trends instead, part of our job is to reflect on current topics, including inflation. The problem is that if we asked 10 different academics about inflation, we would get 10 different answers.
However, to sum up our view, our overall expectation is that inflation will be transitory, especially in Europe, as it seems to be driven mostly by transitory Covid effects and energy prices.
The picture is slightly different and more complicated in the US. There is some disconnect between equity markets, which seem to be pricing three Federal Reserve rate hikes next year, while Treasury markets seem to suggest otherwise. But we still believe in the Fed's ability to manage inflation expectations.
The medium-term outlook is complicated, but we still see the long-term trends in demographics and technology acting as a barrier to inflation.
As far as our asset allocation goes, we remain on a long-term path of switching our allocation to fixed income into real assets. That is a strategic decision that we made a number of years ago.
This situation simply encourages us to slightly increase the pace at which we shift out of fixed income and into real assets. We are not the largest pension fund, but we are large enough that we need to pace ourselves when selling fixed-income assets and buying real assets.
With regard to our equity portfolio, we are pleasantly surprised with the ability of our investee companies to pass inflationary pressures on to customers. They are managing this inflationary environment well and recording tremendous earnings growth.
Economic growth will most likely fluctuate as the pandemic continues, but we do not see a significant danger of a stagflation.
Therefore, in the current environment, equities could be a winner as well, but a portfolio of private assets protects us from the likely bouts of volatility on equity markets.
In other developments, this year we plan to look more closely at investments that could profit from the climate transition. We have stepped up our ESG efforts across the portfolio and think climate change represents a challenge but also an opportunity.

Cautiously optimistic, but Omicron a concern
Our scheme is growing quickly, thanks to inflows of around £5bn (€5.9bn) per year at the moment, which will grow to £6bn per year in 2023. This means that we can take advantage of the illiquidity premium. We have invested a lot in private markets lately, including private debt and real estate debt, and are expanding into private equity.
Before the Omicron variant of the coronavirus rattled the markets, we were cautiously optimistic on equities and were rebalancing our fixed-income allocation from an overweight to a neutral position. As of December, we were still slightly overweight on high yield but, generally, we have been diversifying and investing with a cautiously positive outlook. Recently we have also raised our allocation to UK real estate, which has been delivering good returns.
The spread of the Omicron variant forces us to be vigilant, but we have raised our capacity to react. In particular, we have implemented a futures-based derivatives programme, which helps us rebalance when necessary or when an opportunity presents itself. Thanks to a segregated derivatives account, we can rebalance quickly and efficiently using liquid instruments. Running a derivatives programme poses some questions from an ESG perspective, but we are working on that.
When it comes to inflation, we are benefiting from an allocation to commodities that we built before the Covid-19 pandemic. In 2019 we felt we needed to be invested in this asset class and started building our exposure, despite opinions that it was premature. Now we are in a good place to offset the impact of rising inflation on markets.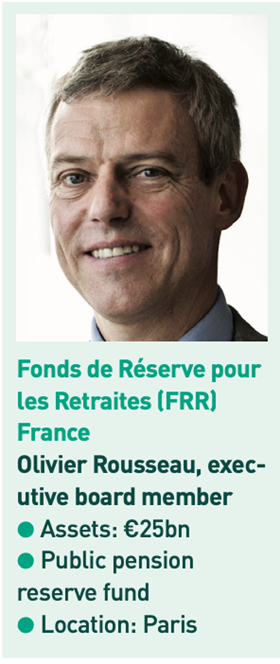 Almost everything is expensive
This is a very difficult time to invest, because most asset classes are very expensive, from low-risk sovereign fixed-income to the riskier asset classes. It is also difficult to take a clear view on several issues, from the outcome of monetary policy decisions to inflation, which is why, to some extent, investors like us need to work on the basis of scenarios.
However, it is possible to make some clear decisions – for instance, on government bonds. They are super expensive and should be avoided when regulation allows it. Investment-grade credit is not as expensive but that should be avoided too.
In my view, growth equities are also very expensive, after the positive performance they enjoyed off the back of falling interest rates. While the medium-term outlook for growth and productivity is more or less unchanged, despite the pandemic, being exposed to growth stocks implies a large exposure to duration. However, growth equities can do the trick to some extent, particularly if the duration exposure is offset by shorting long-term rates.
On the positive side, I think it pays to overweight value equities. There are several markets where cheap equities can be found, including parts of Europe, the UK and Japan.
The focus should be on less-liquid markets, for instance mezzanine debt and infrastructure. I also see value in venture capital as opposed to leveraged buyouts. In Europe, in particular, investing in venture capital is cheaper compared with the US.