IPE asked European pension funds how the COVID-19 outbreak has changed their lives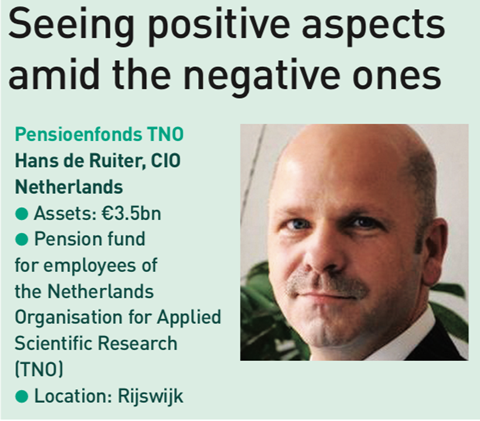 At the moment, all of our staff are mainly working from home. Before the crisis hit, we had taken the necessary steps to make that possible, so for us it was not a big change. We communicate using video conferencing software and it works well.
Generally speaking, I wouldn't be surprised to see that people tend to work from home more than they used to, even after the pandemic is over. There will still be situations where colleagues need to see each other, but I suppose the number of days spent in the office could be reduced.
The same would apply to relationships with external managers and service providers. When the crisis hit, we were in the middle of a search process for a new credit manager. We just continued the process, and instead of holding face-to-face meetings in London we had the meetings through Microsoft Teams and Skype. It did not hinder our process, as we could still ask the same questions and see the people we were talking to.
With the right technology you can do a lot of things efficiently. We need to recognise that the current situation may last for longer than people think. Until there is a vaccine for COVID-19, people will travel less. They will communicate in a different way. We need to get used to this situation. I think many, who did not think it was possible, have learned that things can be done differently. Maybe they have also learned a bit about themselves, in terms of how they operate working from home. This is a positive aspect amid all the negative ones that this crisis has brought.
In terms of the impact on Pensioenfonds TNO, the coverage ratio has fallen significantly, from about 107% in January to 96% at present.
The impact could have been far worse. The positive thing for us is we had a relatively high allocation to private markets, including unlisted real estate, private equity, direct lending and mortgages. The allocation to private markets, which is above 20%, serves as a buffer against sharp declines in liquid markets. Our equity allocation is also lower than the average Dutch pension fund. So while we have been clearly hit, I think we have done better than most.
We have not decided to make any changes to the strategic asset allocation at this point. Before we can do that, we would need to have at least some visibility about the next three years.
We plan to review the asset allocation, but not before the summer, when there is more visibility and it is easier to elaborate scenarios for the next three years.
We have not done any rebalancing either, because we had implemented our new portfolio at the end of January. We haven't breached any limits, so there was no need to do it. We typically rebalance once a year.
As mentioned, we are in a good position in terms of being overweight private market assets. We generally find that when there is a big shock, typically liquid markets overreact. Part of the shift is due to the fundamentals, but to a large extent the reaction is driven by emotions.
When emotions eventually fade, markets change course, and this is what we saw, with large falls in February and March and a rally in April. At this stage, losses are quite modest. Looking at the markets at the moment, one does not get the feeling that we are in a crisis. It seems that there is a disconnect between the real economy and financial markets. A partial explanation could be the massive support given through fiscal and monetary programmes.
The beauty of private markets is that they show more clearly the impact of changing fundamentals. I am aware that the valuations in private equity and direct lending have come down, but typically the 'emotional' drivers are not there.
There will, be a repricing of private market assets, but it will probably be more based on pure fundamentals and delayed, which would smooth the overall impact of the shock on our portfolio.
Having private market assets in your portfolio provides diversification when it really counts.
Looking at how the European Union has responded to the crisis does not make me feel very confident. Ultimately they have to come up with a big rescue plan, but if you consider how long it is taking to come up with it, and particularly the process, it doesn't bode well.
Once again, we have seen the significant difference in mindset between northern countries and southern countries. The fact they have such different perspectives on things doesn't help to build a stronger EU.
In a crisis situation, acting big and fast is important. We can learn a lot from the US from that perspective. What the federal government and the Federal Reserve have done in terms of fiscal and monetary measures is much bolder than what the EU has done. And the measures were taken much faster.
I would not be surprised if, some time in the future, the EU will be engulfed in the same discussions as we saw in the past on fiscal policy.
However, there are also things we have done better in Europe. We have taken over the burden of companies in terms of paying most of the wages that need to be paid, to make sure people don't lose jobs.
If you look at the US, they have basically tried to enhance welfare for people that have already lost their job and do not have medical insurance. The unemployment rate is edging towards 20%. At some point support from the government will be normalised, but people will still be out of a job. In that sense, the European model is better because it preserves jobs. That is something the US can learn from Europe. In the US the crisis will further the wealth and income gap between the poor and the rich, and that will put more pressure on society.
Pensioenfonds TNO has communicated with members around the impact of the COVID-19 crisis up to now, and on what it could mean in the future.
Under the Dutch regulatory regime, there is a risk that we might have to cut benefits, but the actual risk is very low. I foresee a temporary relaxation of the rules, so that pension funds do not have to cut benefits in the middle of a crisis.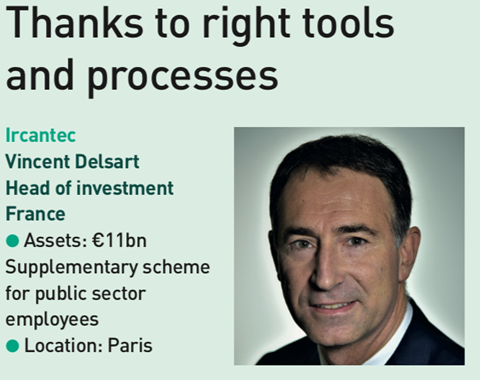 Caisse des Dépôts (CDC) provides the administrative, technical and financial management of Ircantec. The teams in charge of asset management continued their work remotely thanks to the right equipment as well as tools and processes that are compatible with this way of working. Also, with financial management delegated, the teams immediately contacted asset managers to assure themselves of their ability to carry out their duties in the best conditions.
CDC's teams are in close contact with the chairman of Ircantec's board, Jean-Pierre Costes, and have regular telephone conversations. Since the beginning of the crisis, he has received frequent written updates describing the situation of Ircantec's portfolio in light of market developments.
Investments in listed securities are monitored daily, and there is regular contact with delegated management. The managers of unlisted assets were also asked to assess the impact of the crisis on their holdings.
Ircantec has an overlay mechanism whose function is to mitigate losses in a phase of high volatility.
At this stage, it is premature to establish what the long-term impact will be, but this crisis undeniably strengthens Ircantec in its choice to be a responsible and sustainable investor, guided by an ambitious ESG and climate policy.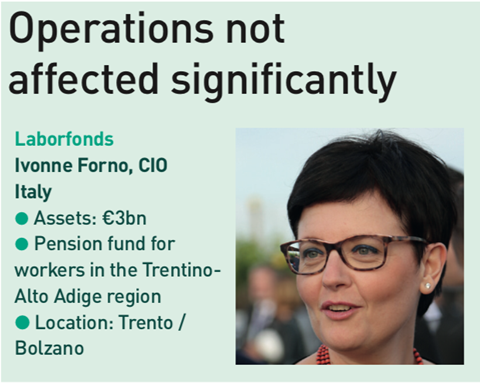 Following the government's first decree regarding the COVID-19 emergency, we immediately took action to implement the contingency plans. On the IT tools and equipment side, each employee of the fund already had a laptop available for daily use in the office. The IT infrastructure, created thanks to our IT partner GPI, allows you to access the corporate network, including all the documents on the fund's server, from anywhere, through a protected channel and in full respect of the GDPR regulation.
To make at-home work completely comfortable, each employee was allowed to take home all the company equipment. We have tried to create the conditions for working as best as possible. Our operations have not been affected significantly.
Thanks to our team's strong commitment, we have managed to meet all the ordinary deadlines and to implement all the planned activities due by the end of March. We organised three board meetings, two of which by video call, because of the restrictive measures. It was the first time since our foundation that the board met by video conference. It would not have been possible without Italy's pension regulator, which formally allowed board meetings to take place in this manner.
Furthermore, since the beginning of the emergency, we have checked the contingency plans of our main service providers to make sure that it was possible to continue operating as normal.
This required temporary changes to our procedures, for instance prioritising exchanges via e-mail. This was to protect the health of all involved but also in the interest of our members.
Given the situation of stress in financial markets, we communicate daily with our stakeholders regarding our portfolio's performance.
We have not sent specific communications to our members regarding the emergency. However, after the effects on the markets became clear, we started publishing a series of news items on the fund's website and on its social media profiles, aimed at drawing the attention of members to the need to react to the trend of markets in a non-emotional way, focusing on the long term.
In fact, we felt it important to warn members to consider carefully any decisions to switch from our equity-focused portfolios to those that are less exposed to equity. The requests were expected. In that sense, the reaction of our members has been positive.
We have temporarily lifted some of the investment restrictions set for our external managers to allow them to use all the levers available to protect the portfolios.
January and February were two months of good performance, during which the portfolios created a performance buffer, which served to cushion the impact of the situation that occurred in March.
Although the markets suffered from high volatility peaks and truly negative performances, we can say that we are satisfied with how the portfolios are reacting to the situation, taking into account our strategic asset allocation.
All our managers except Eurizon, which manages a global government bond passive portfolio, are active multi-asset managers. The agreements generally provide for wide margins of flexibility both in terms of asset class and tracking error volatility with respect to the relative benchmarks.
Having relaxed the terms of our agreements, managers now have freedom to protect our portfolios, and they are doing it. All the active portfolios are significantly outperforming their benchmarks. This is exactly what we expect from an active manager: to protect the portfolio in times of negative market performance and to beat the benchmark, even at the expense of positive performance in times of recovery.
We do not have any plan to restructure the portfolio at the moment. As for the future, any assessment is premature. By the end of the year we must of course check whether the assumptions that inform the strategic asset allocation are still realistic or if, as I fear, we will be called to repeat the exercise.
One important fact to consider is that alternative investments are helping performance, although this is an early assessment. Their wider horizon helps mitigate any negative impact. For some investments, we do not foresee particular negative impacts. This applies to assets like regulated infrastructure or renewable energy, but also social housing or similar real estate investments.
Overall, our members are reacting well, in the sense that we have no evidence of a spike in redemptions or requests to cut risk exposure. We hope that the information we have provided has increased our members' awareness that their pension pot effectively consists of a unit cost averaging strategy, which maximises its effectiveness precisely in negative market moments.
However, we are analysing the data to understand if the limits to the freedom of movement of people represent an obstacle for them, preventing them to carry out requests to the fund. The real test will be when our offices are reopened, but we are confident.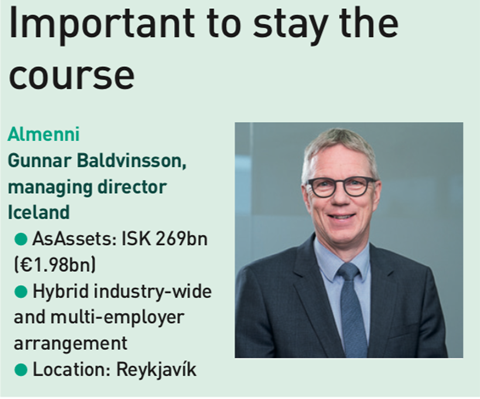 We have had to split our staff into two groups, with one working at home all week and the other in the office. Our office is closed but members can communicate with us through email, webchat or phone calls. We expect to keep this arrangement until May.
We have regularly posted information on our website since the outbreak of the virus.
So far, the effects on our portfolio are minimal. The assets are both liquid and well diversified. There has been fluctuation in asset prices but that is to be expected in the short run.
We were expecting performance in the short and medium term to be lower than historical average and this assumption is unchanged. Our expectation for long-term performance has not changed either, we expect some years to be favourable while others will be bad.
We believe that in current market conditions it is important for long-term investors to stay the course and stick with the long-term investment policy.
In our pension fund, members can move their balance on private accounts between investment plans. So far, only few have used this option and moved their assets from equities to bonds or deposits.
We calculate daily NAV for all our investment plans and publish it on our website. Even though portfolios with equities have shown more fluctuation than long-term, it looks like members have followed our advice to stay the course.
All members of the Brunel team are now working from home. Being a relatively new company, Brunel has flexible IT infrastructure, which allows us to be agile and protect our team as well as continue our activities in a business-as-usual capacity.
We have been in constant communication with our clients, our partner LGPS funds. They are responsible for contact with their members, although we have published a statement on managing the impact of coronavirus on our website.
The statement was aimed at reassuring our clients that we are continuing to operate a normal service despite the challenges posed by the COVID-19 outbreak and the shutdown to parts of the economy. We also made the point that as long-term responsible investors with expertise in risk management, we are well placed to weather the current storm and assured that all pensions will continue to be paid.
Our investments have clearly been significantly impacted by the market falls and have broadly performed in line with expectations. For our client funds, funding levels will have deteriorated but as long-term investors with strong covenants our partner funds will be able to take a patient approach to assessing the impact and responding appropriately.
We have been doing some rebalancing within our portfolios in response to market movement, particularly using investment flows. Clients have done some rebalancing in accordance with their asset allocation and investment strategy.
It is too early to say what the long-term impact of this crisis will be. The COVID-19 pandemic is likely to weigh on future economic growth for many years, with massive government borrowing, and the markets have fallen accordingly. The return prospects at these levels will depend on many factors. However, our expectations of relative returns against benchmarks have not changed.
We are working with our managers and material holdings to understand the impacts of the crisis and develop evidence-based responses to ensure the resilience of our portfolios. At the same time, we are maintaining a focus on long-term horizons and continuing our work to build a more sustainable and resilient financial system.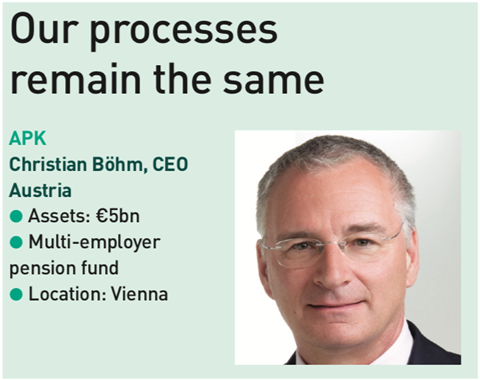 APK managed to quickly arrange home-based work for its staff to avoid any health risks. The benefits department, in particular, reacted very soon and immediately borke off face-to-face contact with members.
Business continuity was always extremely important for us. Our IT department did an excellent job offering the technical support necessary for implementing home-based work on such a large scale, as well as providing all the facilities for video conferencing.
The way we work is different but there has been no interruption of our processes as a result of this crisis. We do interact with the IT and risk management teams more often than in normal times.
In terms of communication with members, we communicate via the homepage of our website and provide members with online access to their individual data. We also give information about the meetings held by our investment committee. We try to avoid over-emotional communication without underestimating the severity of the current situation.
As far as the impact on our portfolios, it is too soon and we are not in a position to give any figures. But it is clear that there will be a negative impact.
The normal portfolio rebalancing procedures have been postponed. It is impossible and extremely dangerous to react to daily volatility in such abnormal market conditions.
We analyse and try to understand the strategically important underlying factors and what will shape future developments. But we think in terms of possible scenarios instead of trying to come up with one prediction.
With regard to the long-term impact, we think in terms of risk/return assumptions of different asset classes. After every shock, historically a recovery has followed, which gives hope. But the time frames as well as the shapes of the recovery periods are associated with different dependent variables,. There is no comparable historical event. We need a systematic approach to this kind of analysis.
One possibility is to analyse the possible development of the pandemic. The other part is the impact on different sectors of the economy and the structural changes that are taking place. The impact of the enormous measures taken by governments. as well as monetary authorities, has a significant relevance.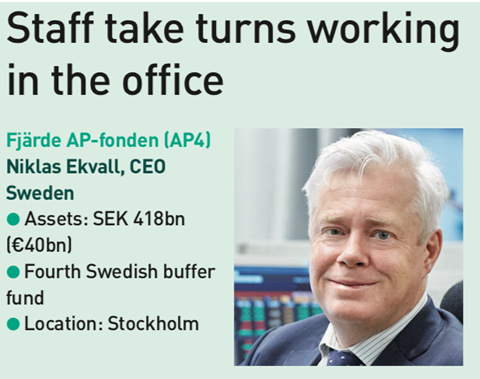 We have divided the staff into two separate teams across all our entities, and they take turns working in the office. We have a technical setup that enables us to continue working as usual. The day-to-day business continues to run smoothly.
Since we report directly to the ministry of finance, we naturally have kept our dialogue with them in this particular environment, both when it comes to markets and the running of the fund.
The fall in equity markets does, of course, affect all long-term investors with a significant equity allocation. That said, the AP funds do not have investment guidelines that in any way restrict us from allocating the portfolio the way we want.
We have not yet made any changes to our return expectations. The environment is currently very uncertain. On an annual basis, we revisit our 10-year return targets based on macroeconomic scenarios. Every three years, we also conduct a 40-year ALM study. Both studies will be conducted during the course of the year.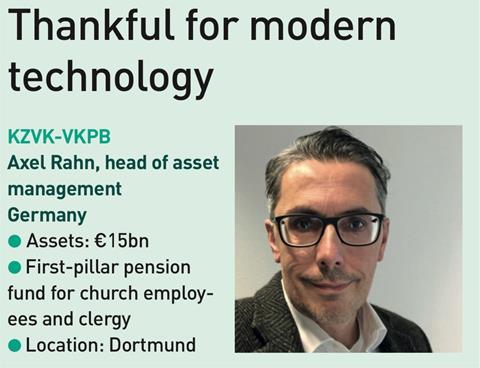 We are currently carrying out all our work from our homes. Although we did not prepare for this kind of event, it was astonishing to see how modern technology has allowed a smooth transition. I wonder what would have happened if the crisis had occurred 10 years ago.
We have communicated with our members with regard to the impact of the COVID-19 emergency and the recent market shocks.
During the first stage of the market reaction, we made sure that our own liquidity was sufficient. As a second step, we repositioned the portfolio to be neutral to our benchmark, which is based on our asset-liability management model.
We have temporarily stopped investing in lagging asset classes such as real estate.
Since the longer-term impact of the crisis is unforeseeable, being neutral towards our benchmark seems to be the wisest idea. Fortunately, we do not need to restructure the portfolio at the moment.
We are taking a closer look at different market segments, where we think assets may be mispriced. However, we are not in a hurry to invest.
While we cannot say what the long-term impact will be, we assume, however, that real assets like real estate or private equity, but also equities, may become ever more attractive in a world where yields could stay lower for longer.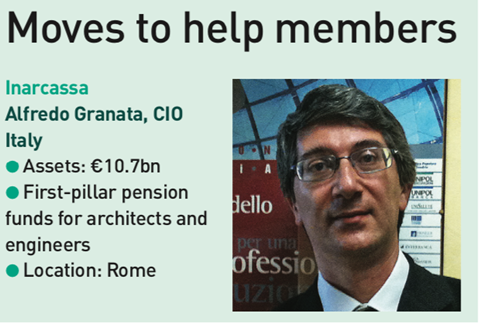 Since early March, INARCASSA has adopted all measures and precautions aimed at guaranteeing the activity of its employees in maximum safety. All of Inarcassa's functions, including the activities of the governing bodies, are carried out remotely.
The publication of our monthly newsletter has continued without interruption, and the March issue highlighted the consequences of the evolution of the pandemic for the markets, and the actions taken to contain the drawdowns on the fund's portfolio.
The impact has been clear and could not have been otherwise. That said, the significant diversification of our portfolio and a number of initiatives aimed at reducing exposure to equity risk made it possible to limit the losses, within the risk limits approved at the time of design of our new strategic asset allocation. This was possible even without compromising the possibility of recovery in case the risk appetite of markets comes back. A particular contribution was made by our alternative assets which, owing to their illiquid nature, have not suffered from the extreme volatility of listed assets.
We have not made any significant change to the portfolio, but we have been particularly careful to grasp the movements that, given their size and timing, can be seen as excesses that are not justified by the fundamentals. To this end, particular attention was given to the management of the cash component, also in light of the possible interventions that the organisation foresees to support the members.
Obviously, our return expectations for this year have been reduced, but we expect that the negative result will be limited in size and that it will not neutralise the brilliant performance recorded in 2019.
In terms of helping our members, the board of Inarcassa unanimously approved an additional budget allocation for 2020 of €100m, for assistance measures aimed at addressing the COVID-19 emergency. This builds on measures taken previously to help members. These include a contribution holiday, interest-free loans for members and special assistance for those infected by the virus.
Interviews by Carlo Svaluto Moreolo, Susanna Rust and Rachel Fixsen
To read the latest IPE Digital Edition click here