IPE asked two investors how their equity portfolios are positioned
A risk-based approach with high conviction elements
Our equity portfolio is managed for the most part through a systematic, risk-based approach. We tilt the portfolio towards the various factors that we believe will work in the long run.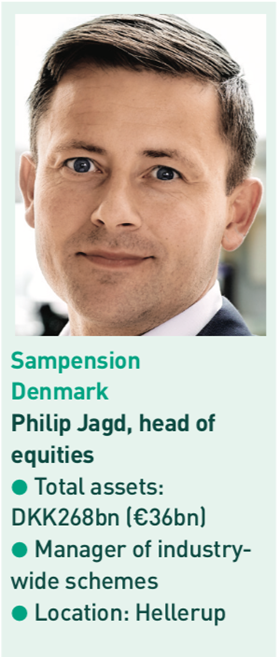 We then have a few modestly sized concentrated portfolios managed by external managers on a high-conviction basis.
Quality stocks can take many forms. On one hand, it should be possible to find companies that are capable of withstanding the shock that COVID-19 has been. However, shocks can be different.
The COVID-19 crisis affected the physical world but the digital one kept on running. The next shock could be of a different nature, leading to different types of companies being affected.
What matters for us is that our portfolio is robust. For that reason it should not lean towards one kind of company or another. That is our fiduciary responsibility.
That said, we adjust our portfolio tactically if we identify stocks where we have conviction. For instance, in the past couple of months we shifted towards certain stocks, which we believe can outperform the market in a post-COVID normalisation regime with rising aggregate demand.
We tend to use traditional long-term factors and focus on implementation. In the short term we acknowledge that we can suffer temporary underperformance.
For instance, we have kept an allocation to the value factor for some time. It is challenging to time exposure to factors exactly but we believe that as the relative valuation of factors becomes extreme, in the long run the chances of a reversal rise.
Generally speaking, earnings are an element of significant importance in building our equity portfolio. As an example, in 2020 the companies that kept their earnings outperformed significantly not just because of earnings but also because their multiples expanded. One needs some conviction about the strength of earnings across geographies and sectors in order to build a portfolio for 2021.
Thankfully, earnings should be high across the board this year, which gives us confidence about small caps. They were hit hard by COVID-19 and could outperform this year, especially as financial conditions ease and a COVID-19 vaccine gets rolled out.
Dynamic factor implementation pays off
Managing risk is essential for AP7, as the institution has over 90% of its assets invested equities.
In order to build resilience into our portfolio we have been diversifying away from market capitalisation-weighted indices. We have also been active in the area of systematic risk premia for a number of years. Our experience of quantitative and systematic strategies is a key element of our approach to building defensive portfolios.

Furthermore, for some time, we have had a framework to handle broad equity risk. We are now looking to improve the granularity of the framework, trying to de-compose the various elements. For example, we try to take into account the fact that model signals and investments have a distinct feedback loop. The process of selecting what is included in the toolbox is therefore essential.
Defensive portfolios can take many different shapes and forms. For us it is essential that portfolios are fully aligned with specific risk properties related to our specific situation.
Some of our systematic implementations, such as equity factors, carry some defensive properties for us. Our objective is to construct various scenarios, linked to our dynamic model, that allow for the possibility to modify the portfolio in order to protect it from shocks. These will not necessarily be deterministic in nature as convexity profiles with low or no negative carry can be achieved through both linear and none-linear implementations.
It is key to be aware that there can be dispersion between portfolios that are based on a given factor, due to the different ways in which factor can be defined.
We are aware that the way traditional factors are defined in the academic literature does not fully reflect the real world today.
Factor-based strategies give great freedom in terms of defining them. But for every twist and turn in factor definitions, one has to be careful not to deviate too much from the original objective. For that reason, we are developing tools to define each factor on an ongoing basis.
The factor model is implemented dynamically. Because we have long-term return objectives, we do not necessarily react very quickly to changes in the market environment. However, there are events that can trigger rebalancing activity.
Our framework has been live for a number of years and it has performed positively. Our objective is to develop it further and achieve more granular exposure to factors and signals. A further natural step is to integrate AP7's sustainability strategy into the framework.