Roche heir and pharmaceutical tycoon André Hoffmann outlines his view of a more sustainable model of capitalism 
André Hoffmann may not be as well-known as his father, Luc Hoffmann, a renowned ornithologist and co-founder of the WWF (originally the World Wildlife Fund) but his mission is no less ambitious. The younger Hoffmann aims to contribute towards changing the nature of capitalism.
By making a sizeable donation to INSEAD business school in 2018 and establishing the Hoffmann Global Institute for Business and Society, Hoffmann has financed a direct challenge to the extreme free market version of capitalism most notably espoused by Milton Friedman and Friedrich Hayek.
His stated aim is to equip graduates of INSEAD to make decisions in ways that deliver positive outcomes for business, communities, people and our planet in line with globally agreed sustainability goals. Putting sustainability rather than profit maximisation at the core of decision-making may go against free market economics but, as Hoffmann argues, the idea of profit maximisation alone is no longer a valid way of creating value.
"Short-term profit maximisation is destroying the planet," Hoffmann says. "My ambition with the INSEAD sponsorship is to change the nature of business education. Not only that it should be about making money, but also about having a positive impact to the world as a whole."
He acknowledges that his thoughts on sustainability are evolving. But, he is well positioned to contribute to the intellectual and practical journey towards a more sustainable capitalism. Aside from being on the board of WWF for over 20 years, Hoffmann also heads his family's involvement in Roche Holding AG, one of the world's leading pharmaceutical companies.
The family still owns most of the voting bearer shares (Inhaberaktie) and the company has always been run as a trans-generational family business. Such businesses were frowned on two or more decades ago. Indeed, around the turn of the century, Roche was under pressure from the Swiss activist investor Martin Ebner for perceived shortcomings. Ebner set up a separate vehicle, BZ Group, which acquired a minority shareholding and requested a boardroom position. Roche turned him down and his holding was subsequently acquired by Novartis, who increased their Inhaberaktie stake to a third.
André Hoffmann's CV
● 1996- Roche (vice-chairman since 2009)
● 1991-93 Nestlé UK
● 1985-89 James Capel
● 1983-85 Station Biologique de la Tour du Valat
● 1979-82 St Gallen School of Economics
● MBA, INSEAD (1990)
● Founder and advisory board chair, Hoffmann Global Institute for Business and Society
● Governing board member, World Economic Forum
● Shareholder and director, GIST Advisory
In family-owned firms, owning more than 30% is usually seen as a partnership, but Roche publicly declared this was not the case, leaving Novartis holding Roche shares but without collaboration. That does leave Novartis with the problem of finding a buyer should it decide to use the funds elsewhere.
Family focus and the long term
There is certainly an appreciation of the strengths of family firms with multi-generational horizons in their decision making. For example, research by Cristina Cruz Serrano and Laura Nuñez Letamendia of the IE Business School, looked at almost 2,500 European stocks in the first decade of this century and they say: "The study findings leave no room for doubt: listed European family businesses created more value for their shareholders during the period 2001-2010."
That seemed to hold true even after adjustments for possible value creation factors such as size, debt level, risk and sectoral distribution, leading them to the conclusion that the results "clearly point to the existence of a family effect which has a positive impact on creating long-term value for shareholders".
ESG and an aspiration towards long-termism embodies the spirit of today's investment world. As investors demand companies should look beyond the maximisation of short-term profits and consider their wider impact on the world and on future generations, there is, arguably, much to be learnt from family businesses that have stood the test of time such as Roche.
As well as the voting shares, Roche Holding AG's capital structure includes non-voting equity securities which receive dividends (Genussscheine). As a result, says Hoffmann, decisions have to fit with the expecations of the market. "We cannot be oblivious to the interests of other shareholders." Key strategic decisions are made consensually between three people – the CEO, representing the management; the chairman of the board, who is independent; and a representative of the owners.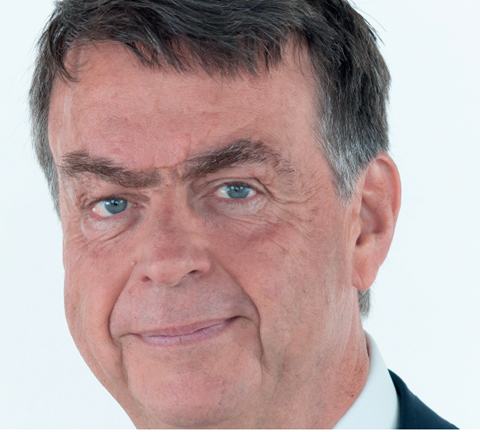 Hoffmann continues: "Having three people making key decisions together gives a better decision-making process. By contrast, in a typical example of a quoted company, there is no real representation by owners as a pension fund may have just 2-3%; the board is nominated by the chairman and most of the time elected at the AGM without challenge, so opposing the chairman is not a good idea. The only way small shareholders can have an influence is by selling stock. It is not a surprise therefore that there is a strong short-term focus".
Hoffmann also claims that the firm's corporate structure enables it to take long-term measured bets on the direction of the business without worrying about impacts on short-term earnings. "A good example of the way Roche behaves as a result is that 20 years ago, we acquired Boehringer Mannheim, a maker of medical diagnostic equipment. This allowed us to move into personal healthcare, which has now become the norm. We were the first to Pioneer this approach and it took time for the area to have an impact."
Rethinking pharmaceuticals
Trying to create a sustainable model for a pharmaceutical company such as Roche is a complex and continuously evolving challenge. A sustainable model of the economy cannot be predicated on the idea of linear growth, says Hoffmann. "We created monoclonal antibodies. The patent period meant that competitors could not produce competing products while the patent is valid. But the model of creating a product, then switching to get you 7% growth per year is not sustainable. The future has to be some sort of circular model. But it can be difficult to know how to create one."
Hoffmann says the current business model of pharmaceutical companies clearly needs to change: "The pharmaceutical industry has a history of being over-managed like an army with too many colonels and not enough troops. The margins are high and they have been used to support too many management staff." He adds that the resulting model of drug pricing is clearly not sustainable as healthcare systems cannot afford them.
Hoffmann also passionately argues that a pharmaceutical business can only be sustainable if it can show that it is reaching as many people as possible, not just the affluent. "It used to be said that cancer is a disease only of rich people. That is no longer the case." If drugs must be accessible to everyone, then Hoffmann maintains that pharmaceutical companies such as Roche have to introduce tiered pricing with lower and even subsidised pricing in developing countries. But, even for richer countries the model has to change.
"Short-term profit maximisation is destroying the planet. My ambition… is to change the nature of business education. Not only that it should be about making money, but also about having a positive impact to the world"
"If we say we are just a producer of molecules used for healthcare, we lose the argument. We need to control the overall healthcare." As he argues, US healthcare costs are 17.9% of GDP and rising, making them unsustainable in the long term.
One of the possible approaches to pricing is outcome-based pricing. "Pay us only if it works. Outcome-based pricing is being discussed by all the presidential candidates in Washington DC as they are all saying healthcare is too expensive. They all see it as part of the solution."
Roche is testing outcome-based pricing in Italy, France and the UK. The approach shows promise as an economic model for the private sector to be able to work in healthcare but there are several challenges before it can be workable. "You need to have a counterparty opposite you that is credible. If we did a deal with the UK NHS, will the managers who agreed the deal still be there in five years' time and if not will their successors continue to honour the contracts?"
Knowledge transfer
What could other industries learn from the approach Hoffmann is taking both at Roche and in his idea of sustainability for corporations? A tidal wave of interest in ESG that is flooding the marketplace. But ESG ratings are not sufficient to create sustainable companies.
"I come from nature conservation trying to preserve species and habitats, as the WWF is doing. But currently protected areas only function because we transfer value to them. They are not sustainable in themselves because they do not produce positive cashflows. There is a need to understand the root causes for adverse environmental impacts," says Hoffmann.
Measuring the impact of corporations in an objective manner is critical to creating a more sustainable model of capitalism. Reconciling the notion of shareholder profit maximisation with the interests of all stakeholders impacted by a corporation's activities can be done if the total economic impact of a company's activities was charged to them.
Burning a rainforest to create pasture for ranching may appear profitable even if society loses out heavily; if the true costs were charged to the rancher the company could be bankrupt.
To promote investigation of this question, Hoffmann has taken a large stake and a directorship in GIST, a firm that aims to make sustainability accessible to all companies and investors by measuring such external impacts in an objective, scientific and quantitative manner*.
By publishing sector estimates where companies have not yet revealed their full environmental impact in areas such as carbon emissions, other pollutants, use of scarce water resources, the intention is to encourage companies to increase their public disclosures. Few companies are making a positive impact on the world today. That needs to change, and more companies need to make a positive impact on the world to create a sustainable model of capitalism. Hoffmann is in the frontline of the struggle for that change.
*The writer is also a director of GIST Advisory Switzerland