Asoka Woehrmann only knew one German phrase when he arrived in Germany as a 12-year-old boy on holiday in 1978. "Der Himmel ist blau". The sky is blue. The original plan was to stay for six weeks, pursuing his interest in Greek and Roman history, and then return to his native Sri Lanka. But he ended up living there and being adopted by a German family friend.
Woehrmann went to school in a village in rural northern Germany. It was a world away from the diverse multi-cultural mix found in large German cities today. "I was the only coloured person in the school," he says. "I had to learn German quite fast."
Although Woehrmann is keen to emphasise that he does not seem himself as a victim of racism in Germany, he says there were times when he encountered xenophobia. That was particularly the case in the 1990s when he did a doctorate in economics at Otto von Guericke University Magdeburg, in what had been part of East Germany, shortly after reunification.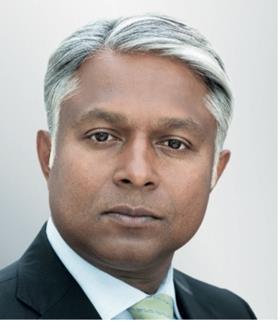 Asoka Woehrmann
● 2019- DWS, CEO
● 2015-18 Deutsche Bank, head of the private client business of private and commercial banking in Germany
● 2011-15 DWS, CIO
● 2007-11 DWS, head of fixed income absolute return strategies
● 1998-2007 DWS positions in the fixed-income, multi-asset, absolute return and currency divisions
Education
● 1993-98 PhD in economics, University of Magdeburg
● 1986-92 Masters degree in economics, Bielefeld University
Born
1965 Sri Lanka
DWS
● €700bn in assets under management
● Headquarters in Frankfurt
● Main business areas include active fixed income, passive, active equity, alternatives and multi-asset (see chart)
● 79% owned by Deutsche Bank. The second-largest shareholder is Nippon Life, one of Japan's largest life insurance companies, with a 5% stake
● Strategic alliances with Harvest Fund Management in China (in which DWS has a 30% stake) and Nippon Life
● Has 24.9% stake in Arabesque AI, a UK-based company focusing on artificial intelligence to predict stock price developments
By his own account, his challenging upbringing brought out a quality that has proved useful to this day. "I was never shy of transition and transformation," he says. "That was always a great lesson of my life, I have to say."
Today, as chief executive of DWS, he is having to apply the same qualities in a completely different context. Germany's largest asset manager has faced many well-publicised challenges in recent years. Internally, these have included investor outflows and declining profit margins. There has also been a relatively high turnover of CEOs since 2012, while the group has has operated under several names including Deutsche Asset Management and Deutsche Asset and Wealth Management.

DWS managed a partial separation from its parent, Deutsche Bank, in early 2018 with an initial public offering involving just over 20% of its equity. There are now rumours of possible buyers circling around the asset manager.
However, Woehrmann is insistent that things have already started to improve and that a recently announced reorganisation will make things better still. For example, he points out that in 2019, his first full year as CEO, there were net inflows of €26bn. That compares with net outflows of €22bn the previous year.
The new simplified global structure, announced in June, came into effect at the start of this month. It involves having a unified global investment division operating in every region, a client coverage division that is globally aligned and a new product division.
Bob Kendall, formerly head of DWS Americas, was the most high-profile casualty. The other two board-level departures were Pierre Cherki, who led the firm's alternatives business for many years, and Nikolaus von Tippelskirch.
Woehrmann says the reorganisation will allow DWS to focus on its three key business lines of alternatives, passive and active (see figure). It will also have three key client segments – wholesale, institutional and insurance – while operating across all three regions worldwide.
"I was never shy of transition and transformation. That was always a great lesson of my life "
In relation to the relationship between DWS and Deutsche Bank he is emphatic about the asset manager working as an autonomous entity. He says that even when Deutsche Bank was the sole owner, it made sense for its subsidiary to maintain a healthy distance. "We are a fiduciary entity," he says.
He is insistent that he should not be on the main Deutsche Bank board. "I don't want to be," he says. "My job is CEO of DWS. Nothing else. That is good for us and good for them."
He makes an analogy with his 16-year-old daughter. She is likely to leave home in the next few years but she will stay in touch with her family while becoming independent.
Woehrmann says in relation to the inevitable question about managing the impacts of the COVID-19 pandemic that the seven megatrends that DWS had already identified should hold it in good stead: secular stagnation; technology revolution; the global wealth shift; market consolidation; and investor sophistication. He is particularly passionate about ESG, which he sees as having a history of over 20 years at DWS (see page 22).
In relation to DWS's geographic reach he puts particular emphasis on the Asia-Pacific region which at present is only the source of 5% of the group's assets. This compares with 43% in Germany, 28% in the remainder of Europe, Middle East and Africa, and 28% in the Americas. He sees its strategic relationships with Japan's Nippon Life and China's Harvest Fund Management as key to its regional expansion.
"I have Asian blood," he says. "And one of my biggest tasks is to build up our platform in Asia."