Last August, RWC Partner's chief executive Dan Mannix left the company, and the head of business development, Tord Stallvik took over. Soon afterwards, the company rebranded as Redwheel – RWC was an acronym for Red Wheel Capital.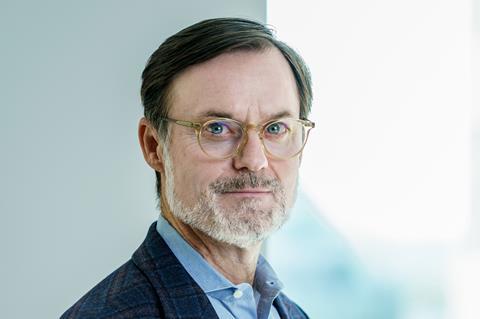 Tord Stallvik
● CEO, Redwheel (RWC Partners), 2021-present
● 2015-21: Head of business development, RWC Partners
● 2011-15: Senior managing director, Everest Capital
● 2008-10: President, Protégé Partners
● 2003-08: Principal, Pequot
● 2000-03: Executive director, Schroders
Redwheel
● AUM: $23.9bn, split 52% institutional, 48% wholesale
● Offices in London, Miami, and Singapore
● Seven independent investment teams; 54 professionals
● Convertible bonds, global equities, global equity income, emerging & frontier markets, uk value & income, Japan active management, Europe active management
A new name and CEO may imply a change of direction, but Stallvik says the decision to rebrand was taken before he took over. "A three-letter acronym was not very useful; not the best way of telling our story. What we are about as an organisation – our attributes, our core beliefs."
The name Redwheel comes from the wheel that hangs in RWC's London office, which was formerly the Royal Horse Guards stables, and was part of a mechanism to move military horses. For Stallvik the new name conjures up the essence of the business model. "A series of specialist boutiques radiating from a central hub. One which works in close partnership with them, provides essential services and helps grow the funds."
Since it was formed in 2000, RWC had built a business managing $24bn (€21.8bn) in assets across seven investment teams.
Talent spotting
Its growth model is to identify successful investment teams at larger asset managers and buy the whole team, often with support staff. And investors frequently follow too.
This is also how Stallvik joined the firm. He was part of a 16-strong team at US investment manager Everest Capital that RWC bought in 2015, along with $1.6bn in investor money. It also included James Johnstone and John Malloy, the co-heads of Redwheel's Emerging Market and Frontier Strategy.
In March 2020, Newton Asset Management veteran Nick Clay and three of his colleagues were lured to RWC. Clay heads the Global Equity Income team with $866m in assets under management.
Another of Redwheel's star teams is the UK Value and Income strategy, which manages $5.7bn and is "the best in the business, and very much getting attention as the value/growth pendulum swings", according to Stallvik. A major step came for this team when Temple Bar awarded management of its investment trust in 2020 to the long-standing investment partnership of Nick Purves, Ian Lance and John Teahan.
How does the firm decide on the investment teams it buys in?" "We keep an eye out for teams with enterprising spirit and existing credibility in the market. But also a desire for greater autonomy. A wish to escape large, bureaucratic, organisations."
Redwheel's model then gives those teams responsibility for running their own business, and what Stallvik calls "clarity of compensation". The top line revenue share is split between the centre and the team. Teams pay their own employees along with operating expenses such as travel.
Stallvik believes this is liberating for both sides. "Conversations about compensation are the most stressful part of running an investment business. We have simply taken this out of the equation along with competition between investment teams."
Stallvik says: "We talk to teams about their evolutions – they cannot stand still. Nor will they."
The overall business is owned by the investment professionals themselves, together with Boston-based Lincoln Peak Capital, which specialises in taking minority stakes in asset managers and, according to Stallvik, "provides long-term stability". Lincoln Peak bought a 28% minority stake in RWC from Schroders in 2020.
As for the 'hub', this carries out what Stallvik calls "the obvious functions. Risk, compliance, legal, operations and trading". There is no chief investment officer and no attempt to impose a particular macroeconomic profile. Nor is there a centralised research function for individual company research.
But there is a centralised team to look after the environmental and social aspects of ESG. Stallvik says: "We seek to integrate ESG into everything we do," but he concedes that there are no blanket exclusions across the business on issues such as mining or fossil fuels, unless client specified. "Rather, the centralised function seeks to give teams a better understanding of their exposure to environmental and social factors," he says.
Governance, however, is not centralised to give the investment teams independence in decision making. Stallvik says this is "fundamental to being an active fund manager, and has to be at a company by company level".
Stallvik cites overly bureaucratic, centralised human resources (HR) policies as one of the frequent reasons managers defect to Redwheel. He says: "We only recruit managers who are open and collaborative and believe in the spirit of partnership. We are a series of multi-cultures as investors, but when it comes to HR, people must be part of a larger organisation."
The firm headhunted Roxy Kennedy, who Stallvik calls a "big hitter", from HPS Investment Partners in 2021 to head HR.
"I do believe it's important to build a diverse organisation. So on gender diversity we have sought to put in place unbiased hiring policies and job descriptions, and to avoid the danger of being too pale and male," Stallvik says. Women currently make up 28% of Redwheel staff. Louise Keeling leads the Global Horizon Equity product, and Nicola Takeda Wood Japan Active Management.
There are other challenges, not least the war in Ukraine, which is obviously a consideration for emerging markets portfolios. Stallvik says: "Fortunately, Russia was not a significant allocation for us, and we have sold almost everything that we have there. A few positions are frozen, but this is a very limited issue."
Growth and patience
For Stallvik, "growth is our biggest [challenge] and we have to be patient. The nature of our business, being specialist investment teams, necessarily imposes capacity limits".
Sales and product development is done centrally by the hub, in partnership with each of the teams. Stallvik says there are three ways in which Redwheel grows the business. "Firstly and most easily by raising more money for existing propositions. Secondly, by helping the evolution of different strategies and products. Thirdly, by adding new teams. New spokes to the wheel."
He says the current seven investment teams are "perhaps on the low side, but 20 would be far too many and I'd be very relaxed if we had a year or two where we didn't add a team".
Asked whether the hub has ever had to remove one of the spokes, Stallvik says: "If a proposition isn't working, we, the centre, don't have to go to a team to say, 'you're not doing well, we need to close you down'. Investors themselves will tell them that. A business will effectively close itself down."