Daniel Ben-Ami looks at why asset managers are increasingly upbeat about emerging markets
At a glance
• Sentiment on emerging market debt (EMD) has become more upbeat in recent months following several years of pessimism.
• Currencies represent by far the most important element in the long-term performance of EMD.
• EMD should be understood in the context of the relationship between the emerging economies and the developed ones.
• The larger emerging economies have not suffered any serious sovereign debt problems since the early 2000s.
What a difference a year can make. Back in 2015 there was widespread gloom about emerging markets. Economic growth seemed to be on a downward trend, China appeared to be facing the prospect of a hard landing and commodity producers were suffering. Wind forward to the summer of 2016 and their fortunes appear to have reversed. Asset managers seem to be increasingly upbeat about the developing world.
A survey of 86 institutional investors conducted in July and August of this year confirms the optimistic outlook. Some 54% of those polled by Citigate Dewe Rogerson, a public relations firm, on behalf of NN Investment Partners said that they expected investors to raise exposure to EM debt over the next three years. Only 7% anticipated a decline. Diversification benefits and attractive valuations were both identified as important.
Michael Howell, the managing director of CrossBorder Capital, also expresses an optimistic view in an article in this report. Liquidity conditions in emerging markets are improving at the same time as those in developed markets are deteriorating. After five years of relatively poor investment returns in emerging markets, he says there is a strong case for an upturn.
It is not hard to identify, at least on a superficial level, why sentiment has turned more optimistic. For a start, economic growth is expected to turn upwards. The July 2016 update of the World Economic Update from the International Monetary Fund (IMF) forecasts GDP growth in the emerging market and developing economies will rise to 4.6% in 2017 from 4.1% this year. Moreover, the economic transition in China, by far the most important developing economy, looks like it is being well managed.
Under such circumstances, even the attempted military coup in Turkey, one of the larger emerging economies, does not appear to have hit sentiment more broadly. Of course, Turkey itself could suffer from ill effects. A study by the Institute of International Finance (IIF), a body representing the global financial services industry, anticipates a further weakening of economic activity as new investment decisions are delayed and consumer confidence is hit.
There are also what could be called negative reasons for the new-found appeal of emerging markets. The results of the Brexit referendum in the UK seem to have prompted some investors to shift some of their assets from Europe to the emerging world. An IIF study found that portfolio investment flows to emerging markets strengthened in the month following the Brexit vote. An estimated $10.2bn (€9.1bn) flowed into emerging market debt (EMD) in July.
However, to go beyond immediate impressions it is necessary to develop a more systematic approach to understanding emerging market debt. There is no foolproof way of predicting the movement of asset classes. The nature of markets is that they involve uncertainty. But it is possible to identify some of the key factors influencing the asset class.
The first point to recognise is the substantial extent to which returns are driven by economic and political factors. This is in contrast to equities where, although the broader environment plays a role, the specific fortunes of individual companies are particularly influential.
The importance of national factors is reflected in the predominant role of currencies in generating investment returns. James Wood-Collins, the chief executive officer of Record Currency Management, puts the figure at 80% over the long term. He argues that investors often underestimate the contribution of currencies because they focus on spot prices and miss the return from interest rates. "It is not correct to say that the extent to which the price varies day-by-day is the same as the return an investor would get by holding that currency," he says. That is because the rates available in emerging markets are typically higher than in the developed world.
In terms of economic fundamentals, clearly growth is an important determinant. On the most basic level, the larger an economy, the greater its capacity to issue debt. So the rapid growth of emerging economies has meant that the EMD universe has increased rapidly too. The amount of EM tradeable debt increased from $2.4trn in 2000 to £14.8trn in 2014, according to an estimate made by Ashmore last year.
The slowing rate of GDP growth in the emerging economies also helps to explain the pessimism in recent years. Economic expansion seems to have become more difficult to generate in the aftermath of the 2008-09 global financial crisis. Manufacturing exports in particular – an importance source of growth for many emerging economies – seem to have stagnated since then.
Average economic growth fell steadily from a recent peak of 7.4% in 2010 to 4% in 2015, according to IMF figures (see figure 1). This helps to explain the pessimism that surrounded the asset class and the notes of caution that still prevail in some quarters. "My main axe to grind against EM at the moment is that it doesn't have growth, and without growth it just makes grinding out the returns somewhat harder," says Simon Lue-Fong, the head of emerging market debt at Pictet.
In the real world, focusing on GDP alone is not sufficient to explain the performance of EMD. A rapidly growing economy might accumulate relatively little debt but then become more indebted when it encounters difficulties. But it would be wrong to lose sight of the key drivers simply because of the complex way events often unfold.
On that note, the importance of the relationship with developed markets should be recognised. It is clear from IMF figures that the differential in GDP growth between advanced and emerging economies narrowed significantly from 2010 onwards. Back in 2009, when the developed world was mired in crisis, the differential was 6.4 percentage points in favour of the emerging economies. By 2015 the differential had narrowed to 2.1%. "The growth premium has been shrinking relative to developed rather than growing," says Lue-Fong.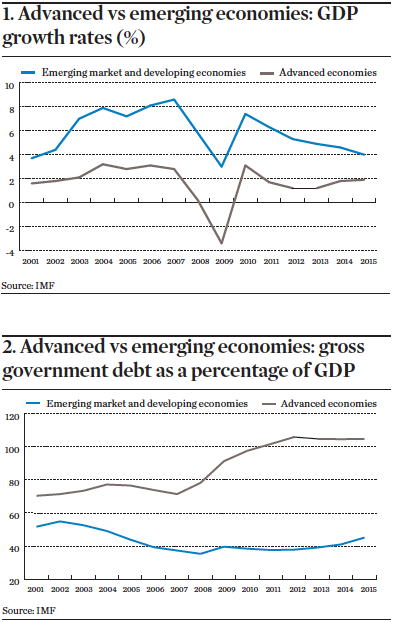 In addition, the past few years have seen substantial quantitative easing (QE) programmes across the developed world. These have pushed up the prices of government debt in developed markets and led to a burgeoning of supply (see figure 2). Under such circumstances it would be expected that some investors who would otherwise have invested in emerging markets were attracted to the developed world instead. Conversely, a recovery in the developed world could lead to a reduced QE which could benefit investment in EMD. Once again, though, the prospect of the UK leaving the EU could complicate matters. In August the Bank of England cut rates and announced further QE measures in an attempt to counter market uncertainty.
So far, this article has discussed emerging markets in general but they are not a homogenous entity. Different countries, regions and groups of countries can perform in different ways. Over the past couple of years or so, perhaps the clearest sub-category consists of countries heavily reliant on commodity exports. "If you are commodity-focused and you are an exporter you are challenged", says Evan Moskovit, lead portfolio manager for global investment grade credit at NN Partners. These include countries such as Indonesia, Russia and South Africa as well as much of Latin America. In contrast, countries which are net commodity importers, such as India and South Korea, have benefited from the current environment.
However, this trend may be coming to an end. Rob Drijkoningen, co-head of Neuberger Berman's emerging market debt team, says that weak currencies can help the process of economic adjustment. "They do have a healing effect," he says. He points to Brazil, a substantial commodity exporter, as an example of a country where the trade balance has improved markedly.
When the focus shifts from potential returns to risks there is arguably even more variability. National economic policy, for example, can play a significant role in determining performance. It can work for the good but there are also many possible pitfalls along the way.
With that in mind, it is striking that large emerging markets have not suffered serious sovereign debt problems since the early 2000s. Back in 2001, Argentina defaulted on its debt and Turkey suffered a serious economic crisis with a related market panic The troubles of a decade and a half ago, in turn, followed a string of difficulties in the late 1990s with the Asian financial crisis of 1997-98.
It is not true, as some claim, that no emerging economies have suffered severe difficulties since then. In the Ukraine, for example, GDP fell by almost 10% in 2015 and it received IMF funding. However, the country was in the midst of a civil war and its economy is relatively small. Technically, Argentina defaulted on its debt again in 2014, a legacy of the previous crisis, but it eventually reached an amicable settlement with creditors. In April it returned to the global bond markets with a $16.5bn sale.
The closest the emerging economies have come to a broader systemic crisis was the 'taper tantrum' of May 2013. This involved a substantial sell-off of emerging market assets in the wake of an announcement by the US Federal Reserve that it was considering winding back its QE programme. Countries that were later dubbed the 'fragile five' by investment bank Morgan Stanley, were particularly vulnerable: Brazil, India, Indonesia, South Africa and Turkey. What they all had in common, at that time at least, was a substantial current account deficit.
However, the tantrum came and went without any lasting damage. The emerging markets maintained their enviable long streak of a prolonged period without getting into any systemically damaging difficulties. Meanwhile, many of the advanced economies are struggling to generate significant growth. Under such circumstances it is perhaps not surprising that Didier Borowski, the head of macroeconomic research at Amundi, says that "in the sovereign debt space I would say that, from a pure economic standpoint, some emerging markets are less risky than some advanced economies".
Neuberger Berman's Rob Drijkoningen points to South Africa and Venezuela as two countries he sees as particularly vulnerable. In relation to the former he notes its failure to come to terms with the need for economic reform as well as the corruption scandals facing President Jacob Zuma. His concerns about Venezuela include violent crime and rationing.
Finally, it is worth remembering that the attractions of EMD depend on the desires of the investors as well as the appeal of the issuers. Jim Veneau, head of Asian fixed income for AXA IM, points out that investors tend to favour the familiar. "This is a truism of investing," he says. "People invest in what they know." So in Asia, for example, "Asians have a higher comfort level with their own issuers."
Different fixed-income investors have different mindsets and positioning. He says that investors in global fixed income tend to allocate heavily to South Korea. In contrast, investors specifically in Asian fixed-income tend to favour China. They feel more comfortable with China-related risk.
Such behaviour is not just a matter of personal preferences. The way benchmarks are constructed also has a bearing. In that respect, it should be remembered that the inclusion of Chinese onshore debt into emerging market indices could have a substantial impact. At present it is excluded from some because of its capital controls.
In an uncertain world there are still some features of EMD that look fairly safe bets. The size of the investment universe looks set to continue growing strongly in line with the still substantial economic growth. In addition, the performance potential of EMD will depend more on economic and political factors than the particular characteristics of each issuer. However, it also follows that there is significant scope for bad government policy to increase the risks of investing in particular countries.
Investing In Emerging Market Debt: Reasons for optimism
1

Currently reading

Investing In Emerging Market Debt: Reasons for optimism

2

3

4

5