Joseph Mariathasan explores the universe of emerging market hedge fund strategies
At a glance
• Finding alpha should be easier in emerging markets but there are still relatively few hedge funds.
• Hong Kong, China and Singapore dominate.
• Debt strategies could become more significant in the future.
Hedge funds are supposedly seeking alpha rather than beta. To generate alpha requires inefficiencies. Emerging markets are generally less efficient than developed, ergo there should be lots of opportunities for hedge funds to prosper in emerging markets. That argument is compelling, but perhaps what is surprising is that, while a growing number of hedge funds are targeting emerging markets, there are not more.
India is a good case. Nalin Moniz, co-founder of the Mumbai-based quant hedge fund Forefront Capital Management – now part of Edelweiss Financial Services – argues that India offers an ideal environment for long/short equity strategies. The market structure is very evolved but there is still alpha to be gained on both sides. Moniz argues that the Indian equity market has a dichotomy between two extremes. On the one hand, there are some high-quality companies chasing a once-in-a-generation growth opportunity with the burgeoning middle class as India moves from a $2trn to a $5trn (€1.8trn to €2.5trn) economy.
There is a large market for offshoring services in areas such as technology, pharmaceuticals and the like, and this set of opportunities, in well run businesses at attractive valuations, is where Moniz's fund is focused on in terms of long positions. On the other hand, India also has an environment where it is not easy to do business, with a lot of bureaucracy, Byzantine rules and a high cost of capital with companies unable to borrow at less than 11-12% per annum.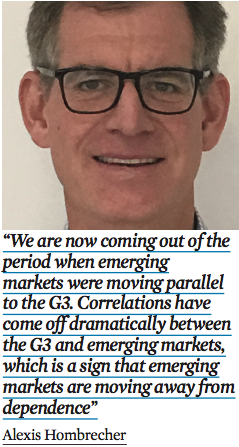 As a result, while one set of companies is growing rapidly, another set, often capital-intensive such as manufacturing and real estate, is impaired, he argues. The net result is a wide dispersion in both the underlying business performance of companies and their stock prices. Conceptually, this should provide a favourable environment for long/short equity strategies to flourish. This is helped by India having single stock futures traded on 175 stocks with around 50% of the names being liquid.
In contrast to the US and Europe, this also means that hedge funds do not need access to prime brokers to short stocks and can do so via an exchange. The drawback to this, says Alper Ince, managing director at the hedge fund of funds provider PAAMCO, is that liquidity tends to reside only in the nearest contract, and investors are taking roll risk at various interest rates, depending on the environment, as they switch from expiring contracts to the next shortest maturity.
Despite the potential for Indian hedge funds, Moniz says he finds himself almost alone in offering a purely India-focused long/short equity strategy.
In contrast, Hong Kong, China and Singapore are markets where hedge funds are firmly ensconced. Hong Kong has around $100bn under management, China already has $20bn and Singapore has $40bn, and these volumes are expected to grow, says Leon Beukes, head of hedge fund research at Willis Towers Watson.
These markets have evolved to the position where there are now second-generation spin-offs from older firms as well as established hedge funds. "These markets are liquid, the ability to short stocks is greater than other emerging markets and there is the talent able to run hedged portfolios as against long only," says Ince. Arbitraging among mainland-listed stocks, Hong Kong-listed and American Depositary Receipts creates lots of opportunities, adds Patrick Ghali, managing partner of London-based Sussex Partners. But one telling comparison is that the ratio of hedge fund investments to total market capitalisation is 4.4% in the US, 6.3% in Europe and just 0.35% in China. India is even lower at 0.22%.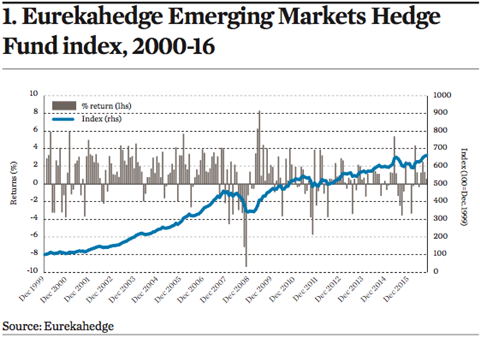 Ince sees Brazil as an emerging market with a significant hedge fund industry. However, it has been a difficult place to generate value until recently because it has been a top-down-driven market suffering a recession and political uncertainty. So unless a fund was net short, it was difficult to generate alpha until this year's rally. Running net short positions, says Ince, is difficult, with significant risks as asset flows are shifting towards emerging markets.
Ince argues that Brazil will be interesting in the future, particularly if the political environment stabilises and the current government passes planned fiscal reforms. He believes Mexico is another interesting market, with significant liquidity and an environment significantly tied to a US recovery, given its trade links through the North American Free Trade Agreement. PAAMCO has also found emerging hedge fund talent in the country.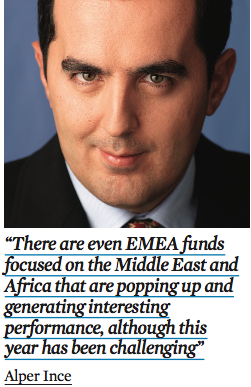 Some of the smaller emerging markets are also interesting as they grow their GDP and have more IPOs coming to the markets. For Ince, these include South Africa, Turkey and possibly even Russia, which has a small hedge fund community that tends to favour net long-directional strategies. This market could become interesting if the political environment ever stabilises. "There are even EMEA funds focused on the Middle East and Africa that are popping up and generating interesting performance, although this year has been challenging," says Ince. There are also some global-macro funds that have a focus on emerging markets and there is even the occasional global fund domiciled in an emerging market. São Paulo-based Verde Asset Management, founded by Luis Stuhlberger, is a good example.
By and large, the emerging market hedge fund universe consists of long/short equity managers, macro and some quant strategies, along with a smaller number of credit-focused funds, according to PAAMCO. However, debt markets are likely to grow in importance as these increase in size and liquidity.
London-based Whard Stewart trades local currency, emerging market yield curves and exchange rates. It finds sufficient liquidity in Russia, Poland, Hungary and the Czech Republic, as well as South Africa, Mexico, Brazil and Korea, explains founding partner Alexis Hombrecher. "We see our edge as deploying G7 strategies, especially in interest-rate markets, into emerging markets. We trade local currency yield curves just as in the US, UK and so on."
Whard Stewart's approach is to look at how yield curves have behaved historically in similar monetary environments. By assessing the shape of a given curve, the firm identifies apparent mispricing along it. This enables it to put on trades, usually forward starting swaps and options. Its strategies are dependent on analysis of policy, and the past four years have been difficult due to the extraordinary monetary policies conducted by central banks. "We are now coming out of the period when emerging markets were moving parallel to [the] G3. Correlations have come off dramatically between [the] G3 [the US, Europe and Japan] and emerging markets, which is a sign that emerging markets are moving away from dependence on [the] G3," explains Hombrecher.
Historically, as Beukes says, emerging markets have been difficult for hedge fund strategies. The markets have often not been liquid enough, there has not been enough capacity to enable funds to grow, and there has been an inability to hedge out specific risks. However, as the markets develop, the opportunities to generate alpha seem more attractive than they are in already developed economies. The issue may be whether end investors can generate alpha at attractive fees.
Investing In Hedge Funds: The party continues
1

2

Currently reading

Investing In Hedge Funds: Emerging strategies

3