Niki Natarajan looks at how liquid alternative strategies could be the answer to the current low-interest-rate and high-volatility environment, even if it seems counter-intuitive
At a glance
• The volume of assets held in liquid alternatives is rising fast.
• Liquidity is one of the primary reasons to buy a liquid alternative fund.
• US managers see alternative UCITS as a way to access European investors hungry for onshore versions of US strategies.
• Another market event could test the liquidity story on which these products are being sold.
A return-eroding cocktail of market volatility with the twist of low to zero interest rates is defining the average Western investor's foreseeable future. With today's uncertainty, whether it is the Brexit aftermath or continuing commodity price fluctuations, anything offering even low single-digit returns with little correlation with other assets, particularly equities, is a capital preservation must-have. With most of the asset management world seeing outflows, is there a bastion of 'safety'?
Liquid alternatives might sound like an oxymoron but if the growth rate of assets is an indicator, clearly there is a belief that they offer hope. "Alternative UCITS is one of the fastest growing segments of the asset management industry and is fast becoming the investment choice for many institutional allocators," says Anita Nemes, head of the hedge fund capital group and hedge fund consulting at Deutsche Bank.
According to analysis from A Road into Europe, Deutsche Bank's Global Prime Finance 2016 Alternative UCITS Survey, the assets managed by alternative UCITS now total close to €400bn. "Since the 2008 global financial crisis, alternative UCITS assets have increased at a compounded annualised growth rate of 26%, compared with 10% and 8% for hedge fund assets and the wider UCITS universe, respectively," Nemes adds.
Daniele Spada, head of the $8bn ($7bn) Lyxor Managed Account Platform agrees. "According to our research, alternative UCITS funds saw €70bn of net new assets in 2015 at a time when hedge funds and long only mutual funds generally have been experiencing outflows. We believe the industry can grow at the current rate of 20% to 30% for the next 2-3 years as there is likely to be a continued hunger for uncorrelated returns," Spada says.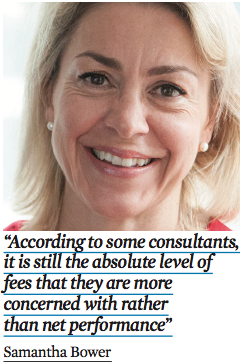 To satisfy this need, Lyxor, which has $2.4bn in alternative UCITS on the platform, has launched a long/short global equity and a long/short financial credit fund, as well as a fixed income multi-manager fund designed to generate income in the near-zero-rate environment.
Although alternative UCITS are only one part of the liquid alternative spectrum, which also includes the US performance fee-free alternative mutual funds (regulated under the Investment Company Act of 1940), the trends on both sides of the pond seem to be similar.
To capitalise on this trend globally, Aberdeen Asset Management bought Arden Asset Management, the first player in the US hedge fund '40 Act market. The deal gave the UK-based asset manager, which has about 10% of total hedge fund assets under management in UCITS-related vehicles, an immediate US-domiciled liquid alternatives platform.
"These vehicles offer some fundamentally attractive characteristics such as superior liquidity, transparency and enhanced regulatory oversight, but we have also seen significant improvements in both the breadth and quality of the funds in the universe," says Vicky Hudson, senior investment manager at Aberdeen.
Deutsche Bank's survey showed that 58% of UCITS investors saw demand coming primarily from underlying institutional clients and less than half have seen demand for UCITS originating from underlying retail clients.
"Growing numbers of allocators are investing in alternative UCITS. Of the 130 global hedge fund allocators that took part in our survey, nearly 70% already invest in alternative UCITS and a further 5% will be making their first allocation this year," says Deutsche Bank's Nemes.
Michele Gesualdi, CIO at Kairos Investment Management, is witnessing the start of a new trend. "We have been running UCITS since 2009 and count institutional investors among our clients, but this year we are seeing interest from potential clients we did not expect to see interest from, the retail networks in Italy, France and Germany in particular."
Liquidity issues
Not surprisingly, liquidity is one of the primary reasons to buy a liquid alternative fund, yet Deutsche Bank's survey highlighted that although 44% of alternative UCITS investors prefer daily liquidity, less than 5% of the respondents actually required it.
This suggests that a number of investors in alternative UCITS could capitalise on the illiquidity premium associated with some hedge fund strategies via the newer onshore structures governed by the Alternative Investment Fund Managers Directive (AIFMD).
"We are mindful that various UCITS restrictions such as eligible assets, diversification, leverage and liquidity make it difficult to fully replicate a number of hedge fund strategies such as concentrated equity long short/activist, fixed income relative value, multi strategy credit, event driven credit/distressed and commodities, so for this we have an AIFMD-compliant structure called Schroder GAIA II," says Andrew Dreaneen, head of Schroder GAIA Product & Business Development.
Launched in 2009, the original Schroder GAIA platform now has eight UCITS funds and a total of $5bn in assets, with Schroders managing a further $11bn in alternative UCITS funds. "The alternative UCITS space has seen strong growth over the last few years, with a CAGR [compound annual growth rate] of 40% between 2013 and 2015. In the case of GAIA, we have seen CAGR of 126% over the same period. In addition, we have seen positive net sales growth every full year since inception in 2009," says Dreaneen.
Stephen Oxley, vice-chairman of PAAMCO, adds: "AIFMD is the regulation designed for institutional investors that need to be onshore for regulatory and tax-related reasons, and while the UCITS wrapper also ticks those boxes, it is more of a retail/distributor-related product. Both also appeal to conservative investors from a governance standpoint of not investing in hedge funds per se, as well as for UCITS being able to say they have the daily liquidity if required, although of course this feature has yet to be tested in a liquidity crunch."
Over the pond
One Bermuda-based group that has been selecting hedge funds for more than 20 years first entered the onshore hedge fund market in 2014 with an AIFMD product. Now Aurum Fund Management has launched the Aurum Dynamic Strategies Fund, a UCITS multi-manager with a bias towards quantitative equity market neutral, global macro and trading-orientated equity long/short managers.
"The quality of UCITS offerings has improved steadily, in part due to the introduction of AIFMD, which has encouraged some managers to see UCITS as a preferred way of offering their strategy to Europe," says Adam Moir, product development at Aurum Research in London.
"We are seeing a growing number of hedge fund clients embrace UCITS as a growth strategy for their businesses, leading to an increase in new and interesting fund launches," says Deutsche Bank's Nemes.
As US managers see alternative UCITS as a way to access European investors hungry for onshore versions of US strategies, previously secretive players such as Two Sigma are seeing the wrappers' potential. The New York-based group with $37bn in assets is the latest addition to the Schroder GAIA platform, joining well-known US names such as Paulson, Sirios Capital Management and Indus Capital Partners.
The first fund on the Schroder GAIA platform was Schroder GAIA Egerton Equity. "The alternative UCITS market is now flooded with long/short managers as they are the easiest and most liquid strategies to replicate in a UCITS structure, but there is growing appetite for other strategies, like managed futures, global macro and equity market neutral long/short strategies as they typically have very little market directionality," says Lxyor's Spada.
Spada's view is echoed by the Deutsche Bank survey that says five out of the top 10 most sought after UCITS strategies were systematic, specifically quant equity market neutral, commodity trading advisors (CTA), alternative beta/risk premia, quant macro and quant equity.
Rosie Reynolds, director of distribution at Aspect Capital, whose $324m Aspect Diversified Trends fund was one of the first CTAs in UCITS format when it was launched in 2010, is keen to emphasise that, "when marketing our UCITS fund, we take an approach similar to the one we adopt for our offshore fund. We are focused on educating investors on the benefits of the underlying strategy and using CTAs as an asset class which can reduce drawdowns and volatility of a broader portfolio."
The $200m M&G Episode Macro fund is designed to do something similar. But is reducing drawdowns and volatility the only function of alternative UCITS? Some argue against the structures on the grounds of performance. But 56% of those responding to the Deutsche Bank survey said their UCITS portfolio has performed in line with or better than their benchmarks or expectations for the first half of the year.
Samantha Bower, head of marketing and investor relations at M&G's Macro Investment Business, notes: "What is interesting to see is that, according to some consultants, it is still the absolute level of fees that they are more concerned with rather than net performance."
Kairos's Gesualdi, however, observes: "For the pension fund community these low single-digit returns are not going to be enough for the liabilities. But these investors have the ability to withstand volatility, which means that they can achieve higher returns."
MAN Group, which manages $3.3bn in alternative UCITS split across Man AHL, Man GLG and Man Numeric, is seeing global enthusiasm for alternative UCITS. "Our UCITS platform AUM has grown by over 10% since the start of 2015, with particularly strong inflows into newer strategies," says Steven Desmyter, Man Group's head of sales for EMEA.
"Within Europe, the UK, Italy, France and Scandinavia are among the places we are seeing interest for our fund," says Alastair Barrie, head of global hedge fund sales at Martin Currie Investment Management.
With UCITS V just round the corner, the onshore investment brand that started life in 1985 seems to be morphing into the 'peace of mind' wrapper for onshore uncorrelated returns that investors once achieved from fixed income. Managers trying to keep the UCITS brand untarnished all agree that the UCITS label does not mean investors should be lured into a false sense of security.
An illiquidity mismatch between the portfolio and its underlying manager s is currently their number one concern. "The UCITS framework has become a gold standard brand, but our research has uncovered liquidity mismatches, operational complexity and potentially misleading portfolio transparency. Investors need to make sure that the same level of research and due diligence goes into selecting UCITS funds as offshore hedge funds," notes Bryn Sandison, head of operational due diligence at Aurum.
If product development and asset growth are the indictors of 'success', then it would seem that alternative UCITS are following in the footsteps of their offshore cousins as they head towards becoming the go-to diversifier of investment portfolios. That is, at least, until another market event tests the liquidity story on which these products are being sold.
Investing In Hedge Funds: The party continues
1

2

3

Currently reading

Investing In Hedge Funds: Liquid movement