Divergent monetary policy is driving investment-grade bond strategies, with greater opportunity in the US market than in Europe, as Joseph Mariathasan finds
At a glance
• A new world since the financial crisis – banking sector transformation, illiquidity issues, financial repression – is driving investment grade markets.
• 2015 looks set to overtake 2014 in US issuance terms.
• Divergent monetary policies in Europe versus US may imply shifts in strategy.
The global financial crisis was an earthshattering event and the aftershocks are still reverberating throughout the financial world. This is no more so than in the global fixed income markets, including investment grade credit. "Financial repression remains a core driver in our universe," says Kevin Corrigan, head of fundamental fixed income at Lombard Odier Investment Managers. "Central banks own 25% of the bond markets in the developed world. The biggest asset managers are central banks, so we are all following them to a degree."
But Corrigan goes on to add that his firm sees a fundamental differentiation in the fixed income markets this year given the diverging monetary policies of central banks. For fixed income managers, this means a reassessment of strategies if they are not to be caught out. Yet they also face an environment that looks very different to that before the crisis.
There have been numerous changes to debt markets since 2008; some are temporary, some seem semi-permanent, while others were always intended to be permanent.
The ultra-low interest rate policies adopted by central banks are a temporary situation, albeit one that has persisted for longer than first expected, with tightening to be led by the Fed even though the ECB is still in easing mode. There has, by most accounts, been a dramatic decline in liquidity across most – although not all – areas of the corporate bond market (see figure 1). This may have been a temporary phenomenon, but with investment banks forced to reduce capital on risk taking activities, capital allocated to market making has been cut back. As a result, liquidity levels of the pre-crisis years may not return soon.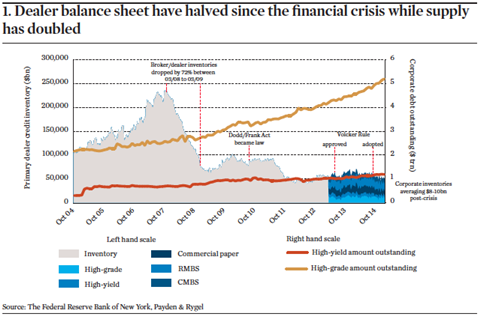 As Evan Moskovit, portfolio manager at NN Investment Partners argues, market participants had become accustomed to artificially high levels of liquidity. "But, given the nature of the business, you should not expect a high level of liquidity," he says. This illiquidity, previously regarded as a temporary phenomenon, now looks permanent. Banking sector regulatory changes were always intended to be permanent fix, so much so that increased capital requirements are turning them into safe havens for bondholders even as their relative share of debt issuance declines.
In Europe, the decline in bank lending has encouraged companies to use capital markets to raise debt. In the US, where the banking sector has recovered quickly, debt capital markets are thriving in terms of primary issuance (figure 2).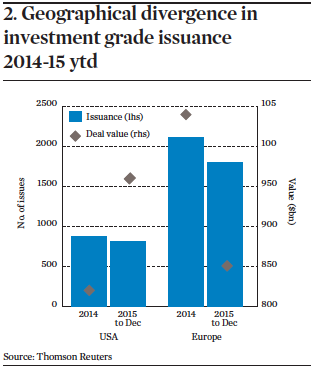 "The figures are not that different from 2014 but, pre-crisis, financials would have been around 45%," says Jake Gaul, senior portfolio manager at Standish Mellon Asset Management. As Moskovit adds, media and telecom are large issuers and that has continued in 2015, although there has been a fall in energy company issuance given oil price uncertainty.
What has been new is the growth in healthcare issuance. This has been driven by M&A in the pharmaceutical sector; Moscovit says A or AA-rated companies have been prepared to accept a lower credit rating for the sake of M&A deals. "They will make a purchase and see a rating downgrade even down to BBB," he says. "The CEO and treasurer decide that from a weighted average cost of capital viewpoint it is not worth increasing capital to ensure a AA rating." Gaul is underweight pharma because of this re-leveraging: "Companies are paying high prices for one another and there are already signs that there is some indigestion; Valeant Pharmaceuticals in the high-yield sector is a good example. In investment grade, we are not trying to be a hero, but to avoid blow-ups."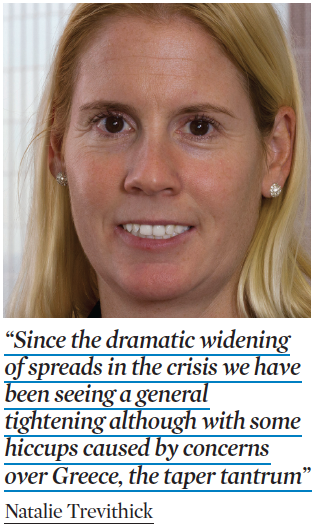 Where are we now? "What is clear is that the credit markets are not going to blow up again as in the crisis," says Natalie Trevithick, head of investment grade credit at Payden & Rygel. "Since the dramatic widening of spreads in the crisis we have been seeing a general tightening although with some hiccups caused by concerns over Greece, the taper tantrum and so on."
But, as Gaul says, there has been a build-up in spreads since mid-2014: "It has been hard to find another period of 18 months of unrelenting spread widening. Investment grade spreads are now 155bps over seven-year Treasuries and were just 90bps in mid-2014. There is no obvious reason for a 65bps widening. The commodity energy and mining sectors which are 200bps wider only account for 15% of the US universe. There has been a knock-on effect on everything."
The economic cycle differs by region; some policymakers, like the Fed, are raising rates, while the ECB is cutting them. Some are dealing with high inflation and some with deflation and with the wealth transfer effects of commodity prices declining so sharply. This spills over into the credit markets: "Until recently, this did not matter, because markets were rallying as central banks had their hands in the till," says Corrigan.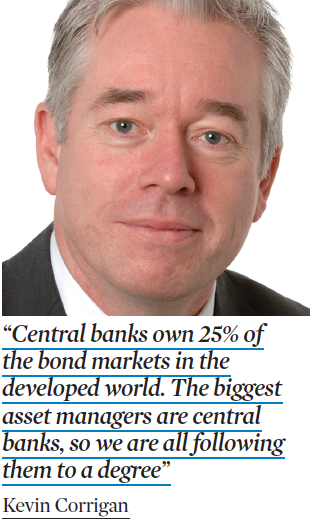 Amundi was overweight credit as a whole and was long eurocredit and underweight US until the second half of 2015. "The US saw massive inflows until the 2013 taper tantrum, which benefitted all asset classes, particularly those with high beta such as US high-yield, emerging markets and investment grade," says Grégoire Pesquès, head of the global corporate credit team. "The risk was not of fundamentals, which have been good, but of the unwinding of the big carry trades seen in 2009 to 2012/13. Bernanke's tapering speech caused massive outflows out of emerging market debt and high-yield and smaller outflows from investment grade."
Monetary policy divergence looks set to continue. In Europe, Fabrice Jaudi, fixed income CIO at S&P Investment Advisory Services sees a clear picture: "Monetary policy is straightforward; the ECB is accommodating to support an economic recovery. There is no reason to expect anything different as the economy is weak. For fixed income, stable monetary policy will be positive with prospects of credit spreads tightening. This will have more impact on the high-yield market than investment grade, which has relatively tight spreads."
Zero-rate policies do, however, create problems for cash managers trying to generate positive returns with negative euro-zone government bond yields up to five years. In the US, argues Jaudi, the picture is different; despite headwinds and mixed economic numbers, overall the economy is growing and everyone is expecting hikes. US bond yields are higher and credit spreads more than double those in Europe, which suggests Fed hikes will not disrupt the market. Pesquès' attitude to the US credit markets has changed: "We saw little value in the US in the period from 2013 until six months ago. Although the companies were good, there was a lot of M&A and hence re-leveraging risk. We did have massive supply in July and August, and there were concerns over China, the materials sector and energy, so we were underweight."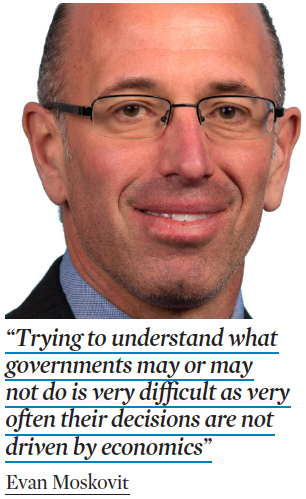 March 2015 saw the tightest point for eurocredits and with the US yielding significantly higher than eurocredit, spreads in the US market reached levels attractive for Pesquès by mid 2015. Technical bids from the QE programme since the start of the 2015 have not anchored spreads as expected, according to Corrigan. "We had thought this would offset some of the fundamental differentiation of monetary policies," he says. "Basic materials have got worse, oil is struggling, particularly higher yielding lower-rated US credits, and there have been idiosyncratic stories along the way with Volkswagen and Glencore, M&A and so on. Spreads have also reflected an illiquidity premium so the old days of following the central banks may no longer be applicable. Spreads have widened, driven by illiquidity premia as much as anything."
Government bond yields are so low that European investment grade credit looks unattractive in terms of absolute yields: "In Europe, spreads are less and less relevant as yields are so low. If you have a 1% coupon on a bond that goes to 1.2% who can argue that it is cheap?" says Pesquès. As he argues, the marginal buyers in Europe are insurance and pension funds who need – or are constrained by regulation to purchase – investment grade debt to match liabilities.
"Eurocredits are becoming less and less attractive not because of the spread, but because of the overall yield," adds Pesquès. "On a yield approach it makes sense for European investors to diversify into the US whether hedged or unhedged." Peripheral Europe could be an alternative source of higher yields but there are associated problems for credit managers like Moskovit. "We are corporate investors and only have exposure to the more developed countries," he says. "If too much of the analysis we have to do is an analysis of the country, it is probably not the right investment for us. Trying to understand what governments may or may not do is very difficult as very often their decisions are not driven by economics."
The divergence in monetary policies makes the diversification argument more powerful as correlations will be low. And as Pesquès argues, diversification will improve the Sharpe ratio: "Because yields are so low, we also see European high-yield as a safer bet than European investment grade in terms of the Sharpe ratio. It is better to have credit risk than interest rate risk given the volatility we are seeing in interest rates."
Being global rather than local makes sense. For managers, reassessing the US-versus-Europe question, may now be the key decision for investment grade credit.
Investment Grade Credit: A fork in the track
1

Currently reading

Investment Grade Credit: A fork in the track

2