The first half of 2014, and especially the first quarter, fit the familiar 'risk-on, risk-off' pattern. The odd thing is that it seemed to be in both moods at once. Equity markets made a series of new highs and credit spreads ground ever tighter, but risk-free rates sharply reversed their upward momentum. No wonder a number of the long-term outperformers in both the euro and sterling corporate bond universes were caught wrong-footed, sliding down the Q1 rankings – not least one of our featured strategies, from Pioneer Investments.
So what was the secret at Morgan Stanley Investment Management (MSIM), where Sterling Credit maintained its top-decile position? The 22% allocation to AAA and AA securities like EIB and KfW bonds offers a clue: this big position in virtually risk-free, long-dated paper pushes the portfolio's average maturity out to 12 years and its duration to six.
One reason for holding these bonds is liquidity, but they also reflect the current macro view, a key determinant of portfolio positioning.
"It's reasonable to say that the next move in interest rates will be higher – the question is one of path and pace," observes European head of credit Richard Ford. "I think you can remain positive on credit as long as central banks are providing liquidity, causing structural demand for credit assets, and, arguably, creating a backdrop of low defaults."
MSIM's inflation models indicate a pick-up from today's low levels, but these signs are driven by confidence indicators like PMIs, he says.
"When we see 25% unemployment in Spain but PMIs moving up, it suggests the past is not necessarily a good guide to the future and that improving corporate confidence may not lead to increasing inflation," Ford argues.
By contrast, Pioneer, where the macro framework is also instrumental for the Euro Corporate Bond strategy, was running duration at half the length of MSIM's.

"We have been short US duration and also went tactically short spread duration at the end of January," says Garrett Walsh, head of credit research Europe. "We felt the market had become a little bit expensive and we expected volatility to pick up in emerging markets and for that to translate into Europe. That worked brilliantly for 10 days and then the market turned around and the technicals kicked in. Since the end of April, our tight stop losses have neutralised these tactical weights."
As Ford at MSIM describes, investors needed a special kind of barbell exposure to profit during the first months of the year.
"Year-to-date, while high-yield has generated higher excess return than investment grade, the absolute return from high-yield has actually been lower, because it doesn't own the duration component," he says. "When we buy a high-yield bond we think about its sensitivity to interest rates. Portfolios that have done much better than us in the past because they have held more high-yield in normal market environments have not done so well this year, just because they have not had the duration kicker that we've preserved in our portfolio."
Neighbourhood
Recall Ford's hint about how loose monetary conditions are important not only for interest rate risk but also for credit risk.
"Spreads could go wider and no longer look especially cheap, but they remain reasonable, relative to the probability of default," he concludes. "There is also the supply-and-demand situation to consider: credit, and especially investment-grade credit, looks like the good house in a bad neighbourhood at the moment, in terms of relative valuations, and that suggests to me that we will continue to see strong demand at the same time as we see diminishing new issuance."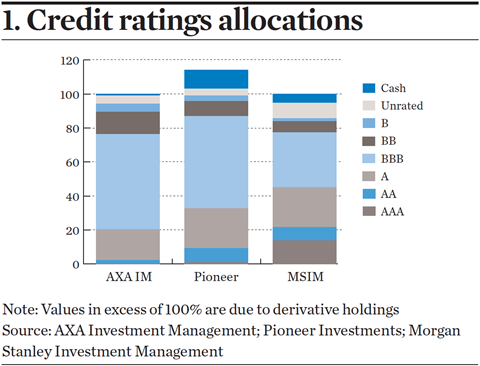 Within that, however, it is notable that MSIM's portfolio is overweight financials and underweight what Ford calls industrials that are "sensitive to M&A". While banks increase capital and sell down assets, the same stable monetary environment that keeps a lid on defaults is tempting corporate management to take risk.
"Banks are sitting between repair and recovery in the debt-equity cycle; industrials, however, are trading at expansion," he says. "We are seeing management strategies looking to enhance shareholder value – which can often be at the expense of bondholders if leverage increases."
Within industrials, it follows that MSIM favours strong franchises with high cash flow generation whose shareholder-friendly activity is either already priced-in to bonds, or unlikely to have a big impact on capital structures.
While it does not take duration bets, the same kind of view on the outlook for monetary policy in a slow-growth environment helped AXA Investment Managers' Euro Investment Grade Credit Plus strategy navigate Q1's most treacherous whirlpools. But head of euro credit Anne Velot is even more sanguine about corporate risk-taking.
"We have a very sluggish recovery in Europe, and corporates are being very conservative with balance sheets," she says. "There are yet to be many very large merger transactions that would be damaging to bondholders."
Against that background, Velot's strategy was using the volatility of Q1 to build tactical positions in high-yield, the euro-zone periphery and emerging market names such as Gazprom. "We had the emerging markets fear, we had the fear about rising rates, but now I think we are going to move into a more bottom-up environment," she argues.
Walsh at Pioneer concedes that there is more "deliberate re-leveraging" across the Atlantic, but that Europe lags the trend significantly.
"M&A has picked up in Europe but, so far, it has been largely equity-financed and therefore pretty bondholder-friendly," he says. "One doesn't want to be complacent, but we wouldn't expect this to become a concern in Europe for another 12-18 months."
This is pretty fine differentiation as far as top-down views are concerned, especially since Pioneer neutralised its short-duration position. "It's hard to see the market widening significantly in the short term, absent a serious increase in geopolitical risk or a macro event, but we don't think valuations are attractive enough to warrant an aggressively long position, either," Walsh concludes.
Fallen angels
There are, however, fairly significant differences in the three portfolios' exposures to credit ratings, the euro-zone periphery and financials.
MSIM is the least exposed to BBBs and BBs. By contrast, Pioneer is 10 percentage points overweight BBBs and has almost 9% in BBs, close to its informal limit. Names like Bord Gais Eireann and Edison – BBB-rated utilities in the euro-zone periphery – make it into the portfolio's top six holdings. Another 5% is in unrated issuers that Pioneer considers BBB-quality, that used to borrow from banks and which now pay a considerable off-benchmark premium to bond markets. These include white goods manufacturer Indesit and hearing aids specialist Amplifon, whose five-year bond yields around 300 basis points more than equivalent BBBs in its sector.
"We see some pretty good corporates that are not re-leveraging and present pretty low downgrade risk, in sectors like building materials," Walsh adds. "If there's a little bit of extra spread because they are in a peripheral country or less liquid we will take advantage of that, and we do occasionally move down the capital structure: in corporate hybrids you can get 3-4 times the spread versus senior, and if you have a stable business and really understand the documentation, that's well worth considering because the operating environment is pretty benign."
Pioneer has also picked up some 'fallen angels', a crossover idea that is a central pillar of the tactical high-yield positions in AXA IM's strategy, too. Almost 70% of the AXA IM portfolio is in BBBs and BBs, with just shy of 20% in high-yield. Velot picks out Lafarge, held on the expectation of a return to investment-grade by 2015. In the event, acquisition by BBB-rated Swiss cement manufacturer Holcim has brought that move forward.
"That bond has performed very strongly," Velot says. "When we dip into high-yield we remain very nimble and diversified – there has been a series of names like Lafarge, Portuguese positions and some of the corporate hybrids, which we have traded in and out of."
As the reference to Portugal indicates, the euro-zone periphery has been a significant driver of AXA IM's performance – both positive and negative. This fits with the importance attached to adapting the strategy to the top-down background: the portfolio entered 2008 with a strong conviction against banks, and greeted the first tremors of the euro-zone crisis in April 2010 with a similarly strong conviction.
Unfortunately, it was the wrong conviction – hence the slide down the performance league over the five-year horizon.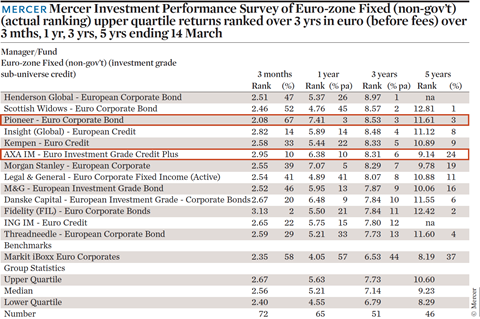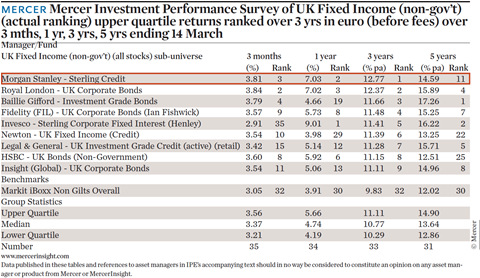 "We were quite positively surprised by the swift response [of the EU and IMF] and that gave us confidence in their ability to deal with the crisis," Velot recalls. "But we soon learned to be disappointed by the delivery and clarity of communication. We went into 2011 very defensive and it was not until 2012 that we became much more confident in Draghi's strategy."
For a year or so the portfolio rotated in and out of the periphery, but from the second half of 2013 the position was consistent and remains at twice the benchmark weight. Within that, AXA IM long ago rotated out of Spain in favour of Portuguese government bonds and Italian financials. The latter had become unloved, as investors expected them to do badly in the ECB's Asset Quality Review later this year.
"We take a different view," says Velot. "In financials, there are still some areas where we can see convergence to come, especially in Italy. We do feel that, for pure corporates, the compression between periphery and core is mostly done. The story is now more bottom-up."
Pioneer is more circumspect: overweights in Spain and Italy remain, but over the past few months they have been cut back by about two-thirds.
"A lot of the compression has played out," says Walsh. "Corporates and banks are reducing their balance sheets, but their leverage is still typically higher than core issuers' – given spread differentials at near zero, we don't see much justification for an aggressive overweight."
Hybrids
Walsh suggests that the Pioneer strategy may have lagged some its peers in Q1 2014, thanks to this less aggressive stance on peripheral debt – but also hybrids and subordinated financials. At 38% of the portfolio, financials are an underweight, although the strategy is more consensual in having a tilt towards subordinated paper within that. "We felt senior should re-price as implicit sovereign support ratings are decreased from the agencies – there is real downgrade risk in senior unsecured," says Walsh.
But while Pioneer likes subordinate paper, it remains relatively conservative, preferring lower tier-2 and legacy tier-1 over newer, 'alternative' tier-1 issues like contingent convertibles (CoCos). The older paper proved almost impossible to write down during the crisis, which is precisely why regulators want its replacements to include explicit equity-conversion triggers and contractual flexibility to defer non-cumulative coupons.
"Demand for the new tier-1 securities simply reflects a reach for yield," warns Walsh. "They are highly inferior to the old structures, far more equity-like. Valuations should be assessed not only against legacy tier-1 but against equity, and on that basis they look pretty expensive, now. Cost of equity is about 9-10% for banks and they are issuing these equity-like, or even junior-to-equity hybrids at 6%."
The AXA IM portfolio runs a similar strategy in financials, with slightly more risk echoing its more aggressive tilt to the euro-zone periphery. Velot likes the fact that hybrid securities add extra cushioning for the subordinated paper above it in the capital structure, but her strategy has rotated out of most of its lower tier-2 as what she describes as a "very consensual play" has become "quite expensive".
The portfolio has moved down the capital structure but focused on short-dated legacy tier-1 bonds from issuers like Santander and BBVA, where the probability of paper being called is high, now that it is clear that it will not be grandfathered under Basel III (and therefore cannot count as tier-2 capital). The new breed of contingent instrument plays only a marginal role.
"It's a new asset class and a way of adding beta, tactically," Velot says. "They present considerable call and equity-conversion risks, but some of the issuers – Credit Suisse, UBS, BBVA, Santander, Credit Agricole, Société Générale – show a significant distance to haircut and, in that sense, they can still offer value."
By contrast, it is here that MSIM has been taking much of its market risk, fitting with its thesis of bank de-leveraging versus corporate re-leveraging. Indeed, rather like AXA IM and its euro-zone periphery bet, the biggest hit to performance over the past five years came from applying this thesis a little too early in 2011.
"We expected banks to de-risk and we saw signals from policymakers that we expected to force that," says Ford. "Our view was that the response in Europe would be more like that in the US, where banks recapitalised quickly and directly in 2009, whereas what we got was a long, drawn-out process reflected in the very different structures of balance sheets that we now have in Europe."
Ford and his team used lower valuations to build the position, leaving the portfolio well-positioned when the "game-changing" LTRO programme was announced in December 2011. "We have continued with a high-risk position in financials given our belief in the long-term de-leveraging theme," Ford adds.
That translates into lower tier-2 bonds in large, retail deposit-taking banks with healthy and improving credit metrics, which include the likes of Santander and Rabobank among its top 10 holdings – but also a more positive allocation to new tier-1 paper.
"There is an interesting debate around alternative tier-1, which needs to be conducted with recognition of the quality of the institution and what you are being paid for risk," Ford explains. "There's an argument that these contingent instruments pay you an attractive return relative to high-yield, but also that they look unattractive relative to equity – given that in some structures you are subordinate even to equity, as they are triggered first. The challenge for bond portfolio managers is that their opportunity set is restricted to fixed-income. In the 'champions league' banks we see value in some of these instruments, from a yield perspective. While we recognise that the equity might look cheaper, there is a valid argument that there is uncertainty around the valuation of that equity."
Between our two euro strategies, it is clear that periphery exposure is the key differentiator – although the AXA IM strategy is clearly the more bullish on credit risk in general (it also has a more flexible mandate). All three strategies share a similar top-down view: while banks are de-leveraging, corporates are re-leveraging; and the loose monetary conditions make credit risk viable for a while, yet. But the MSIM strategy implements the purest version of this view, and is prepared to take it furthest in its exposure to bank credit – and even equity – risk.
Investment Grade Credit: Banks or supermarkets
1

2

3

4

5

Currently reading

Investment Grade Credit: The last bastion of value

6

7