Asset Allocation: Economics remains buoyant
• Geopolitics still a concern
• The ECB to be cautious around tapering
• Emerging market bonds: focus on CEE
Global macroeconomics are generally supportive all round – with buoyant business sentiment, rising investment spending and low unemployment. Although preparing to normalise their respective policies, the main central banks remain accommodative and bond yields low.
And there are now signs of a significant rise in global trade, a trend that seemed to have eluded previous recovery attempts in the years following the financial crisis. The governors of several central banks of the more developed economies, including Australia, Canada and Norway, have been lining up to upgrade growth forecasts on the back of markedly stronger trade data in recent months. Business spending is increasing and trade in capital goods seems to be accelerating.
Whether it is unexpected election outcomes in stable democracies, tricky Brexit negotiations,the ebb and flow of populism, or a diplomatic crisis between unpredictable national leaders, politics across the world is still a major concern for investors. And there is a growing uncertainty about who will succeed Janet Yellen as the next Federal Reserve chair, and whether the dove/hawk balance will change much with the arrival of the new members of the board.
China's 19th National Congress of the Communist Party is an important political meeting where existing long term policy goals tend to be reaffirmed, rather than altered. Although there will be a significant change in the membership of the most important Politburo Standing Committee, it is expected that President Xi Jinping will retain the leadership, further enhancing and strengthening his status as 'core leader'.
Bonds
Looking at US rate-hiking cycles over previous decades, the forwards market has tended to underestimate by how much the Fed would subsequently raise rates. Today, many observers say the market might be doing it again. That the current hiking cycle is also happening against a backdrop of volatile politics as well as the unwinding of quantitative easing (QE) – a situation with no historical precedent – adds to an already uncertain outlook.
Whereas the Fed is further ahead of the ECB in terms of its preparations and readiness to unwind QE, the ECB will be aware just how carefully it has to tread in coming months. The European institution will be keen to avoid anything like the 'taper tantrum' experienced back in 2013 when the Fed wrong-footed the market and US Treasury yields rose by about 130bps over a couple of months.
The 10-year real yields in US and Germany have diverged significantly in the years since the taper tantrum, with US real yields climbing back into positive territory and German real yields trending lower.
"ECB President Mario Draghi has already started referencing the strength of the currency… a stronger euro would probably lead to the ECB staying more accommodative for longer"
With the US economic cycle already ageing and moderating, combined with a view that Trump's tax reforms may not materialise into a substantial loosening of fiscal policy, the upward pressure on both real and nominal US yields, although prevailing, is not that strong.
Can Bund yields stay this low for much longer, and so much lower than those in the US?
Trying to calculate how much yields have been depressed by QE, both from the ECB and from the other central banks, involves many assumptions and guesstimates. But the scarcity of 10-year Bunds, a direct consequence of the ECB's QE, has undoubtedly pushed yields lower, and unwinding those purchases ought to push yields higher.
On the other hand, ECB President Mario Draghi has already started referencing the strength of the currency, and the ECB has recently reduced its HICP inflation forecast by 0.1%, on the back of the currency's rise over this year. A stronger euro could lead to the ECB staying more accommodative for longer.
Currencies
Having spent much of 2017 declining versus the euro, the dollar enjoyed something of a mini bull run as the third quarter drew to a close.
In addition to a little hawkish moment from Fed Chair Yellen, the currency was also boosted by the reversal – when President Donald Trump finally unveiled tax reform plans – of some of the disappointment at the lack of progress on key policies.
Trump's tax reform programme could well struggle in its passage into legislation, particularly as politicians try to balance the tax cuts with Congress prohibitions on raising the US deficit over the next 10 years. While the cuts and reforms might give the economy a small boost, it is more likely that other asset classes rather than the dollar, such as certain US equities and credits, will benefit more directly.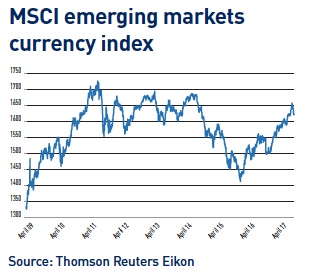 Still, the momentum of the global growth pick-up, especially Europe's strengthening economic picture relative to the US, could prove to be a more durable tailwind for the euro.
Although Germany's chancellor, Angela Merkel, did secure her fourth term in office, the rather messy coalition building still to be done could lead to a dampening of the recent surge of optimism about Europe's journey towards further integration plans after Emmanuel Macron's election to French President.
Continuing the reflationary theme, emerging market currencies have also performed well this year, although they too have faltered entering the final quarter.
While risk/reward profiles are less compelling than last year, with fundamental valuations now reaching fair levels, they are still not stretched, so carry trades could remain well supported.
However, there are signs that emerging currency strength may bring some other problems associated with falling inflation figures, which could prompt some emerging market central banks to follow a more dovish path.
EMD investors should look to CEE politics
According to recent data from Ashmore, the emerging fixed-income universe was $20trn (€17trn) at the end of 2016, representing 20% of the total global bond market.
Geographically, almost 70% of this is from Asia Pacific (China's $9.3trn unsurprisingly dominating that portion), 19% from Latin America and Caribbean, leaving just 11% from the CEEMEA nations.
The well-being of the central and eastern Europe (CEE) region matters more to the rest of Europe than mere representation of their bond markets in a global bond index, not least because they are all part of the EU. And CEE economies are strongly influenced by events in their wealthier European neighbours, not just because of economic ties, but also because CEE is a big beneficiary of funds from Brussels.
In terms of economic activity, the CEE countries are joining in the global reflationary expansion, with many enjoying particularly strong growth for the second successive year.
Some of the strong growth figures may be sowing the seeds of future discomfort.
In Romania, for example, badly directed, particularly loose fiscal policy has led to a ballooning deficit and fears that any landing will be hard. Politics will probably be a source of further anxiety. As also elsewhere in the world, populism is a threat, probably exacerbated by the immigration crisis and threats to the free movement of EU citizens across Europe.
While the Czech Republic's electorate veer towards anti-EU candidates in their election, Hungary's 2018 general election could see the country shift further to the right.
Hungary is perhaps the most nationalist country within the EU, and next spring voters will be asked to choose between two anti-immigration, and pro-Russian parties. The prime minister, Victor Orbán, has already upset international relations by erecting fences along borders with Serbia and Croatia.
Hungary has also refused to join the EU's migrant quota scheme, as have Poland and the Czech Republic. All three nations have shown a belligerent determination not to give in to Brussels on this divisive issue.