Call of the frontier markets
Frontier markets can offer huge attractions but investors need to pay attention to country backdrops and economic effects. Joseph Mariathasan reports
Frontier markets are often thought of as representing what emerging markets used to be before they became more correlated with their developed counterparts. Erik van Dijk, chief investment officer at LMG Emerge, argues that the right strategy to get the old emerging market diversification benefits, low correlation and high-growth effects would be to invest in the small and mid-cap segments in the larger emerging markets and in frontier markets. 
Many of the themes underpinning frontier markets are distinct from emerging markets, says Asha Mehta, portfolio manager at Acadian Asset Management. "Frontier markets tend to include higher-growth companies that are well managed, producing higher margins with lower leverage. There has been a continued undervaluation of frontier markets compared to emerging and what is also interesting is the fact that frontier markets are so inefficient." 
It is also noteworthy that there is still a 50/50 country/sector correlation with frontier market stocks. That used to be the case with emerging markets but in more recent years global sector correlations have tended to outweigh country correlations. With frontier markets, companies are still tied to the local economy, for good or bad.
But what that does give is the opportunity for diversification, with Acadian's fund, for example, having 350 stocks out of a total universe of 5,000, in 25 countries out of a universe of 40, says Mehta. "That diversification is critical both at the stock level and at the country level because local volatility can be high, but in a portfolio context, the volatility is actually considerably lower than it is in emerging markets," she says. "This is ultimately because the pair-wise correlation – how much one country is likely to move in line with another, is just 25% in frontier markets, whilst it is 50% in emerging and 80% in developed markets."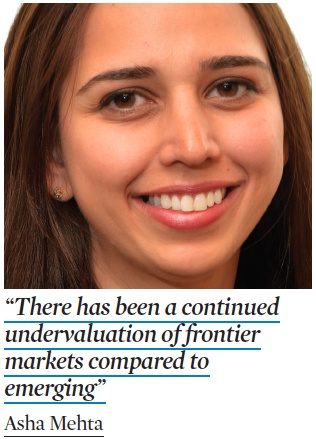 The importance of country and economic effects for frontier markets raises the question of which geographical regions look most attractive. The bulk of Latin America is classified as emerging, rather than frontier and that holds true for eastern Europe as well, says Fiona Manning, senior investment manager, equities at Aberdeen Asset Management. 
Africa is where the growth is in the frontier sector, according to Mark Mobius, executive chairman, Templeton Emerging Markets Group. "African countries are growing at a fast pace because they are able to leapfrog into the latest technology and because they are starting from a low base," he says. Within Africa, Manning favours Nigeria, Kenya and Ghana. 
Mehta sees the economic factors favouring Asia, though, with Pakistan and Vietnam positioned well. "With Pakistan, the headline risk overstates the true economic risk. It makes the headlines frequently because of political concerns. What we see, though, is that risk has been quite muted. There were concerns last summer over political demonstrations but those ended quite peacefully whilst 2014 saw the first transition from one democratically elected government to another one in Pakistan. When there is political stability, the market tends to be a very strong performer." 
But as Manning argues, the challenge with frontier markets is making the trade-off between backdrops and specific stock opportunities. "We remain overweight Brazil, even though the macroeconomic environment is unattractive, because we see some very good stock opportunities in the retail space, for example," she says.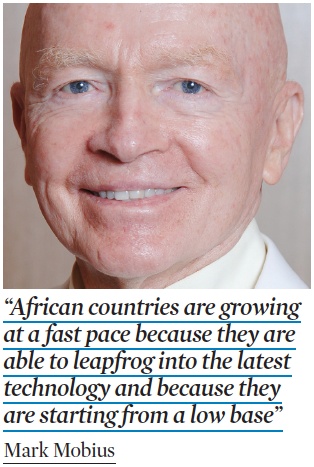 The downside of frontier markets is their illiquidity and their small size which makes them very susceptible to foreign investor flows. "A couple of years ago, prior to the oil price collapse, there was a big rally in Middle Eastern markets when it was announced that they were going to be upgraded to emerging market status from frontier," says Manning. 
As she points out, because their domestic investor base is small, frontier markets tend to be more susceptible to investment flows, particularly foreign. "Frontier markets do not generally have the solid institutional base that is seen in developed markets and more mature emerging markets that can provide a dampening effect on the impact of foreign flows of capital," she says. That means that while frontier markets can offer huge attractions, they are only suitable for the more sophisticated institutional investors prepared to accept illiquidity. Aberdeen only allows dealing in its strategy twice a month for example, says Manning. That may too much for all but the most committed.