An anti-corruption drive by Latin American companies is creating opportunities for responsible investors
Key points
Some of Latin America's largest companies have become embroiled in corruption scandals
Understanding which companies are taking the measures necessary to improve their ESG performance is key
Despite recent progress there remain reasons for investors to be wary
Minority shareholders in particular can struggle to find courts willing to enforce their rights
In recent years, Latin American companies have been in the global financial news for one main reason – their involvement in corruption scandals.
Blue chip firms such as oil giants Petrobras and Pemex and construction groups such as Odebrecht and Graña y Montero were directly linked to some of the biggest bribery cases that the world has ever seen. Equity and bond investors, which in the early 2010s gobbled up such securities as they posted stellar rate growths, suffered significant losses as a result.
The woes of companies that have stumbled after scandals in Argentina, Brazil, Colombia, Mexico and Peru constitute a textbook illustration of the risks of investing in emerging markets. As democratic regimes mature, the old, unsavoury practices of traditional business groups risk being disclosed. This affects their businesses and the value of securities held by international investors.
But Latin America's anti-corruption drive can also create opportunities for responsible investors. Many of the companies involved in scandals have revamped their governance structures and their shares could benefit in the future from the competitive advantage enjoyed by ESG-conscious companies.
According to Vontobel Asset Management, the performance of Latin American stocks with higher ESG ratings has outperformed their less-sustainable peers by 700bps in the past five years. The current storms could pave the way for a less corrupt business environment in which responsible companies should thrive, says David Souccar, a portfolio manager at the Vontobel Quality Growth fund.
Also, many of the companies involved in scandals are selling assets, sometimes at attractive prices, in a quest to raise capital while banks refuse to lend them money. In July, Brazil's Petrobras, the state-run oil giant, listed 30% of its stake in BR Distribuidora, a highly regarded fuel distribution firm. In effect, the parent company raised $2.2bn (€2.0bn) by privatising its subsidiary.
"We are following very closely the matter of compliance in Latin America. What is happening today is generally positive," says Souccar. "Institutions are working, the rule of law is working, and we see all these things as positive developments."
The key to identifying attractive opportunities is to understand which companies are taking the measures necessary to improve their ethical performance. 'Compliance' has become a buzzword among issuers in the region, as companies try to assure investors that their reputation will not eventually be affected because the company has been entangled in unappetising businesses.
After a spate of legislative updates, and as part of agreements with investigation authorities, the establishment of departments to monitor ethical behaviour has surged across the sub-continent.
Or at least that is what issuers are saying. "Companies have been pressed by institutional investors to improve their corporate governance," says Mario Lopez-Alcala, vice-president of ESG research at MSCI. "But our findings indicate that, right now, companies may not be walking the talk."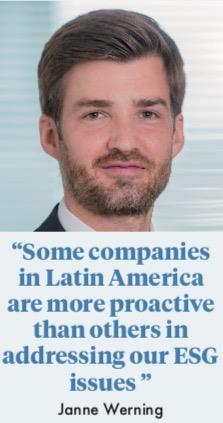 MSCI monitors the kinds of controversies that Latin American companies that are part of its indices get involved in. It has found that, in one out of every five cases, controversies are linked to unethical business practices. Even worse, the number of cases has increased by 21% a year over the past three years.
Lopez-Alcala acknowledges, however, that this increase is likely to have more to do with the higher visibility derived from the manifold corruption investigations under way in the region than with a deterioration of business practices. In fact, MSCI has also detected improvements in governance – for example, that 57% of Latin American companies included in its indices now have boards with a majority of independent members compared with 52% three years ago.
"Our feeling is that companies in Latin America are ever more involved in the dialogue that we have as active investors. But some are more proactive than others in addressing our ESG issues," says Janne Werning, the head of ESG capital markets and stewardship at Union Investment.
"Five years ago, if you wanted to talk to companies about ESG risks like corruption, it would have been difficult to get an answer," he says. "But now companies from Latin America are coming to Frankfurt on roadshows to talk about it."
Meeting with investors has become part of the job for people such as Eduardo Staino, the chief compliance officer at Andrade Gutierrez, a Brazilian construction firm. The company, not long ago one of the mightiest players in Brazil's infrastructure sector, has seen its turnover drop dramatically and its payroll shrink since it was caught by the wide-ranging Car Wash corruption investigation back in 2015. But last year Andrade Gutierrez was able to negotiate with bondholders an exchange of senior notes that would have expired in 2018 for a new set of 2021 bonds. The deal significantly improved the company's financial position.
Staino says the deal showed that investors are once again trusting the company and has validated a process of cultural change that started when he was hired to head the compliance department in 2014. "Back then, compliance in Brazil was a subject only for multinational companies and banks," he says.
Staino began as a manager working alone at the compliance department. He is now a director who answers directly to the board and leads a team of 13 professionals exclusively dedicated to monitoring ethical matters.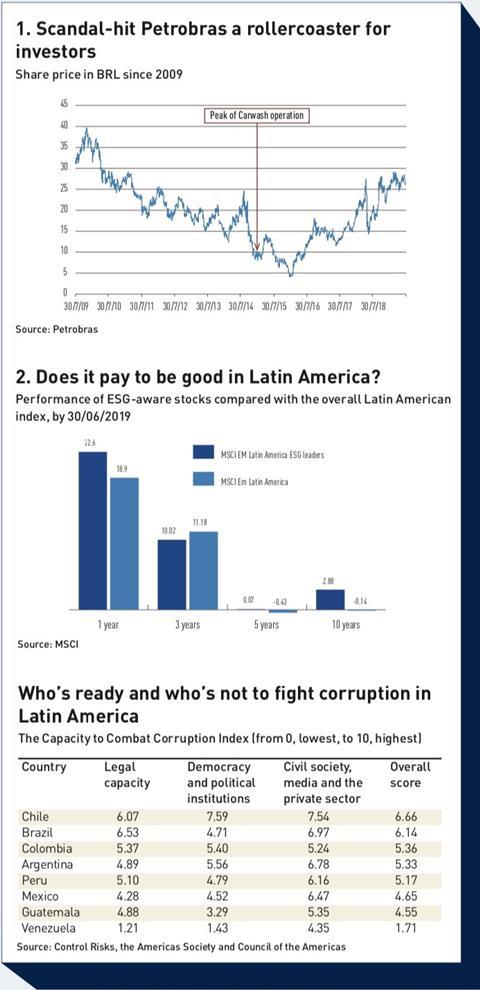 In the past four years, Staino has worked on measures such as the establishment of an ethics code and the creation of an independent whistle-blowing channel. Andrade Gutierrez has implemented internal controls and an audit structure that earned the company an ISO 19600:2014 certification for compliance systems.
It has required sweat and tears, in Staino's words, to turn things around and change the perception that the market had of the company, but it was worth it. In December, further recognition was awarded as two government agencies approved a leniency deal that clears the way for the firm to go back into working with infrastructure projects.
"It is much harder to fix a company with a bad culture than starting a company from the ground up"
Shami Nissan
"Today I feel absolutely sure that, no matter if the other side of the transaction is compliant or not, be it a public or a private actor, we will be," he says. "If the other side of the deal tries to do something that is not compliance, Andrade Gutierrez will walk out of it."
But, despite the progress made by players like Andrade Gutierrez, investors should continue to be wary of Latin American issuers for a while, even though more companies make a sustained effort to fend off corrupt practices. Maria Negrete-Gruson, a Colombian who is the lead portfolio manager of Artisan Partners' Sustainable Emerging Markets fund, for example, sees a situation where the glass is half full when it comes to business practices in the region.
On the one hand, anti-bribery legislation has made huge strides, enabling judicial systems to launch comprehensive corruption investigations that have reached politicians and business people who were once deemed as untouchable. On the other hand, the cultural revolution required to change attitudes among businesspeople and government entities is still a work in progress, Negrete-Gruson says.
Werning of Union Investment agrees. "In general, there is still a lack of certain measures that we want to see," he says. "Most of the time, for example, there are no provisions for the protection of whistle-blowers. Or external assurances of compliance ethical standards, which is more comprehensive than just having a policy."
To avoid any risks, some Latin American investors prefer to stay away from local actors, especially in sectors where problems have arisen in the past, like oil and gas, energy and healthcare. Actis, a private equity house, has opted to create its own companies in countries like Brazil to ensure its ethical standards are aligned with the parent company's, which is supposed to follow the prescriptions of the UK Bribery Act.
"If there are any misalignments in terms of value and a culture of integrity, there is not something that we consider fixable," says Shami Nissan, the head of ESG at Actis. "It is much harder to fix a company with a bad culture than starting a company from the ground up."
Souccar, for his part, emphasises that finding the right targets for investments is key in Latin America because, if problems occur, it is hard to get them resolved through the courts. Minority shareholders, in particular, face an uphill battle every time they try to enforce their rights.
"It is important to select the right companies to invest because once you have a problem, there is not much you can do other than selling the position," he says.
Emerging market equities: ESG in Latin America
1

Currently reading

Emerging market equities: ESG in Latin America

2

3