Emerging market equities have enjoyed a good year so far but are investors too late to enter the market?
Key points
• Emerging market equity valuations are cheap compared with developed markets.
• Corporate earnings have been strong and are forecast to grow further.
• Rising consumer demand supports stocks in many sectors.
• Certain emerging market countries are outpacing developed countries in terms of technological change.
The concept of emerging markets as a separate investment category could soon become obsolete, given the speed of change of developing economies. For the time being, however, investors are left with an important, and sometimes difficult, asset allocation decision whether or not to invest in this area.
Long-term investors in emerging market equities have experienced varying degrees of success over the past decades. But judging by the performance of the main indices, they have held an important source of returns. This year, many investors are identifying their emerging markets equity portfolios as the strongest return driver within their overall strategy.
Those who began investing five years ago in high-beta portfolios have had a rough ride. But there are plenty of signs suggesting that the rally that started in January 2016 has further to go. Emerging market equity managers are bullish, and while this is predictable, they seem to have a point. Stocks are significantly cheaper than developed market ones and many countries that were experiencing severe downturns are turning their fortunes around. Several countries are catching up with developed markets at an increasing pace and, to an extent, surpassing them.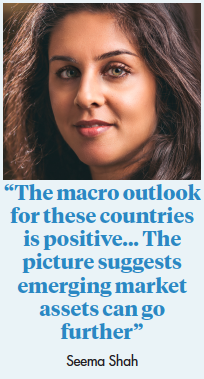 Seema Shah, global investment strategist at Principal Global Investors , says: "The contagion effect that used to be prevalent among these countries, which is the reason why they are clustered together, is no longer significant. You have to have a better understanding of each of the regions. Considering emerging markets as a homogenous group is not necessarily helpful.
"At the same time, policy-making in a number of these countries has strengthened, which has made them a lot more resilient to the various macro shocks that may occur around the world."
Shah says emerging markets remain her favourite pick for the year. "The macro outlook for these countries is positive. A number of central banks have room for cutting policy rates, which puts them in a better position than developed markets. The outlook for oil prices, which has improved, is also supportive of emerging market economies. The picture suggests emerging market assets can go further," she adds.
In short, the long-term proposition with emerging market equities does not change. Most countries in the region will grow faster than developed ones, thanks to several structural transformations, such as population growth and technological change. But regional stock markets have gained momentum this year thanks to the happy combination of cheaper valuations and strong corporate earning growth.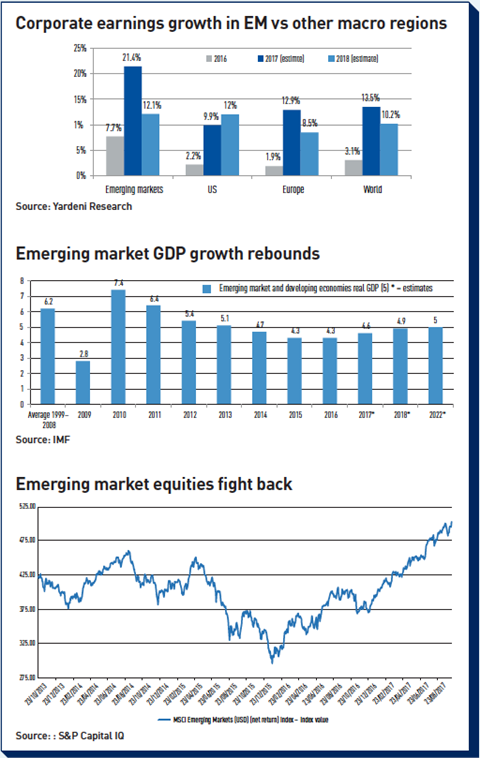 Earnings grew 7.7% in 2016, according to Yardeni Research, and are forecast to rise by 21.4% by the end of 2017. It is important to point out that the 2017 estimate has been reviewed upwards since the start of the year. Valuation-wise, the forward price to earnings (P/E) ratio of the MSCI Emerging Markets index was 12.48, above the 10-year average of 11.2, but much lower compared with the MSCI All-Country World index, which is also above its long-term average.
However, as discussed, investors cannot just buy emerging market beta and expect solid returns. This is indeed a huge and complex market, and experts tend to agree that it is a one where it is worth paying for stock-picking skills. The mantra of emerging market equity managers is that bottom-up stock selection matters. Nevertheless, the countries and sectors that are trending among managers can easily be identified.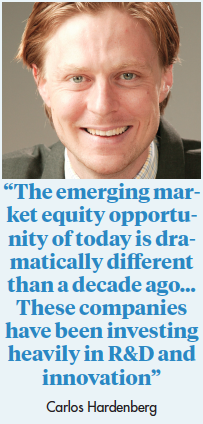 Brazil seems to be an investor darling at the moment. Gary Greenberg, head of emerging markets at Hermes Investment Management, says: "Brazil looks like a good cyclical opportunity as it comes out of its recession. Unemployment seems to have peaked. Inflation is low, allowing interest rates to come down and deleveraging and new investment to take place. It could turn into secular opportunities if legislators approve some of the economic reforms under discussion, such as the pension reform."
Managers also favour China, which has managed to dispel fears of a hard landing. John Moorhead, head of emerging equities at Pictet Asset Management, says: "We have been overweight China for some time and it is working for us this year. In general, investors are becoming more comfortable with the country's financial system. But what we are buying into is consumption. Auto sales in China are 5% higher year on year and airline passenger sales are 8% up. Overall, consumption is trending 10% higher, and we think that is attractive."
Russia is also drawing interest, based on strong consumption trends and the partial recovery of the oil price. Among the less-liked countries we find Mexico, India and South Africa at the moment, all of which lost popularity only in recent years.
Mexico is embroiled in the renegotiation of the NAFTA agreement with the US, and is likely to elect a populist leader, according to Greenberg. India does not entirely convince managers, despite the strong macro and growth backdrop. In Moorhead's view, "on a bottom-up basis, there are potentially interesting opportunities in India, but we can buy similar stocks in Russia and China for better prices". In South Africa, Greenberg says, "politics has overshadowed economics" and owing to a lack of leadership, the commodity export-focused economy is simply stagnating.
"We no longer witness some of the terrifying corporate governance reaches we used to see"

Gary Greenberg
While the circumstances of individual countries can change in a relatively sudden fashion, the long-term trends that are shaping corporate behaviour are arguably more durable. Investors should be aware of the significant transformations at corporate level taking place in emerging economies.
Carlos Hardenberg, portfolio manager within the Templeton emerging markets group at Franklin Templeton Investments, says: "The emerging market equity opportunity of today is dramatically different than a decade ago. It lies within a new group of companies that have moved up the value chain in either the service and manufacturing process. These companies have been investing heavily in R&D and innovation, and developed either digital or physical business models that are completely new.
"Another fundamental aspect is the fact that emerging markets are beginning to look for their spot in future industries. This is not just in consumer electronics, such as smartphones or the internet of things, but beyond that, in much more sophisticated products and industries such as the automobile space. We see this as a sizeable and sustainable structural opportunity", adds Hardenberg.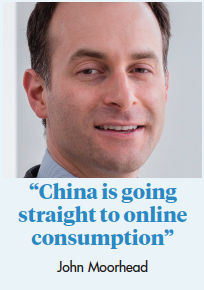 Hardenberg points out that emerging economies are embracing technological innovation, particularly in terms of online banking, retail and services. This is a known trend that sees emerging economies, from China to Africa, essentially overtake developed ones in the area of digital business. "China is going straight to online consumption," confirms Pictet's Moorhead.
Obviously, the 'emerging market equity' asset class, as long as it seen as separate from other equity asset classes, presents risks of its own. Geopolitics is often identified as a particular risk but it could be argued that developed markets are no more immune to it than emerging ones.
There are other relevant risks, however. Ben Preston, director at Orbis Investment, says: "ESG factors can pose meaningful risks. Corporate governance is especially relevant, given the lower regulatory oversight in many jurisdictions. Additionally, the lower liquidity in EMs means portfolio turnover is likely to be relatively muted, which also makes governance a bigger factor than it might be elsewhere, as management's decisions are more likely to impact your returns over the long term."
But emerging market corporates are stepping up efforts in both areas, according to Greenberg. "The concept is catching on. We no longer witness some of the terrifying corporate governance breaches we used to see. Companies are moving towards a more responsible type of culture," he says.
Emerging Market Equities: Heading for catch up
1

Currently reading

Emerging Market Equities: Heading for catch up

2

3

4