Europe's pharmaceuticals sector must be innovative to stay ahead of global rivals
The pharmaceutical sector is arguably the jewel in the crown of European industry. But the region faces some significant long-term challenges if it wishes to retain its pre-eminence in healthcare.
There is a polarisation in Europe between the large well-funded pharma companies and the small entrepreneurial biotech companies, argues John Bowler, a fund manager at Schroders. The most prominent large companies include Swiss-based Novartis and Roche, UK-based AstraZeneca and GlaxoSmithKline (GSK) as well as Danish Novo Nordisk and France's Sanofi.
While certain companies are focused on particular therapeutic areas, most of them are quite diversified, explains Fabio Di Giansante, head of European large caps at Amundi. For example, Novo Nordisk continues to focus its efforts on diabetes, which represents 80% of group sales, while Roche generates more than half of its pharmaceutical revenue from oncology products.
Other companies are more diversified in their therapeutic focus, with AstraZeneca, Novartis and Sanofi having an established presence in various conditions including diabetes, immunology, oncology and respiratory. These companies, Bowler says, have the capital to acquire products and technology from the biotechs firms, coupled with the expertise and resources to commercialise them. The biotechs can take their innovations and use outsourced services to demonstrate proof of concept to entice bids from the larger companies.
Between the two ends of the industry lies a second layer of the European pharma market comprised of mid-sized companies controlled by families or foundations, such as Almirall (Spain), Ipsen (France), Lundbeck (Denmark) and Recordati (Italy). "The strategies of these companies vary. Some focus their efforts on local European markets –for example, Recordati) – while others are looking to establish a more global presence in certain therapeutic areas – for example, Ipsen in the area of oncology," says Amundi's Di Giansante.
The companies in the middle do not have the resources to outcompete the larger players for innovation, argues Bowler. Europe does not see the plethora of small and mid-sized spinoffs and start-ups that occur in the US, but the US is not its only rival. China and India have well-established pharmaceutical industries and, with an abundance of brainpower, they are well positioned to produce streams of cutting-edge healthcare companies.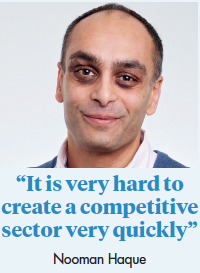 Where Europe and the UK in particular have seen a resurgence is in early-stage life sciences and healthcare, says Nooman Haque, managing director of life sciences and healthcare at Silicon Valley Bank's UK branch. Last year was a record year for early-stage investment into European healthcare, with the UK capturing the bulk of it. The south-east of England has a concentration of world-leading biomedical campuses and research institutions not replicated anywhere else in Europe, with a healthy supply of talent that gets recycled from opportunity to opportunity. "When you put that all together along with the passage of time, it is very hard to create a competitive sector very quickly. How do you create a world-class university? You build a university and wait 200 years." What we are seeing today in the UK are the fruits of past investment.
There are several secondary centres of excellence in Europe. Bowler argues that European governments need to ensure basic research is well funded and to encourage clusters of biotech activity around key academic centres, as well policies that encourage long-term investment in these early-stage companies – 'patient capital'.
Basel in Switzerland is a headquarters and a hub for clinical research for some of the world's largest pharma companies, such as Roche and Novartis, as well as for more specialised companies such as Actelion (recently acquired by Johnson & Johnson), says Di Giansante. Haque points out that there are centres of excellence in Belgium, the Netherlands and the Nordics, particularly in digital health. But in biopharma, the UK stands well above the rest.
Across the pond
How well does Europe compete with the US? In the case of large-cap companies, European pharmaceutical firms are competitive with their American peers, says Di Giansante. By and large, levels of innovation across these companies are similar in the US and Europe, with many European companies having dual R&D hubs in Europe and the US.
While leadership in individual therapeutic areas can change over time with innovation, European pharmaceutical companies have world-leading positions in treatment of various conditions. But, as Di Giansante concedes, the biotech industry is more developed in the US than in Europe, owing to better access to capital, among other factors.
Haque agrees. "The glaring difference is Europe does not have a large biotech sector – the Celgenes, Gileads, the firms that pioneered biotechnology," he says. On a proportionate basis, he argues, the US has a healthier start-up ecosystem. There are more venture capitalists and a greater entrepreneurial culture. But, he adds, the great thing about Europe is that on a technology basis it can hold its own with the US in areas such as gene therapy, with companies such as Orchard Therapeutics in the UK.
Most established groups interact in several ways with the biotechs, says Silicon Valley Bank's Haque, with partnerships and licensing agreements a well-worn path to follow. M&A is an established route as established firms diminish their research and development efforts and have relied more on external companies. "Nearly every major pharma group now has its own corporate venture arm where essentially they have a team acting like a VC [venture capitalist] with a varying degree of independence, whether financially focused or acting as a strategically focused venture hub which have become quite major players," says Haque.
Some are recognising that beyond the licensing, M&A and corporate venturing, they need to look at themselves more broadly as global multinationals and how they are structured for innovation all the way through beyond the corporate venture team. Are we doing enough? Introducing digital technology and so on, with Novartis, for example, employing a head of digital.
"The best opportunities lie in companies with truly innovative and differentiated products" - Fabio Di Giansante
Europe does face the challenge that the US firms are bigger and operate in a home market that is also much bigger and homogeneous. Europe is more segregated financially and from a healthcare perspective. Despite the EU single market, the region is not unified. This puts constraints on how easy it is to grow. "So you have national champions in the UK, Germany with some standout firms that are global like Roche and Novartis," says Haque.
Where does this leave investors? European pharma and healthcare perhaps more than any other sector, truly relies on partnerships between governments and the private sector to flourish.
European pharmaceutical markets continue to be subject to pricing pressure. While the sector has yet to face large-scale deflationary pressure in the US, the high price level of pharmaceutical products still attracts political attention. "Against this backdrop, we believe that the best opportunities lie in companies with truly innovative and differentiated products," says Di Giansante.
But, as Bowler points out, the greater scrutiny on drug pricing in the US and elsewhere means there is a greater requirement for innovative products to sustain pricing power. Such products need to be reimbursed and Europe has a lot more flexibility than the US with regard to novel reimbursement models that relate to pay for performance. But to develop these further requires investment in better electronic health records and the monitoring of patients remotely to monitor performance.
The UK may be leading Europe in medical research but the National Health Service still struggles in exactly those areas. The European healthcare ecosystem still requires a lot of tinkering.
European Equities - Auto sector: Rough road ahead
1

2

3

Currently reading

Innovation is key for pharma