Investing In European Equities: Worrying times
Political uncertainty in Europe poses dangers and offers opportunities. Joseph Mariathasan investigates 
At a glance
• The intense discussion of European politics is a sign that investors are worried.
• Financial repression – including ultra-low interest rates – has driven both equity performance and populist resentment.
• Rising inflation could drive earnings growth upwards.
Europe is clearly facing many political challenges ahead, with Brexit and Dutch, French, German and also, at some stage, Italian general elections. But what are the implications for European equities and should investors be concerned?
The impact of politics is difficult to predict. The markets recovered after the UK's Brexit vote. The same thing happened after the US election, with few guessing there would be a year-end rally based on Donald Trump's promises of tax cuts. It is difficult to foresee both political events and the market reaction. 
"Our thesis is the profitability of companies is not dependent on politics. That will be tested this year," says Martin Todd, European equities portfolio manager at Hermes Investment Management in London. He might not have immediate reasons to worry, though.
Salman Ahmed, chief investment strategist at Lombard Odier Investment Managers, says the political situation in Europe is less precarious than it appears. In continental Europe, unlike the US or the UK, proportional representation is prevalent, rather than the first-past-the-post electoral system. 
This system tends to work in favour of smaller parties and coalition governments. Therefore, in the Netherlands the Party for Freedom of Geert Wilders may be the single most popular party but it is unlikely to gain power. In France it is widely expected that Marine Le Pen will lose the second round of the presidential elections, even if she wins the first. Nevertheless, Ahmed argues that populist parities could end up influencing mainstream policies. "The current configuration in Europe needs to be thought out. If there is another recession within the next five years, then the populist parties will get into power," he says.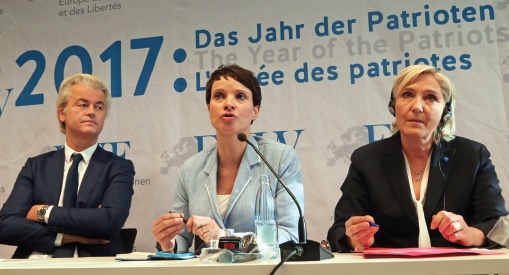 Political uncertainty is a problem for investors but, argues Dylan Ball, manager of the Templeton Euroland fund, they need to try understand its causes. "What is driving the political volatility in the developed world is exactly the same issue that is driving the equity market, but we should not assume cause and effect." Ball sees that financial repression – including keeping interest rates particularly low – has led to the widening income gap between haves and have-nots. This has led to political volatility within the euro-zone. This financial repression is ultimately leading to significant inflation which the market is trying to price in as well. 
Ball argues that the political instability should be treated as an opportunity to focus on the longer-term drivers of returns in Europe. "If you think about populism in Latin America, you do see that this kind of political movement ends up hurting the electorate that voted them in," he says. Within Europe, he points out, there is a tradition of movement towards moderation by populist parties. Greece is a good example, with the populist Syriza party moving from being a far-left movement with Prime Minister Alexis Tsipras takinging a more moderate social democrat stance. The situation in Europe is so complex that to hold an extreme position and try to solve these problems is potentially untenable, argues Ball.
What is clear, as Todd points out, is that intense discussion of European politics is a sign that investors are worried. There has been a lot of money flowing out of Europe since the financial crisis. Sentiment is low and European equity valuations are attractive relative to the US, with price/earnings ratios of 14.7 or 14.8 and yields nearing 4%. Margins in Europe are still depressed relative to previous peaks, whereas in the US they are at a peak, so Todd sees potential for European earnings to rise.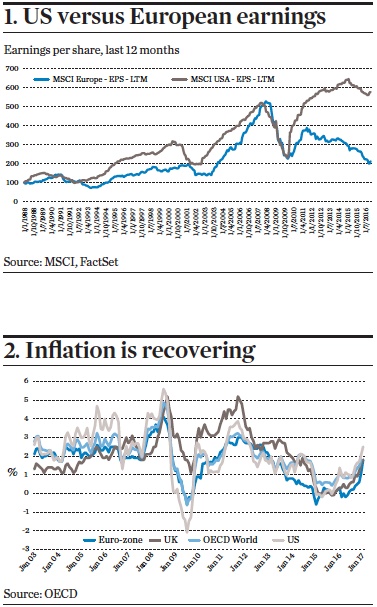 A rise in inflation may be a catalyst for a rise in European earnings, argues Ball. He points out that the differential of US earnings versus Europe has widened. When will it close? The explanation has been that despite the European Central Bank (ECB) balance sheet being as large as the US Federal Reserve's, lack of internal demand or lack of fiscal unity is not allowing this liquidity to get out into the earnings. But profit margins versus the US have opened up as well. So it is a profit-and-loss issue that is taking place as, typically, the two regions track each other. The argument that Europe is not as competitive as the US because of rigid labour markets giving rise to higher labour costs does not apply because labour-cost growth in Europe remains low. But corporate-pricing growth is low as well. 
Examining how European companies react to inflation shows that they are price taking, Ball says. When European inflation falls they cut their prices to preserve the top line and that leads to reduced profitability. If inflation were to return, that margin gap should close and earnings should revert to a much smaller difference to the US, says Ball.
Price-taking sectors are heavily represented in Europe, continues Ball. Some 20% of euro-zone equities are in financials, 6% in energy and 9% materials with 15% in commodity-based companies as well as industrials which is another 15%. As a result, over half the index is price-taking driven by inflation, so there is an earnings gap with the US when inflation is low. Headline inflation follows oil price inflation with a lag of three or four months and is coming through in France, Germany and the UK. Core inflation excluding energy and food is benign in Europe but is rising rapidly in the US. So core inflation will follow headline inflation in Europe: "Inflation is coming. Whether it is Chinese coal prices or iron ore, or copper," Ball concludes.
Where does this leave Europe's periphery? Many managers may invest in the occasional multinational based in Spain, such as Inditex, the multinational clothing company that includes Zara, but they tend to generally avoid southern Europe. "Most of our ideas are in western and northern Europe and we have been regularly overweight in Scandinavia," says Todd.
One firm that manages a fund that is exclusively focused on southern Europe is Amber Capital. Joseph Oughourlian, founder and CEO sees southern Europe as by far the cheapest markets in Europe. Italy, Spain, Portugal and to a lesser extent France are trading at a deep discount to northern Europe. But his approach is not conventional; his fund adopts an activist approach to investing, with typically just 10 stocks in its portfolio at any one time. 
A key opportunity for Amber is companies with questions related to corporate governance. "There are also many issues to do with controlled capitalism," says Oughourlian. "There can be shareholders with just 5-15% of a company and still control it because other shareholders are not active. Very often their interests may not be aligned with minority shareholders." As he explains, capital of southern European companies is less controlled than ever before. This is coupled with the presence of international institutional investors who tend to be more active on the governance front. "These factors are signalling that southern European companies will have to be more receptive to proposals that promote change," Oughourlian says.
Europe looks cheap relative to the US while southern Europe trades at a discount to northern Europe. For international investors the biggest challenge may be figuring out the best way to tackle both parts of the continent. 
Pages in: Investing In European Equities: Worrying times