Valuations: Emerging from the wings
Against a backdrop of lacklustre growth in the developed world, emerging markets are beginning to find favour again with investors, finds Christopher O'Dea 
Changes in the relative valuation of major regions indicate that it may be time to adjust asset allocations within global equities.
The primary change is the renewed attraction of emerging markets after several years of volatility and weak performance in many countries. Renewed interest in emerging markets comes against a backdrop of lacklustre economic growth, declining corporate profits and decreased effectiveness of accommodative monetary policy in developed markets.
That is making emerging markets attractive on a relative basis, but investment managers and consultants remain wary, and are watching carefully for confirmation that emerging market countries are undertaking structural and financial reforms that will sustain economic growth in developing nations.
At the same time, political developments have become a significant new consideration for global equity allocators. Populism, economic anxiety and income inequality resulting from slow growth and mass immigration are leading to a loss of confidence in global trade pacts and globalism – and that loss of faith is increasingly being expressed at the ballot box. 
Overall, Russell Investments sees weakening business cycles across the globe, with profit growth slowing in all regions. The US remains expensive, Russell says, with EU and Japanese equities slightly undervalued and emerging market equities moderately undervalued.
That translates into limited potential for further gains for US equities  where Russell has been underweight for the past 18 months. The consultancy prefers the euro-zone where it argues equity undervaluation recently overtook business cycle factors as the main driver of an overweight to euro-zone equities.
"In the EU we've seen a real recovery in the economy," says Wouter Sturkenboom, senior investment strategist at Russell. The continent is in better shape cyclically than the US, and the cyclical outlook will improve if the economic impact of Brexit turns out to be small, he adds. Compared with the US, "the earnings cycle looks better, profit margins are lower and, aside from financials, on an upward trend", he says.
Some investors have a more upbeat view of the US equity market. "If I look at things from the long-term perspective of pension funds, I am not very worried about the valuation of stocks," says Lukas Daalder, CIO of investment solutions at Robeco. The asset manager recently completed its annual projection of expected returns over the coming five years, and "we are not that pessimistic", he says. While earnings are moving in the wrong direction at the moment, "we think growth will be well-behaved over the next five years, and inflation will come back, which will help equities".
Emerging markets, Daalder says are undervalued, perhaps by as much as 25% to 30% compared to the MSCI World, on the basis of several indicators, including price-to-book and price-to-earnings ratios. The discount also reflects the illiquidity premium of emerging markets, as well as currency values and the higher volatility on emerging market stocks. Robeco sees the potential for underlying earnings growth and improving margins in emerging market equities, but cautions against exuberance. "We should not expect that discount to go to zero in five years," he says. "Emerging markets are cheap for a reason."
Despite the high relative valuation of US equities, Quantitative Management Associates (QMA), the quant multi-asset class management unit of Prudential Financial, is overweight the US. It is one side of what QMA portfolio manager Ed Campbell calls a "barbell approach" to global equity markets. QMA has positioned its portfolio to deal with the effects of the highly accommodative monetary policies of central banks in the US, EU and Japan. The objective, Campbell says, is to run overweights in the US, a high-quality market, and the emerging markets, a lower-quality market, using return on equity as the yardstick for quality. The US equity market tends to deliver higher returns on equity, and even though US equities are overvalued, investors pay a premium for quality.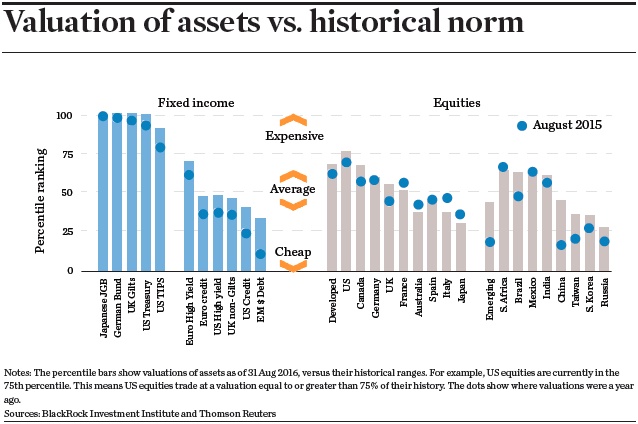 Campbell says QMA is underweight the EU owing to post-Brexit political risks stemming from referendums on EU membership in Italy and other countries next year. In Japan, "negative interest rates and QE have exhausted their ability to weaken the yen," he says. "Japan is in a bit of a tough spot."
The willingness of investors to send capital back to emerging economies rests on the simple fact that business prospects are good, says William Low, global equity portfolio manager at Nikko Asset Management. A positive dependency ratio in several Asian countries with large population cohorts under the age of 15, Low says, means there is significant potential for productivity increases in countries such as the Philippines and Vietnam.
And in contrast to developed economies, where cheap debt has enabled consumers to bring forward purchases, in emerging markets debt has not been cheap, and credit penetration has not advanced to the levels prevailing in developed markets. That has created pent-up consumer demand. Many emerging economies have underperformed over the past five years, but with the bottoming of the commodity recession and the return of capital, "their relative attractiveness is high," Low says. "At the end of the day, emerging markets are still growing."