Brexit – are Gilts a haven?
Joseph Mariathasan asks how the potential UK exit from the European Union would affect the sovereign debt markets 
At a glance
• Brexit is likely to affect Gilts less than equities or sterling.
• The Bank of England has made it clear it will provide liquidity to the market if Brexit happens.
• If Brexit happens it could pose a threat to the integrity of the EU.
What would a vote for Brexit imply for the UK Gilt market? Most commentators agree that a vote to leave would prompt increased volatility in the UK capital markets.
"In a Brexit scenario, we will see a continued slide in sterling and UK equities may wobble a bit as well," says portfolio manager Grant Peterkin at Lombard Odier Investment Managers. His view reflects the consensus. 
However, Peterkin would also agree with Karsten Bierre, head of macro and strategy at Nordea Investment Management, who says the impact of Brexit on Gilts is not something to be concerned about. "Gilts represent the 'risk-off' asset for sterling investors. If you look at the current market pricing, you generally see Gilts do well when there is a perceived increased risk of Brexit".
The UK is in a stronger position than euro-zone members in terms of an EU exit. "We have to remember the UK already has its own central bank and its own currency," says Bob Michele, head of global fixed income at JP Morgan Asset Management. He sees the likelihood of a Brexit vote as small, but despite that, he argues there are contingency plans being drawn up. These almost certainly include bilateral trade agreements with the remaining economies in the EU should Brexit happen. "If it does occur, the Bank of England has made it clear they will provide all the liquidity needed for the market," he says.
In Bierre's view, a Brexit vote would result in a strong reaction from the Bank of England which would cut base rates and perhaps increase quantitative easing (QE) purchases. "If the Bank of England were to restart the asset purchases facility, that would probably benefit Gilts. It would also tend to offset the outflows that would tend to come from non-resident investors."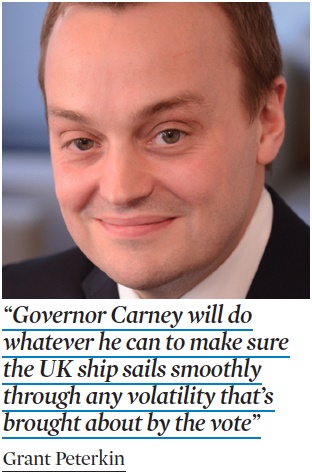 Peterkin questions why foreign investors would be disposing of Gilts, especially when they are still strong investments in international terms. In his own absolute return fund, he likes owning the front end of the Gilt yield curve on the basis that if there is an exit vote, it would force the Bank of England to at least remain on hold with any policy tightening it is contemplating. "Governor [Mark] Carney will do whatever he can to make sure the UK ship sails smoothly through any volatility that's brought about by the vote."
Brexit is not just a potential challenge for the UK. It might pose, as Eric Domergue, head of fixed income for third-party business at Generali Investments says, a risk for the EU in general. "If the UK decided to leave the EU, it might have a spillover effect on all the other countries, because it would mean that leaving the EU is a viable option. This adds to the fact that the strength of the anti-EU parties – as polls show – is clearly increasing across Europe, especially in Spain, Italy, France, Germany and the Netherlands." 
Cosimo Marasciulo, head of European government bonds at Pioneer Investments, agrees. "Brexit is not different from a Greece exit. Brexit would open the Pandora's box for more possible exits. We don't think the possibility of Brexit is fully priced in European assets. Once you start this kind of action, once you start to talk about the European Union being reversible, then you should look at sovereign spreads in the euro-zone. Brexit would be very negative for peripheral country spreads as you start to ask who will be next?" 
Domergue sees Brexit as having ramifications for the European Central Bank (ECB). "If Brexit happens, sterling has the potential to devalue. The ECB may have to maintain the euro exchange rate by lowering rates." As he points out, the ECB is trying to use all the measures it can to combat deflationary trends and develop lending to small and medium enterprises (SMEs). If, as a result of Brexit, spreads widen on corporate debt and peripheral country debt, the ECB is likely to be forced to take some measures.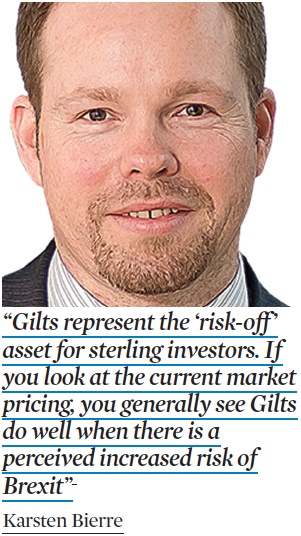 But, the effectiveness of its policies is in doubt already. "Investors in Europe are quite sceptical on the impacts of the ECB policy. This is reflected in inflation indicators. The ECB follows the five year/five year inflation swap (which represents a swap beginning five years from now with a maturity of five years) to monitor how investors believe inflation will behave in the future. Just before the announcement of new accommodative measures in March, it was trading at 1.46%. Once the ECB announced them, it started to go downwards." He says there will be difficult times for the EU following Brexit if investors do not believe that the ECB can support growth and the financing of SMEs and corporates.
The irony of Brexit may be that, of the European bond markets, the Gilt market may be least affected in the short term. It could, however, as Marie-Anne Allier, head of euro fixed income at Amundi Asset Management argues, lead to the end of the EU as we know it. "Every country will want to ask for exceptions to EU rules. The response may end up being very strict – If you want to stay, we can discuss exceptions, but if you want to leave, there will be no discussions. That will make it easier for the rest of the EU to survive as an entity but make it harder for the UK."