Hedge funds are increasing their presence in emerging markets
Key points
The retail-driven character of the Chinese and Indian stockmarkets creates creates anomalies suitable for hedge funds
Indian hedge fund have experienced lacklustre growth
China has seen more vibrant growth
China and India both have large equity markets dominated by retail investors. Their behaviour, often short-term and driven by behavioural factors rather than fundamentals, creates inefficiencies that are well suited for hedge funds to capture.
Unsurprisingly, there has been a growth in new hedge funds in both countries. While there does appear to be still some scepticism on the part of SEBI, the India regulator, there seems to be more support from the CSRC, the Chinese equivalent.
SEBI created the regulatory environment enabling hedge funds, alongside other "alternative investments" to be set up in 2012. Since then, says Avijit Sinha of Kotak Mahindra Bank, there have been about 50 hedge funds set up domestically. "The market has reached a historical peak, so people are looking to diversify into market-neutral strategies so the number of registrations is going up."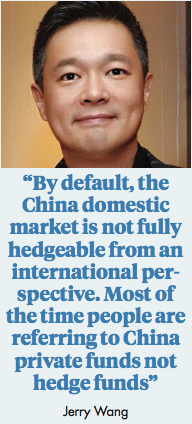 But Monsoon Capital CEO Gautam Prakash points out that the total assets under management is low, with only about $1.3bn (€1.1trn) across all the domestic funds as compared with the $2trn capitalisation of the Indian stock market. There are also relatively few foreign-domiciled Indian hedge funds in the US Europe and Singapore with total assets of only $3-4bn a tiny slice of the global $3.2trn hedge fund industry, says Prakash.
There are several reasons for the lacklustre growth of Indian hedge funds. As Prakash points out, Indian stocks have traded since the mid-1800s and while long/short funds have been around since the middle of the last decade, local investors have been accustomed to long-only funds. "It takes time for hedge funds to reach acceptance by high-net-worth individuals," he says.
SEBI has also not supported the concept, with a lot of scepticism on the idea of hedging, says Prakash. It is possible to short stocks domestically using India's single-stock futures. They have been around with reasonable liquidity for the past decade but liquidity is only available for the near month, with trading volumes only significant for the 50 top stocks traded on the National Stock Exchange (NSE) in Mumbai.
That can be frustrating for potential managers and investors. For example, David Walter, head of Asian research at PAAMCO, is positive on the prospects for Indian hedge funds but faces challenges in finding managers. "India is great but we cannot really find people who are super successful at shorting India," he says. "The only way is single-stock futures which have roll costs."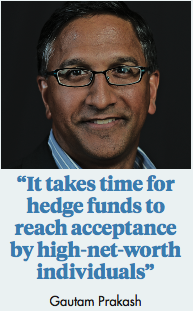 The other key issue for long/short funds in India is taxation. In India, long-term capital gains are not taxed but gains obtained in less than one year are heavily taxed. The fear for many fund managers is that even if they did only a small amount of this, the tax authorities would class all their trading activities, even in other funds, as short-term trading.
Some argue claim that individual tax inspectors can even be aggressive as a means of attracting bribes to look the other way. "Managers do not wish to imperil long-term holdings, so the way the law is being implemented is creating problems," says Prakash.
China is further down the hedge fund route than India although, as Jerry Wang, managing partner of Ge Shang Wealth, points out, the term 'hedge fund' in China can be misleading. "By default, the China domestic market is not fully hedgeable from an international perspective. Most of the time, people are referring to China private funds, not hedge funds." In contrast to India, the regulators are taking a positive approach. "When I started investing in China private funds in 2005, the regulations were vague and most managers operated in the grey area," says Wang. That has changed in recent years. The CSRC has licensed private funds, bringing them out of the shadows with firms becoming licensed investment managers with staff qualified through both experience and examinations, explains Wang.
There are now about 1,400 hedge funds in Asia, leaving aside domestic China funds, according to Ronnie Wu, managing director of Penjing Asset Management. But in Hong Kong, Greater China strategies account for 25% of the total, with around a couple of hundred or so focused on China.
In general, funds are relatively small by European and US standards with 80% being less than $200m in size: "With $50m AUM, hedge fund managers can make a living with a minimal infrastructure and four or five staff. If a manager has less than that, he needs to be managing his own money as they would have to rely on investment gains. There is, however, a lot of potential for firms to grow, with Wu arguing that many of the firms are scalable operations and could increase AUM up to $500m without becoming inefficient.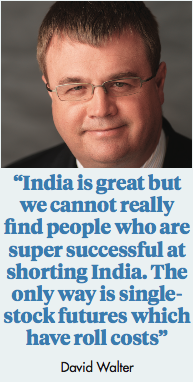 Wu foresees a rapidly growing China-focused hedge fund industry, both in terms of AUM and new fund managers, with many mainland funds setting up in Hong Kong.
China hedge funds can be separated into two markets. The domestic A-share market and the offshore market through Hong Kong. While Shanghai is dominant in finance, Shenzhen is becoming increasingly important, driven by many world-class tech companies that are headquartered there. This has given rise to a buoyant private-equity environment that has slipped over into hedge funds, says Wu.
Wang sees the environment encouraging the growth of other strategies besides equity long/short, with commodity strategies, trend-following, relative value, and a pipeline of Chinese convertibles building up, with quantitative approaches also becoming popular.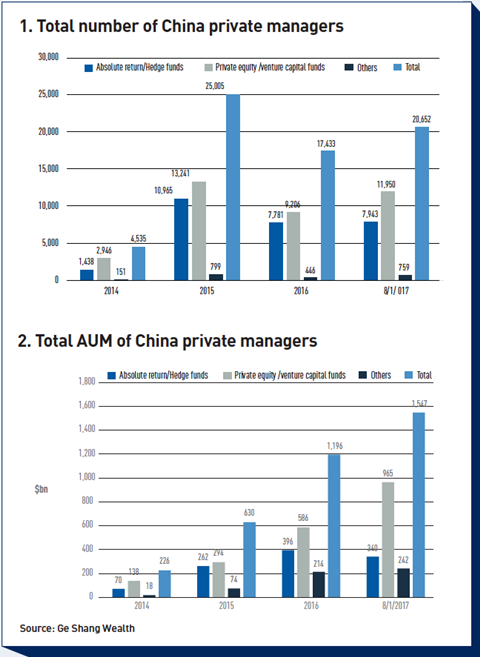 He says: "In theory, it is possible to short stocks (China A shares) but in practice the cost of stock borrowing is relatively high and the stability of the borrowing transaction is not what we are used to." As a result, nearly all domestic hedge funds are long-biased and many are long-only absolute return rather than long/short.
Wang estimates there are thousands of managers with about $350bn in AUM but 26 managers represent just over 20% of the total.
In the offshore market centred around Hong Kong, the dominant hedge fund strategy is long/short equities. It is possible to short mainland companies with H shares and go long domestic A shares, enabling strategies that are closer to market-neutral.
There is also increasing interest in other strategies. "In 2008, after the financial crisis people shied away from less-liquid instruments. People are now bullish and money is finding its way into less and less liquid assets," says Wu. But, as he adds, unlike a typical equity strategy, credit strategies need more scale, with at least $200m to $300m to be properly diversified.

What is significant is the change in investor profile in Hong Kong.
Wu says that today it is different from five years ago. Then, it was dominated by foreign institutional flows and domestic companies were small, so non-Chinese investors were an important market. Today, the market is dominated by mainland Chinese.
For hedge fund investors, India and China are two opportunities for future growth that should not be ignored. PAAMCO has exposure to both, says Walter but has a greater exposure to China as a result of the easier access, the size of the market and the choice of the managers. Against that, the Indian economy has historically been less correlated to global markets than China has been.
Hedge funds: No longer out of reach
1

2

3

4

5

6

Currently reading

India and China: A promising growth story

7