Private equity: Competitive arena
The healthy state of private equity markets is drawing interest from investors ranging from high-net-worth individuals and family offices to public markets, mega-funds and Asian firms
Key points
There are concerns about valuations, particularly in mid-market buyouts
Buyout funds can offer larger investors capacity
Interest from a wider pool of assets is leading to competition for deals, including venture
The private equity markets are in a healthy state in terms of inflows and realised returns. But high valuations make some segments, particularly mid-market buyouts, a tough place to find attractive new deal opportunities. Credit funds are willing to lend and there is a lot of liquidity in the market helping to drive up prices.
In the mid-markets the unstated fear is that a bubble might be emerging. "The mid-market is pretty brutal and there is a lot of competition there," says Tom Whelan, head of private equity at Hogan Lovells, the international law firm. Private equity may be an attractive asset class but understanding where the risks lie is critical.
Private markets are relatively small compared with public ones. Jim Strang, head of EMEA at Hamilton Lane, an alternative investment manager, estimates a global figure of $5trn (€4trn) for private, versus $200trn for public markets. Private equity is bigger than it has ever been but it is still only about 2% of the size of the MSCI global universe.
In the UK there are about 1,000 listed companies and 40,000 private companies. That gives an idea of the scale of the opportunity set quite apart from divisions of public companies that can be taken private, says Strang, as with KKR's takeover of Unilever's spreads business. Private equity's share of mergers and acquisitions (M&A) is less than a quarter of the total. "PE is increasing in size because it's working," says Strang.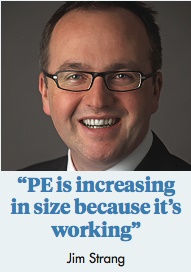 He argues that what matters is not how much dry powder – uninvested capital – there is, but the pace of investment and the available returns (figure 1). "What we see is that the pace of investment is right where it should be. Funds are raised with a five-year investment period so there is always an overhang of capital as capital is being raised ahead of when it is needed. The question is how quickly will the overhang be chewed through if the pace of investment continues at current levels." Strang says that currently it is almost exactly on the long-term average.
Invest Europe, the sector's trade association, has data on more than 1,200 private equity firms in Europe. Strang estimates that only about 60 manage more than €1bn. The US looks different with a much larger median size. Most of the pan-European groups are in the top half of the 60, with probably 30 household names that are €1bn or above and multi-regional and multi-jurisdictional. "These are the founding fathers and nearly all came out of commercial banks in the 1980s and 1990s and have grown from there," says Strang.
There is just a handful of sector funds in Europe. Most are defined by region and the small funds are typically single country-focused while the large ones are multi-regional or pan-European.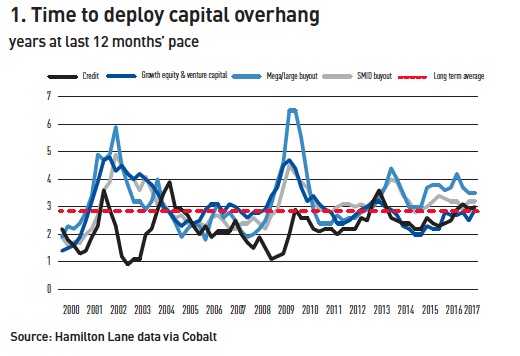 Public to private
Capital is flowing from public to private markets because the latter have done well and the private equity model has been well proven, argues Strang (figures 2 and 3). It is leading to a healthy fund-raising environment with a lot of capital being raised, particularly for the bigger funds. The US figures have been better than Europe's, but median net returns in European buyouts have been in the mid-teens on a net internal rate of return (IRR) basis with top quartile even higher in recent years, according to Strang.
Venture funds over the past few years have performed better than anything. But the weight of money in the industry is all in the buyout sector and the high returns there have been behind the growth of the industry.
Private equity's past successes means that it is a great time to be raising new funds and with valuations so high it is a also lucrative to sell assets. But private equity general partners may be finding more competition with more private equity firms being set up and more pension funds investing directly, rather than into funds. There have also been higher numbers of high-net-worth investors and family offices investing in funds. "There has been a professionalisation of family offices, who have either formed investment clubs or hired seasoned professionals for private equity investments and these are becoming active PE investors in their own right," says Hogan Lovells's Whelan.
High asset prices mean that it has been a challenging environment for traditional PE funds making acquisitions with more competition and higher prices. Whelan notes that a lot of the Canadian pension funds, for example, are coming in and acting as primary investors rather than investing in third-party funds. Sovereign wealth funds have also come into the mix. An increasing number of multi-asset class direct investors have also emerged. Chinese corporates have also been paying high prices for acquisitions where they are able to get money out of China while initial public offering (IPO) markets remain relatively frothy despite recent bumps. "So when there has been an attractive asset for sale, there has been a lot of competition around those assets and pretty high pricing. Ten to 12 times is probably the current average and, in some cases, much higher multiples of EBITDA (earnings before interest, taxes, depreciation and amortisation) is being paid," says Whelan.
Strang argues that high prices are not necessarily an obstacle for the best-in-class firms. "When they buy a business, they are not thinking of what they are buying on the day of purchase, they are thinking of what they are going to end up with five years later. What sort of transformation is going to occur under their watch and how are they going to get there?" There are multiple different engagement models and the best firms have managed to refine their skills over many years.
Adding value
In many cases, the initial acquisition has been a "platform deal", says Whelan. This is followed by a "buy and build" strategy where a firm pays a lot for the initial acquisition as there is no choice. It then effectively tries to buy smaller assets at lower multiples before selling the combined entity at a higher overall multiple on a combined basis.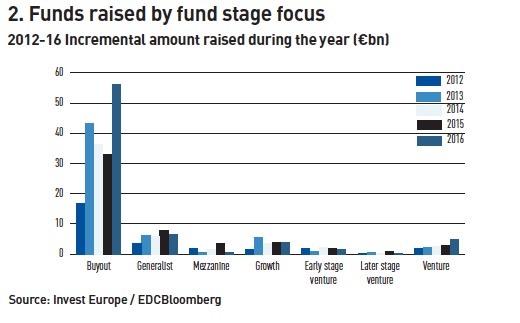 Most firms, though, Strang argues, are not basing their strategies on selling at higher multiples. Instead, it is all about fundamentally growing the profitability. Leverage does not provide much advantage as leverage ratios are different to where they were prior to the financial crisis. The main risk that private equity firms run is the possibility of losing control of the assets, argues Strang. That would happen through a debt restructuring event and the chance of that is driven by the amount of debt on the deal. "So, having a more conservative debt capital structure can help mitigate the biggest risk."
That puts an even bigger imperative on the value creation aspect as general partners make money in any other way. "The best firms have a clear view on what they intend to create and have conviction around what they are going to build. They are very involved, they are very engaged and they are very good at it. They have been through a lot so their accumulated experience is second nature," says Strang.
The news that US mega buyout firm KKR is buying Unilever's spreads division for about $8bn is also illustrative of the dominance of mega-funds in any private equity deal-value statistics. They are taking a significant share of fund-raising because they have the ability to deploy huge amounts of capital and operate in markets with much less competition. "Instead of the 30 or more bidders you see in a typical mid-market auction, the Unilever deal is likely to have seen only a handful of bidders," says Whelan. There is a relatively small number of mega-funds and a tail of many small ones. Because companies are bigger, it means they are more addressable targets for large funds, notes Strang. There have been a lot of large deals of more than $1bn being done this year. "That is where most of the money has gone," says Whelan. But, he adds, there has also been more success for private equity funds in the smaller deal sizes of up to $50m with the $50m-500m range having the most competition.
Nothing ventured
At the opposite extreme to the mega-firms lies venture capital. In recent years there has been a resurgence of interest, says Joe Schorge, managing partner of Isomer Capital. He has seen more activity, with a higher number of start-ups and venture capital funds, and these are of increasingly higher quality. Funds Isomer has invested in have executed quickly, in line with market growth and companies are progressing fast. The cost to start a company is low and the cost to get a product to market is hundreds of thousands, not millions like it used to be. "The effect of that is that any entrepreneur with an idea can get started," he says.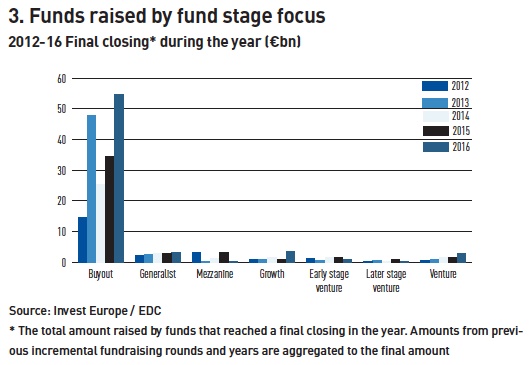 That leads to the second big trend, which is that entrepreneurs are far more dispersed geographically than ever before. "In the past, the tech hubs were London, Stockholm, Paris and so on. Now we are seeing entrepreneurs starting companies at home in some little town you have never heard of," says Schorge. "They can launch a new product and build the company to certain size before needing to move it to a large city, typically to access larger talent pools, or to be closer to target customers or industry partners." The implication for venture capital firms is that they need to find a way to discover these entrepreneurs early because they are not sitting in a tech centre like London.
Valuations in venture are uncorrelated to buyout pricing. As there typically is no debt, pricing is determined by supply and demand and not related to interest rates or liquidity available. The best metrics for determining pricing when there are no earnings to look at, are the operating metrics for a given company, says Schorge. "If, for example, you are comparing two companies each for a few million a round, one company may have customers and revenues and another may not. You can look at operating metrics such as product development and unit economics, cost of customer acquisition, early customer feedback, dynamics of competitive products or services in the market." On the industry level, other useful metrics are average financing-round sizes and valuations. Schorge finds valuations in Europe are gently rising as more money is coming in.
The investor base in European venture seems to be eclectic, although European pension funds are more noted by their absence. Schorge finds Asian firms coming in to see what innovations they can use in their home markets and also see what their competition is likely to be. He has also seen technology companies, both software and hardware as well as consumer product companies looking for new models and products. Financial services has also attracted attention with a lot of interest in fintech, insurance and banking, although it is not clear which models will work in Asia.
Isomer is also seeing pure financial investors including family offices, foundations, endowments, private banks, and government agencies looking to Europe for returns and diversification.
For new private equity investors, mega-funds offer capacity, venture offers excitement and by all accounts they are starting to produce attractive returns. In contrast, the mid-market space may be disappointing unless handled with care.
Pages in: Private equity: Competitive arena