Secondaries move up the ladder
Joseph Mariathasan says even big sovereign wealth funds are participating in the secondary market 
At a glance
• Specialist players play a particular role in the secondary market.
• Views vary on the remaining potential in the market.
•  Intermediaries can play an important role.
The secondary market has become an integral part of the private equity universe. It has reached the stage where private equity specialists offer institutional investors combinations of primary, secondary and co-investment funds. Yet, despite this evolution, there appears still to be a particular role for specialist secondary players. 
Secondary specialist Lexington closed its latest fund at $10bn (€9bn) and Coller Capital closed its latest portfolio this year at $7bn. Other firms have also raised large amounts, with Ardian (formerly Axa Private Equity) attracting $10bn for its latest secondaries fund. "That was after raising $9bn in 2014, and they use leverage, so the amount of capital they have to deploy is even higher," says Andrew Brown, senior consultant at Willis Towers Watson. 
The secondary market has enjoyed attractive returns in recent years, driven by opportunities arising from onerous capital requirements forcing banks and to a lesser extent, insurance companies, to offload their private equity portfolios. But has that era come to an end and is there too much 'dry powder' chasing deals in the secondary markets?
"When there is so much supply you need a lot of distressed sellers around and I am not sure there are that many distressed sellers out there. It is not obvious that it is a cheap market. Quoted discounts are not necessarily actual discounts," says Ludovic Phalippou, associate professor of finance at the Oxford University's Saïd business school. 
Others are not so pessimistic. "There is too much talk about the problems of investing. The secondary market overall is very big and still increasing. A function both of primary capital being raised and investors' willingness to trade. The market is big and deep enough to provide opportunities. What also needs to be appreciated is that there is also a two or three-year investment period for the dry powder that has been raised to be invested," says Nico Taverna, a director at Adveq.
Patrick Knechtli, secondaries specialist at SL Capital Partners, agrees. "There is still a lot to come out from the post-crisis restructuring of LP [limited partnership] portfolios and not just from financial institutions which surprisingly ended up being one of the smaller categories of sellers in 2015," he says. "The big sellers more recently have been large pension funds and endowments. It is a sign of the maturity of the secondaries market that we are seeing a much broader range of sellers nowadays."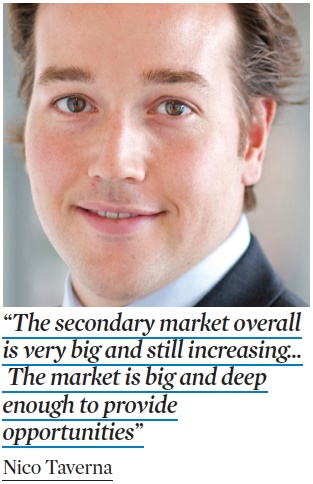 Matt Jones, head of secondaries at Pantheon Ventures, says the change in deal flow is significant. "The market is no longer dependent on a single class of seller. 2014 was a record year with $42bn of transactions but the bank restructurings had been mostly completed by 2013. It has been pension funds, particularly US ones, that have provided the major deal flow." 
In Jones's view, another important factor is that the secondary market is no longer just seen as a source of liquidity for investors but, rather, as a mechanism for restructuring portfolios that have become unbalanced. "We are seeing players such as sovereign wealth funds who in the past would never have sold their private equity investments, both selling in the secondary market and buying simultaneously," he says.
Investors do need to be aware of valuations. "People think that secondaries always offer a discount. The problem is that the apparent discount may not actually be a discount. The NAV [net asset value] the price is based on can be three to six months old. So buying at 90% of NAV that is six months old may end up being 105% at current prices," says Phalippou. 
SL Capital Partners, says Knechtli, attempts to find value at the smaller end of the market with deals of less than $100m. "We try to find deals where we have a competitive advantage and, not surprisingly, that often comes from our primary platform and our manager relationships. Our preferred deals are typically in smaller-cap funds that we know well and don't come onto the secondary market very often, as opposed to the 'flow names' or bigger buyout funds that the larger players will be buying day in day out and where there is more competition. Sellers expect to sell these 'flow name' funds at close to NAV, say, 95-100%, and some can get bid up to a material premium. We try to target situations with more attractive entry dynamics." 
Transactions led by general partnerships (GPs) are becoming increasingly popular. These involve GPs trying to sell the whole of an existing fund to a secondary investor or group of investors. There are many uncertainties involved. "You need to be able to manage the conflicts of interest between existing LPs, secondary purchasers, and the GPs. It is important to focus on what the GP is demanding in the situation – fresh capital, revised terms, reset of carry, et cetera. It can be tough for the existing LPs, as they can end up feeling shut out of the process while the GP cosies up to their new backers," says Knechtli.
But with the plethora of funds around the globe with LPs that have been stuck for years longer than they expected, the transactions can be an attractive way for them to find liquidity. 
For Adveq, three factors need to be considered: first, the GP quality; second, the valuations of the underlying assets; and third, potential conflicts of interest. "The first is the area we struggle with most and a big focus is due diligence," says Taverna. We have often seen GPs who have not delivered to the expectations of their LPs and want to get liquidity for the rest of the fund." The valuations need to be reasonable for new investors. In the current market environment, Taverna says, a single-digit or low double-digit discount should be expected. "It is very tough to make things happen at a very substantial discount," he says.
There can be conflicts of interest with GPs needing to be appropriately incentivised. But sometimes that is not in the best interests of the selling LPs. Here Taverna sees an important role for intermediaries to help complete a deal. "We need to feel that there is some certainty of selling before we start doing the work. The intermediary can talk to the existing LP base and try and get indications of their willingness to sell. They can then talk to buyers and be able to state that there is a certain price at which they would be able to close a sale. 
"Without some certainty on whether a deal is expected to generate a significant amount of volume for buyers, it is challenging for us to dedicate the resources that are appropriate for the often complex nature of such GP restructurings."