ESG is rapidly evolving from a risk control practice to an opportunity for creating value and ensuring survival for firms
Key points
Sustainability should be seen as an opportunity rather than a burden
ESG has always been part of the private equity industry in terms of its importance in risk control
Europe is a leader in this field
At the 2017 IPE Awards in December last year, Al Gore, the former US vice-president-turned-environmental campaigner, declared the world is seeing a global sustainability revolution with the magnitude of the agricultural and industrial revolution but the speed of the digital revolution. He sees it as the single largest investment opportunity in history, emanating from developing and developed countries alike.
For private equity, its importance can be gauged from the fact that Marta Jankovic, the current chair of Invest Europe, is APG 's senior responsible investment and governance specialist. The European private equity association says that the hands-on active stewardship of businesses and long-term ownership timeframe inherent in the asset class, makes private equity particularly well suited to integrating and managing environmental, social and governance (ESG) matters. The organisation is actively promoting the idea that responsible investment should be a key component of private equity industry practice.
One important way Invest Europe has helped firms navigate the complexities of incorporating ESG criteria throughout their investment process is through the creation of an ESG due diligence questionnaire. It is aimed at private equity managers for use in the course of assessing a new portfolio investment. It can also be used following transactions to help the operational and management teams focus on developing and enhancing existing ESG processes. Research in 2015 by PwC revealed that 88% of limited partners say there is added value in responsible investment, with 97% saying the area would increase in importance over the next two years.
ESG has always been part of the private equity industry in terms of its importance in risk control, says Francesco di Valmarana, a partner at Pantheon. In the past, ESG was a risk-management tool – the focus in the US has been on environmental challenges with companies exposed to the risk of being sued.
In contrast, in Asia the focus has been on governance and ensuring that cashflows are not diverted away from minority shareholders, while in Europe the emphasis has been on social problems and labour laws.
The real change in recent years, argues di Valmarana, has been a shift in perceptions of ESG and the idea of sustainability from being seen as a risk-management challenge to a value-creation opportunity.
Some general partners have already taken this on board in a focused manner and it is clear that more will do so. "KKR is one example where dedicated professionals implement ESG in their own investment processes and also in their portfolio companies," di Valmarana says.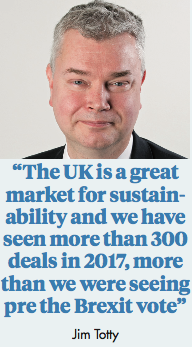 Europe is leading the world in sustainability, says Nino Tronchetti Provera, managing partner of Ambienta, in a conversation with Valmarana. That view appears to be widely held. Invest Europe commissioned Ipsos MORI to undertake a survey of 360 senior-level corporate and financial investment decision makers at companies from the US, China, Germany, the UK and France. Some 74% listed Europe as the most committed to sustainability and the environment.
Encouragingly for European general partners, almost three-quarters of respondents also asserted that sustainability is an important issue in their investment decision-making, which suggests a strong potential for attracting more capital into Europe. Europe's strength in sustainability is reflected in the industries in which it is seen as a global leader: 55% of respondents rated Europe ahead on energy and the environment, while 44% said Europe leads in finance and insurance. Almost two-thirds of investors in China held Europe's world-leading biotech and healthcare sector in high regard.
Europe's relative lack of natural resources has driven its pre-eminence in this field, says Tronchetti Provera. "It takes 30 seconds to explain sustainability to an entrepreneur, as it effects everything he does." Europe's industries have to be more energy-efficient than those in the US, for example, with energy prices much higher. Perhaps not surprisingly, when Invest Europe released its ESG due diligence questionnaire it drew a lot of interest from US general partners who acknowledge Europe as leading the US in this respect.
Pollution control together with resource efficiency are seen by Ambienta as two key drivers for investment opportunities with a sustainable theme. Its approach is to invest in businesses that tackle these issues through products, services or manufacturing technologies, either directly or as an enabler. That is by offering a product or a service that enables others to accomplish resource efficiency or pollution control.
Tronchetti Provera sees the big opportunity for Ambienta is to help small and mid-sized European firms – the heart of the European industrial framework – to become more global. The challenge for them is not so much capital but adding skills.
A more recently formed general partner with a similar sustainability focus is Scandinavian-based Summa Equity. Its view is that even in a global low-growth and volatile environment, trends such as global population growth, resource scarcity, ageing demographics, movement of people, energy efficiency and technology disruption provide attractive "pockets of growth" which are more resilient. Its investment strategy is focused around specific sectors that it sees as experiencing tailwind growth owing to these trends.
In the UK, there are also good examples of general partners regarding sustainability as an investment opportunity. Sustainable Technology Investors (STIL) focuses on sustainable private equity and late-stage venture capital. As managing partner Jim Totty explains, returns are driven by rising demand for energy, water, food and resources; constraints on the supply of resources and the disposal of waste; and market demand for sustainable infrastructure and technologies owing to the falling cost of generation and the increasing cost savings available from efficiency technologies.
"The UK is a great market for sustainability and we have seen more than 300 deals in 2017, more than we were seeing pre the Brexit vote"

Jim Totty
Financial returns drive investment but STIL has developed its own sustainability metrics for private equity, incorporating 30 measures to assess the companies it invests in both at the due diligence and post-investment stages.
"The UK is a great market for sustainability and we have seen more than 300 deals in 2017, more than we were seeing pre the Brexit vote," says Totty. Key sectors include: electricity storage with developments in new chemistry for batteries; software for controlling alternative energy supplies; agriculture technology giving rise to increased efficiencies in farming; and there have been many opportunities in transport with the rapidly developing autonomous and electric road transport sector.
A good example of an investment taking advantage of the sustainability theme is Propelair, which has developed a water-efficient toilet reducing consumption by 80%. "Globally, flush toilets account for one of the largest sources of urban office water consumption. In high-footfall buildings, the water saving can be considerable," he says.
The challenge for private equity general partners, as Jankovic em-phasises, is staying abreast of all the developments in the broader area of responsible investment. The industry needs to be aware of developments in the public markets, how the regulatory environment is changing and how its own investors' responsible investment activities are evolving.
Firms could benefit from understanding the impact on their own activities as the whole area of sustainable investment is attracting increasing attention and rapidly becoming mainstream in terms of market acceptance. "Those firms that are well-informed and most adaptable are going to be best positioned to thrive in the future," says Jankovic. Perhaps it is also worth adding that it looks likely to be those firms that follow Gore's view that sustainability is not just a question of scorecards and risk factors but an investment opportunity that should not be missed.
Private equity: Competitive arena
1

2

3

Currently reading

Sustainability key to the future

4