Uncertainties over Fed interest rate rises and the outcome of the presidential election have compounded questions about the value of US equities, according to Joseph Mariathasan
At a glance
• Unconventional monetary policy has created an element of uncertainty on the appeal of US equities.
• A rate rise by the Federal Reserve could shake the foundations of valuations.
• The chase for yield is distorting valuations.
• Positioning in terms of such uncertainty poses a challenge.
Opinions about the attractiveness of US equity markets vary considerably. There is particular uncertainty about whether unconventional monetary policy has made the markets seem more appealing than they really are.
CT Fitzpatrick, CEO of Vulcan Value Partners, an asset manager based in Birmingham, Alabama, says loose monetary policy has had a significant impact. "Valuation metrics show the US equity markets are pretty overvalued but there is a view that valuation levels need to be adjusted for the historically low interest rates," he says.
That would certainly support the stance of Connor Browne, a portfolio manager at Thornburg Investment Management, based in Santa Fe, New Mexico. "Overall we don't think the US market looks too expensive to us," he says. "The S&P 500 is trading at 15 times next year's and 18 times this year's earnings. Not low, but not crazy." The Boston Company portfolio strategist, Michael Arends, agrees. "Taking earnings on a five-year or 10-year rolling basis, the S&P 500 is broadly in line with long-term averages but there are pockets of excess," he says.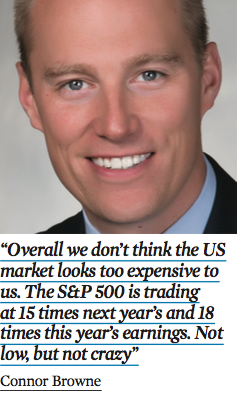 Fitzpatrick and other bears argue that record-low interest rates make US markets appear more overvalued than they are. "If you adjust discount rates for today's levels, you might say markets are at fair value and you may even say they are slightly cheap. We don't accept that. We take a very long view and we are using longer-term averages as inputs for our discount rates, which means we are not using the current levels of interest rates and we don't think inflation is going to be as low as it currently is forever," Fitzpatrick says.
This is a view shared by many others. Boston-based GMO, for example, forecasts that the US equity market as a whole will give a real return of negative 2.3% a year for the next seven years. "Across our forecasts, everything looks expensive, and within the global equity markets, the US market looks the most expensive," says Catherine LeGraw, a member of the asset allocation team.
This view is not held by everyone. The Boston Company's Arends argues that US equities still look attractive relative to European equities. "We recognise that US stocks have always traded at a premium to European stocks," he says. "But we believe the premium is justified when you look at the profitability levels of US companies. The ROE [return on equity] for the S&P 500 is almost 16%, versus 11% for European stocks. US equities historically have been valued with a higher market multiple because of higher-growth industries and greater stability. However, that relationship has not been the case for the past few years, with the US market looking relatively attractive."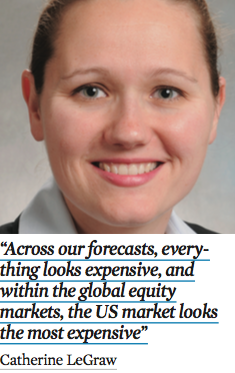 But as Matthew Benkendorf, CIO of Vontobel Asset Management in New York, warns, at such valuations, investors cannot expect more expansion in price/earning (P/E) multiples. "We believe the only return is going to come from earnings growth plus dividend yields. That is where the rubber meets the road. There is still some value in the market but only when there is real sustainable growth."
The ultimate variable in US equity valuations is the risk-free interest rate and that is going to increase, says Benkendorf. "We are in a low-interest-rate environment for valuations and that has driven them higher everywhere," he says. "The key question is when and how high does the Fed go? We do expect the Fed to increase rates a few times this year which will shake the foundations of valuations. We have had decades of lower and lower interest rates which is now leading to a floor. So any reversal in the trajectory is an interesting inflection point changing the foundation of where we are."
Benkendorf is optimistic, though, on the consequences of rate rises. "Historically, we could also be in a sweet spot here. Interest rates could go up a bit, which would be good, as it restores the foundations of the capitalist system. At some interest rate we will get modest inflation. The key is what will produce real earnings growth above inflation."
One sector that will benefit from rate rises is finance. "We have a lot of exposure to interest rate-sensitive stocks where companies have seen their earnings power impeded by the current interest rate environment. They are priced as though rates will be low forever, which clearly will not be the case," says Fitzpatrick. He does, however, differentiate between those companies where there is a clear and direct benefit from interest rate rises, from those where the benefits may be obscured by extraneous factors. He says: "We don't like commercial banks because their values are not stable but we do like insurance companies and custody banks such as State Street and BNY Mellon who will benefit greatly from a more normalised interest rate environment."
The push up in valuations has been a result of the chase for yield. "Many high-yielding companies are bond proxies, so there are very high valuations for stocks owned for income valuations such as REITs [real estate investment trusts], many utility companies and several of the consumer staples companies that pay large dividends," says Arends. He sees US Treasuries as expensive, particularly relative to equities. "If you look at the earnings yields on stocks, and the risk premium they are awarding to investing in stocks, it is nearly at an all-time high relative to treasuries."
The trade-off with US treasuries has led to stocks moving in ways that Browne does not see as explainable from a fundamental viewpoint. "We have seen some traditional bond investors moving to what they consider are very safe equities with attractive dividend yields from mid-2015. Since June 2015 until mid-May 2016, the S&P Consumers Staples index has gone up 14%, the utilities index has risen 22% and telcos [telecommunications companies] 14%, while the S&P 500 is up just 1.4%. This period corresponds more or less with the interest rate move. The 10-year Treasury reached a high of 2.4% at the end of June and moved to 1.7%."
As Browne points out, negative or very low rates do strange things. Low interest rates are moving investors towards riskier investments. It is causing what appear to be distortions in sector valuations within the US marketplace. A measure of this can be seen in the relative valuations of consumer staples in the US versus financials. "Consumer staples are always more expensive on a P/E basis because they are less cyclical, have broad value with a high return on invested capital. That relative premium is as large as it has been for the last 70 years."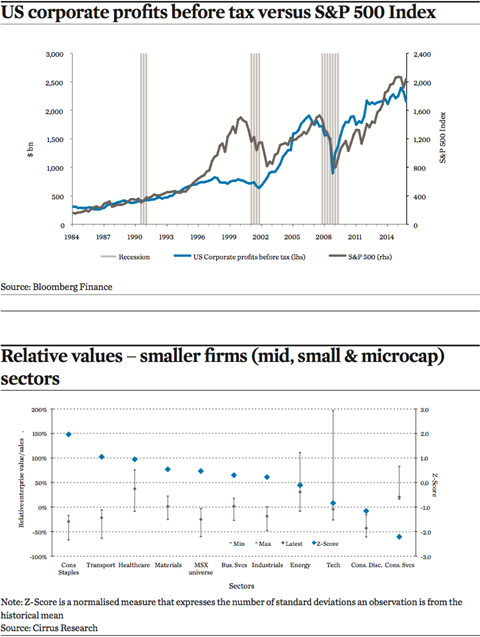 Utilities also look expensive at 17 times 2017 earnings. Browne sees this level as particularly perplexing because utilities earnings do not grow. There is a lot of disruption in the US energy market with the rapid growth of solar power and pricing reaching grid parity in more and more states.
Arends is keen on areas associated with increased consumer spending. "What is interesting is that in March, consumer credit card debt rose by $11bn (€10bn), which is the largest increase we have seen since July of 2000 – that is 16 years. It implies consumers are going back to spending. The US economy is very sensitive to consumer spending. It drives roughly two-thirds of our economy. One month does not make a trend, but it is something we are anticipating. Consumer spending and consumer borrowing may be at a point of shifting to a higher level."
GMO sees relative value in what it calls high-quality stocks – that is, companies with high and stable profitability and low debt, which tend to be consumer staples, healthcare and information technology. "High-quality US companies we see as offering a decent valuation spread of somewhere between 3% and 4% a year better than the broad market, with a 1.7% real expected return." says LeGraw. But, as she adds, this is not a ringing endorsement of each
sector. "Healthcare tends to be more boring pharmaceuticals and less biotech. Technology is more boring old technology like IBM and Microsoft and even Google now but not new exciting technology like Facebook or Twitter," she says.
Vontobel is still fully invested in higher-quality more durable, more predictable businesses says Benkendorf. "We hone in on businesses that have more cyclical durability and have some sort of competitive advantage for structural reasons that give real growth. Historically, we have had meaningful exposure to consumer staples where there is real growth, with pricing power. Other sectors include healthcare where you are selling products with regulatory barriers to entry so you still have real power around that and end-market volume growth."
But, as Satya Pradhuman, director of Research at Cirrus Research, argues, defensive sectors such as consumer staples and healthcare are the most expensive.
Given the size of the US marketplace, few global investors would be prepared to ignore it completely. But deciding what is going to look attractive after both Fed interest rate rises and the US election results is going to be a challenge.
Investing In US Equities: Valuations - Clouded by uncertainties
1

Currently reading

Investing In US Equities: Valuations - Clouded by uncertainties

2

3

4

5

6

7