Briefing: How to model a trade war
It is a concern shared by many financial professionals at the moment. While there are plenty of forecasts for GDP, few analysts are willing – or able – to estimate the impact on stock and bond markets. So how does one model the effect of further tariffs on a portfolio? This article will show how to construct a potential trade-war scenario and analyse the impact on a euro-denominated global multi-asset class portfolio.
To get an idea of how markets might react, let us look at what happened when the Trump administration began to impose the first tariffs on steel and aluminium imports earlier this year. 
When the initial levies on $60bn (€52bn) of Chinese imports were announced in March, the immediate response was an almost 5% drop in US stocks, with the dollar depreciating about 1.5% against both the yen and the euro. At the same time, the 10-year Treasury yield plummeted 8 basis points (bps), extending its total decline to 17bps over the following two weeks. With the short end still held up by rate-hike expectations and inflation concerns, this resulted in the flattest US government curve in over a decade.
This is typical flight-to-quality behaviour, similar to what was evident in times of geopolitical tensions over the course of 2017. In this type of scenario, investors tend to sell their riskier equity holdings and move their funds into the relative safety of government bonds. Usually, the currency of the affected region can be expected to depreciate, as foreign investors repatriate their capital. From a European currency perspective, this is likely to result in an appreciation against the dollar, with the Japanese yen and the Swiss franc expected to rise even more strongly. This would mean that losses from US equity holdings would be amplified, while investing in safe-haven currencies and assets, such as high-quality European government bonds, would provide diversification.
The table shows selected results from a stress test performed on a euro-denominated, global multi-asset class portfolio. The shocks applied were a 15% drop in the S&P 500 index, a 20% decline in the Chinese CSI 300, a 5% depreciation of the Dollar Index (DXY) and a 45-basis point decrease in the 10-year US Treasury yield. The movements of the remaining pricing factors were derived by using daily return correlations prevalent over the 60 business days from 15 January to 6 April. The calibration period was chosen in a way that encompassed both the time of heightening trade-war concerns, as well as the equity market correction at the beginning of February. This made it an ideal interval for modelling a flight-to-quality environment.
The results show a negative performance for all European equity markets, ranging from falls of 10% to 18%. Germany exhibits the highest losses with a 17.6% drop.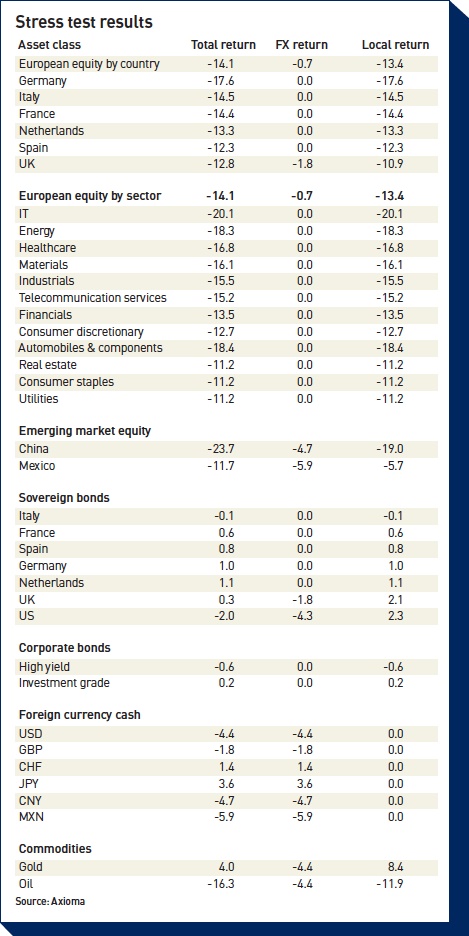 Italy is likely to underperform other European countries. Italian assets have been sensitive to political risk recently, which is reflected in the negative performance of BTPs (Italian government bonds). The latter can be expected to be hit by higher credit risk premia – also reflected in the 0.6% decline in high-yield bonds – while higher-quality issuers, such as the Netherlands and Germany, are likely to exhibit positive returns. 
US Treasuries experienced the largest gains, at 2.3%. However, from a European investor's perspective, this is likely to be more than offset by foreign exchange rate losses, as highlighted by the negative total return of 2%.
As anticipated, safe-haven currencies, such as the Swiss franc and the Japanese yen, are bound to profit from such a crisis scenario. The renminbi and the Mexican peso, on the other hand, are likely to suffer from higher tariffs.
So what does this all mean for European portfolio managers? First of all, they should know their sensitivities and (hidden) exposures. If the dollar depreciates, then all dollar-denominated assets in the portfolio are likely to be hit. Even the expected positive return of Treasuries is unlikely to be big enough to offset the projected exchange-rate losses. Currency-wise, the yen is always a good diversifier in times of crisis owing to its usually negative correlation with the American stock market. Closer to home, defensive stocks and high-quality government bonds appear to be the best option, while Italian assets – both stocks and bonds – are risky at present owing to their high sensitivity to political events.
Christoph Schon is executive director, applied research, Axioma