US loan portfolio managers are used to working in a relatively liquid, commoditised market. Joseph Mariathasan asks whether local managers have an advantage in the more private, illiquid European direct lending scene
The European loan market is back in business; 2014 was the first year of net growth – about €30bn worth – since the financial crisis.
"As a rule of thumb, loans will be repaid in cash over three to four years," says Dan Gardner, portfolio manager at M&G Investments. "If you are not getting a lot of LBOs or syndications, the market shrinks. Now we are seeing a cyclical upturn in M&A, so we are seeing more issuance."
Dagmar Kent Kershaw, head of credit fund management at Intermediate Capital Group, (ICG) also points to the effective closure of the European CLO (collateralised loan obligation) market between 2008 and 2012.
"The largest players, like Alcentra, Babson, M&G and ourselves are still around," she says. "But a number of smaller CLO players have fallen by the wayside and there has been a degree of consolidation."
As this suggests, the real change since 2008 is not so much the size of the market as the nature of the lenders.
"Prior to the crisis, European banks represented over 90% of the lending to middle market corporates," notes Chris Redmond, global head of credit at Towers Watson. "They made the loans and largely kept them on their balance sheets."
However, the capital charges arising from Basel III bank regulation has forced cutbacks. In 2014, 59% of new lending was by institutional investors rather than banks, according to statistics from Standard & Poor's, and institutional lenders now account for 35% of outstanding debt.
The loan market has bifurcated into distinct sectors. The first consists of syndicated loans, typically for large household names and distributed by a syndicate of banks across multiple locations.
"A large French loan, for example, will be distributed not just in its home geography but across Europe, and the borrower is likely to have non-French banks and institutional lenders in its syndicate," explains Kent Kershaw.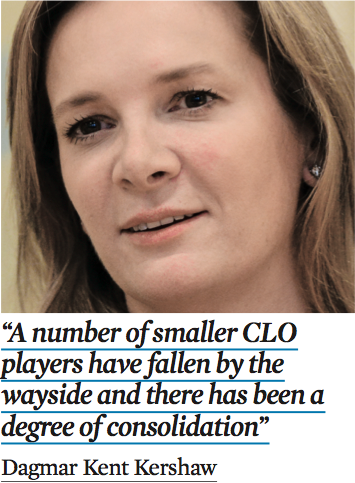 Such loans tend to be liquid and popular with global as well as European fund managers, many of which are US firms, given the larger size of the US loan market. For such global managers, accessing European syndicated loans is a natural extension of their core business that offers diversification and potentially higher yields.
The second sector is direct lending to European mid-market companies. These loans tend to be illiquid, and made by a single or a small club of lenders. Sourcing such loans requires a local presence and good relations with European private equity firms and banks, argues Kent Kershaw, as well as the resources in place to analyse and manage the credits.
Institutional investors have become established in this sector as a result of bank retrenchment from leveraged lending. As well as large, broad-credit managers such as ICG, Babson Capital and BlueBay Asset Management, a number of specialist firms have entered the marketplace such as Ares Management and Haymarket Financial.
Due diligence is critical, argues David Milward, head of secured loans at Henderson Global Investors, which is another big institutional asset manager active in this space.
"We need to know who owns the business and who the management team are, and be comfortable that the private equity firm has expertise in the sector," he says. "Pure leverage is just dumb money and we'd be looking to lend in situations where the private equity firm is adding value."
The extent and depth of this due diligence reflects the amount of extra information that is available to those working on the 'private side' of direct lending, relative to what is available to those on the 'public side' of syndicated loans. These distinctions are similar to the Chinese wall-separated 'private' (M&A, capital-raising, securities underwriting) and 'public' (sales and trading, research) sides within an investment bank.
Historically, the European loan market has been an exclusively private market and therefore much less commoditised than the US loan market and, as such, European investors have been used to getting more information before they invest. But the European market has become much more public since the financial crisis, through the growth of syndicated loans, but also more and more legacy loans being refinanced through the high-yield bond market.
Moreover, some are sceptical that having access to the information flow of the 'private side' adds much value.
"The vast majority of people say this is not hugely valuable," says Redmond. "The messaging from management is very carefully controlled and the monthly forecasts [are] typically too optimistic. I don't believe that just because a private investor has slightly better information that means they will do a better job of managing credit risk."
This is one reason, but not the only reason, that advisers like Towers Watson and their institutional investor clients are increasingly favouring mandates that enable their asset managers to move freely between public and private markets, high-yield bonds and loans, syndicated and direct lending, debt and mezzanine, US and European exposure. It broadens the opportunity set without giving up any special advantage of being exclusively on the private side.
This tends to favour managers with a strong US presence, given the size of the US loan markets and the long experience these managers have operating there. Some also have the requisite separation between private and public sides already established in their corporate structures. For example, Peter Allan, principal at Pramerica, says that on the public side the firm runs loans and high-yield bonds together, while maintaining a separate subsidiary, Pricoa Capital Group, which specialises in private-placement debt.
For pension funds, the European loan market clearly has strong attractions. In making manager selections, there does appear to be a significant distinction between US firms and European ones. US firms typically operate in the public side of the market, unless they have dedicated private debt subsidiaries like Pricoa, and this reflects both the US loan market and the multi-credit mandates favoured by the likes of Towers Watson. But the pick-up in yield over syndicated loans by moving into illiquid European mid-market debt should be highly attractive for European pension funds. Here, a local presence may be advantageous.