What kind of opportunities and challenges does Solvency II, the new regulatory regime for insurance companies, create for pension schemes? Carlo Svaluto Moreolo reports
Solvency II, the EU's new regulatory regime that promises sweeping changes for the insurance industry, came into force at the start of this year. To comply with the new rules, insurance providers have to adapt their strategies and restructure their portfolios. This creates opportunities, as well as some challenges, for pension schemes.
The framework was more than a decade in the making. The directive itself was approved in 2009, in the aftermath of the financial crisis. Its objectives are to harmonise insurance regulation across Europe and improve risk management within the industry.
The rules have a direct impact on insurers' balance sheets. Companies have to comply with risk-based capital requirements to improve their risk and solvency positions. The higher the asset and liability risk on an insurer's balance sheet, the more capital it will have to accumulate.
In a similar way to the Basel III capital adequacy rules for banks, different capital charges are foreseen for different asset classes and magnitude of risk on the liability side. Companies will have to look at both their assets and liabilities with a more focused risk-management approach in mind.
This has consequences for pension funds on many different levels. First, insurers want to optimise their portfolio to reduce Solvency II capital charges. This leads to asset allocation shifts, and theoretically opens the possibility for pension funds to pick up assets divested by insurers at attractive prices.
Sarj Panesar, global head of business development for the insurance sector at Société Générale Securities Services, confirms that from his point of view a shift in insurance companies' core investment portfolios has been taking place. Panesar notes strong differences in insurers' asset allocation across Europe, but reckons the typical asset allocation is based on a core portfolio of fixed income that takes up to 70% of the assets. These are invested in domestic government bonds and high-quality corporate bonds. The remaining 30% is divided into 5% cash, 10% equities and 15% alternatives including hedging strategies, private equity, real estate and infrastructure.
William Parry, investment consultant at Xerox, formerly known as Buck Consultants, says shifts in insurance portfolios have been showing through in different areas, particularly the callable corporate bonds market. "These bonds seemed to struggle last year. We assume they were being sold out by insurers. The over supply caused prices to fall, and callable securities showed dislocation from fundamentals. Some of the corporate bonds managers we work with have been increasing their allocation to those bonds," he says. Parry notes this is a sizeable market: callable securities represent 15-20% of UK and European investment-grade bonds and about half of the European high-yield market.
Any effect on the market, however, is felt over time. Insurers have known about the changes for years. Price movements due to asset allocation shifts would have been slow, and any significant price dislocations would have been temporary.
The impact on the markets is difficult to establish. Generally, insurers have moved from equities to fixed income, but this would have been a slow process. The fixed-income market is so large and varied that it is difficult to identify pockets where European insurers' portfolios are directly responsible for price movements.
Parry adds: "Although there have been some very interesting pockets of development, the impact in terms of attractive pricing, has been relatively short term for liquid assets. Whereas illiquid assets, such as infrastructure debt, will see lower yields for much longer. Where the upside is over a shorter term, the time might not be enough to engage with trustee boards about investment in those asset classes."
According to Zuhair Mohammed, chief executive of delegated consulting services at Aon Hewitt, the impact on the bond markets is temporary because Solvency II favours bond-like instruments. He says: "I don't think there's going to be a systematic, long-term impact on the market. Longer-term bonds and bond-like instruments are the most attractive instruments under Solvency II. It's the riskier growth assets that insurers will find difficult to accommodate."
The reason insurers have to restructure their bond portfolios is to seek a higher yield. "The low-yield environment is making some business models very risky," he says.
Oreste Gallo, managing director for European advisory services at Principal Global Investors, agrees: "The assets in which European insurers invest in are fairly liquid. The impact on these liquid asset classes will be slow and over time. I cannot see huge opportunities on that front for pension funds."
The challenge for pension funds is that Solvency II compels insurers to build exposure in the same 'emerging' asset classes that pension funds are looking to invest in.
These include infrastructure and real estate debt or the asset classes that provide long-term stable cash flow. Some investors feel that opportunities in this market are few and far between. "Alternative opportunities to invest are more limited than insurance companies would like them to be," adds Gallo.
A relevant aspect of the directive is the impact on insurers' balance-sheet liabilities. Solvency II penalises balance sheets that carry high risks and insurers are looking for ways to mitigate that risk. Generally, there are two ways of doing so. One way is to change their capital positions, either by reducing leverage or rebalancing the structure of their debt.
From this point of view, Gallo expects the rules to have affect how insurers choose the debt securities they issue. He sees a case for insurers issuing more preferred securities, as traditional corporate bonds and loans are more expensive for them, from a risk capital perspective. Gallo says: "Subordinated debt of insurance companies could be a good source of investment for pension funds. It could be also seen as a more sustainable source of financing for insurers."
Another way for insurers to reduce capital charges is diversifying the insurance-related risk they carry. This would involve diversifying across types of risk they insure as well as the counterparties they work with. Pension funds could benefit from the new rules by increasing their participation in the insurance market.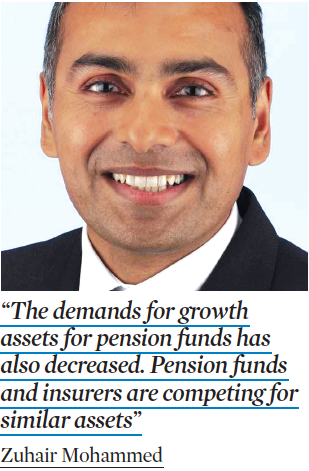 The insurance-linked securities (ILS) sector offers pension funds plenty of opportunities to underwrite risks with or on behalf of insurers. As an asset class, ILS are considered an alternative investment, almost entirely uncorrelated from conventional asset classes.
Roman Muraviev, head of catastrophe bonds at the specialist insurance investment manager Twelve Capital, argues that Solvency II is a "natural catalyst" for the development of the ILS market.
Muraviev says: "ILS transactions allow insurers to improve the quality of their risk mitigation machinery. They neutralise the credit risk of protection sellers due to the high-quality collateralisation involved. They also increase the pool and diversity of capacity providers for risk transfer. In the ILS market, insurers receive protection for several years, unlike traditional insurance, which is typically underwritten for one year."
However, Solvency II could have another effect on the risk transfer market. Mohammed warns of unwelcome consequences for pension funds that are buyers of protection.
For life insurers insuring pension fund liabilities, regulatory burdens are particularly damaging. This pushes the price of risk transfers, such as buy-ins or buyouts.
Mohammed says: "The new regulation changes the premium for risk transfers, acting as a bigger barrier. There will be a bigger premium for pension liability insurance, particularly when liabilities are related to younger active or deferred members. Insurers will want to make a bigger margin, because the mismatch risk is higher, and as a result those types of policies are going to priced higher."
The impact of the new rules will take years to assess. For pension funds there seems to be a balance between the opportunities and the challenges presented by the new rules. But as Mohammed points out, the line between the pension fund industry and the insurance industry is becoming more blurred.
Mohammed says: "Pension fund are maturing. Some are looking increasingly like annuity books. The demands for growth assets for pension funds has also decreased. Pension funds and insurers are competing for similar assets."
Panesar agrees: "My belief is we will see more convergence between insurance and pensions. In time we could be referring to both insurers and pension funds as long-term investors."
He notes one important effect of Solvency II on insurers' strategies that pension funds should be at least aware of. "Insurers have been reshuffling asset management mandates. The directive imposes strong data requirements on insurers, and some managers have been reluctant to part with the data. A line is being drawn between 'insurance-friendly' asset managers that are willing to provide that and those that are not."
Given the increasing appetite for data by pension funds, driven by stricter governance requirements, this too could be a relevant consequence of the new rules for them.