Strategically Speaking: Affiliated Managers Group
The business philosophy of Affiliated Managers Group (AMG) is a consistent one: grow revenue and cash earnings per share by taking stakes in best-in-class boutique asset management businesses. Repeat the exercise.
Banks and listed asset management groups have acquired and integrated asset management firms, large and small, with varying degrees of success. Instead, AMG guarantees operating autonomy to its affiliates and acts as a long-term investor in them. It offers an important succession planning tool for partners, which retain a stake in the business – a key differential to the predominant acquire-and-integrate approach. 
AMG does not have a one-size-fits-all approach for the size of the stake it takes in its affiliates, although it does require senior partners to have continued involvement. In some firms, such as AQR or Blue Mountain Capital Management, it has increased its investment.
"If you consolidate, you almost never create better investment performance," says Sean Healey, CEO of AMG since 2005, and who has been with the firm since 1995. "You might save a lot of money in distribution expense or compliance, but you're not creating more value." Nevertheless, AMG does offer some economies of scale in terms of central marketing, distribution and client strategy functions. 
Since its foundation in 1993, AMG has developed an empire of 39 affiliates as of October this year, with total AUM of about $700bn (€626bn). Its newest affiliates include the London-based managed futures hedge fund Winton Capital, with about $30bn in AUM, and the San Francisco-based global macro specialist Partner Fund Management. 
AMG is far from being the only multi-affiliate asset management group. But listed equivalents Old Mutual Asset Management (OMAM) and Legg Mason differ in key aspects. OMAM is considerably smaller, with eight boutiques and about $219bn in affiliate AUM, and is also two-thirds owned by the wider Old Mutual Group. Legg Mason, with $742bn in AUM, is comparable in asset volume to AMG but has only eight affiliates, of which the non-boutique $452bn Western Asset Management is by far the largest.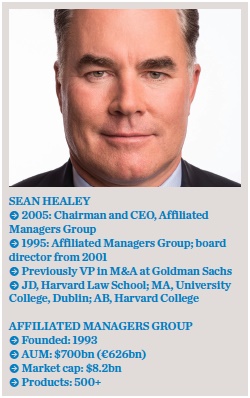 For AMG, acquiring boutiques should be a long and involved process. The firm shies away from auctions, preferring a softly-softly approach by which it gets to understand a firm, its process, strategies and people over an extended period. 
"You learn, as an investment banker, that [buyers] don't actually win auctions – the seller wins," says Healey. "In a people-oriented business, the worst possible way to make an investment is by having a limited, constrained process to get to know a firm and the people and to win only on the basis, typically, of buying all of the equity at the highest price. That might work out. But, if it does, you are lucky."
In the early days, the firm was undoubtedly hampered because no-one had heard of it. While it no longer relies on direct, outbound approaches on the telephone, neither is it waiting for calls. "We look at everything, but investments are inevitably borne out of relationships," says Healey. "Some choose a different approach, [but], where there is a real compatibility of philosophy and approach, we work hard to offer the most compelling approach."
Healey continues: "We are very involved, in the first instance, in doing extensive due diligence on the past practice, processes, and culture around risk management and control, which gives us an enormous advantage. If someone has poor processes, poor people or poor culture, where senior leadership doesn't respect and recognise the importance of control issues, then you avoid the investment, which we absolutely have done a number of times in the past."
Most would agree that alpha is elusive and that, in some strategies, components of equity return previously marketed as 'alpha' could be reduced to 'smart beta' factors. Healey recognises the rise of smart beta, even investing in it through firms like AQR. 
"Pure alpha managers will have an enduring opportunity," Healey says. "Our strategy is to find these excellent firms with a focused performance-oriented operating and investment culture."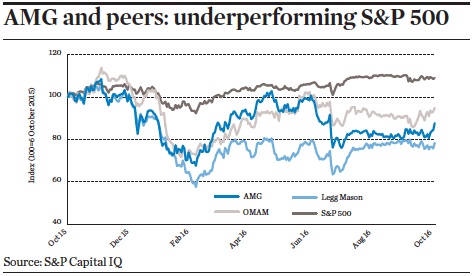 Overall, the AMG group has diversified its asset class exposure, with just 16% in US equities and as much as 40% in alternatives (OMAM, by contrast, reports 40% of AUM in US equities), as part of its strategy. But, like other listed multi-affiliates and asset managers, its share price has underperformed the S&P 500 of late (see figure).
To grow revenue and cash earnings per share, AMG still needs to stay on the acquisition path. A research note from Credit Suisse this September estimates AMG will spend $5bn on acquisitions in the next five years, growing from just under 40 affiliates at present to between 55 and 65.
Healey emphasises the underlying strategy required to achieve financial targets, rather than focusing on the number of affiliates: "You don't achieve consistent long-term growth and cash earnings unless you are focused on all of the other elements of the business. You've got to have a focus on the qualitative aspects of being a good partner to your affiliates."
Organic growth is also an important leg of AMG's long-term strategy, even though that raises the obvious question of capacity constraints in boutiques. But quant-driven firms like AQR or Winton do broadly have higher capacity, and Healey says a boutique like the value shop Tweedy Browne could double its AUM. 
Given the autonomy granted to affiliates, each will ultimately determine its own growth trajectory. Healey notes: "These aren't corporations – they are partnerships where one group of partners has a set of responsibilities and rights and the other has a different set. For us, control in a boutique asset management setting is illusory."
Even if control is not the aim, overseeing 55 or 65 boutiques will be less straightforward than overseeing 39. Despite their size, these are complex, people-oriented businesses. Key staff can go off the boil, and investment styles and approaches can stay out of favour for long periods. 
To downplay any idea of imperial overstretch, Healey reiterates the need for good quantitative and qualitative due diligence before deciding to invest, as well as ongoing processes and controls. 
"In so far as it's possible, we have a very robust control environment at the affiliate and the AMG level that protects in a huge number of ways, but it doesn't protect against someone just executing their investment process poorly."
Healey says AMG works hard to learn from its mistakes: "Most of the issues that occur in a boutique firm, and also in the alpha-oriented product industry generally, are people issues. We are talking about key people in the main. The question is not can you avoid changes with people, it's how you address them and the role you play in supporting affiliates. We make the job of each affiliate which has a partner who leaves, gets sick or loses their way much easier."
Healey describes himself as the "ultimate long-term investor". Although he personally has investments in many of the strategies of AMG affiliates, he says it would be impolitic ever to withdraw them. But, given the recent underperformance of AMG's stock against the S&P 500, investors in the group might wonder whether they ought to have put their money in a portfolio of AMG affiliates' strategies instead.