"It was difficult to find a name," recalls Candriam CEO Naim Abou-Jaoudé, a year after Dexia Asset Management needed a rebrand for its acquisition by New York Life Investments. "All the good names are taken!"
The result has something of the committee about it, but in fact it was a rather nobler collective endeavour – a survey of what employees identified as the company's values of the company. "Back came words like 'conviction', 'social responsibility', 'risk management'," says Abou-Jaoudé. 'Conviction and responsibility in asset management' seemed to sum up what people were feeling, and Candriam was born.
Candriam has earned the 'responsibility' tag: more than a fifth of client assets are stewarded according to SRI principles. 'Conviction' clearly refers to the way portfolios are managed, but also says something about employees' commitment to the firm. Top management has worked with Abou-Jaoudé for an average of 15 years, he says, and the firm-wide average is 12 years.
That strength of culture has proven crucial over the eight years Abou-Jaoudé has led the firm. Not only has it had to live through the Lehman Brothers and euro-zone crises like every other asset manager; because it was owned by Dexia, now in resolution, those crises came closer to home than for most of its peers.
"It has been very eventful," Abou-Jaoudé says. "Looking back a year after closing the deal with New York Life, we can see we were remarkably resilient. In particular, our clients stayed with us, and through the height of the crisis assets remained stable and even increased in some products."
Apart from the deep roots so many employees have, Abou-Jaoudé puts his success in keeping the organisational platform intact down to three things: maintaining transparency for clients and with employees; and focusing minds on day-to-day business.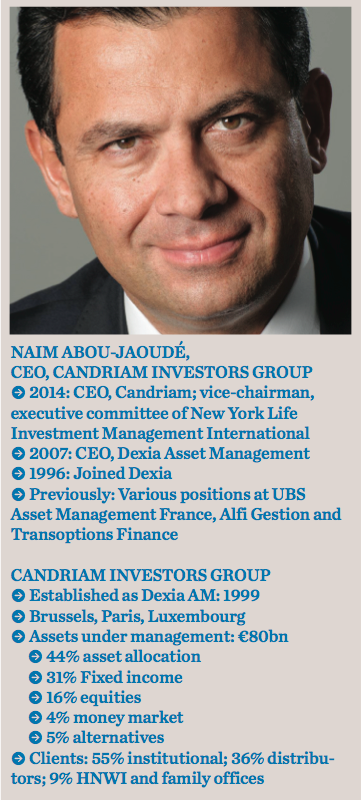 "Staying close to clients", as Abou-Jaoudé puts it, was essential to prevent big outflows. The second objective was essential to assuring everyone in the firm of its future, which helped limit staff turnover. The third meant that distractions from Dexia and the preparations for the sale to New York Life were kept at bay on the fund management floors.
"All three of these objectives were related," says Abou-Jaoudé. "If teams can focus on their core functions they stay motivated, and motivated employees transmit a feeling of stability and continuity to clients and stakeholders."
Another important cultural bulwark during the crisis years was the diversification of client types and strategies at the heart of Candriam's business. There isn't much in liquid strategies that Candriam doesn't do, from indexed and quantitative to thematic in equities, from money markets to high yield in fixed income, from relative value to macro in alternatives, and including SRI, asset allocation and pension fund solutions.
This obviously helps weather market cycles. But how easily does it marry with Abou-Jaoudé's aim to put "the client at the centre of the organisation"? If a specialist has a hard time, he suffers with his clients and cannot simply turn to products that are currently in favour. And is it ever possible to be both diversified and a master all of your trades?
It is if you take time to build "centres of excellence", argues Abou-Jaoudé – and these things are hardly new at Candriam. Asset allocation was under way by 1992; Abou-Jaoudé himself set up alternatives in 1996; SRI and high yield were established in the same year; trend-following products were launched back in 1997, and European high yield, long/short equity, merger arbitrage and emerging market bonds in 1999.
"I know many say it's better to specialise, but if a difficult period leaves you underneath your high water mark, or you lose your star manager, what do you do?" says Abou-Jaoudé. "Our advantage is that we are not pushing a specific product, but offering a relationship on which to build appropriate client solutions."
He points to long/short credit as an example. It quickly raised €500m and by late 2013 it hit the €800m point at which clients had been promised a soft close. Despite demand there are no plans to re-open it because the manager thinks opportunities are constrained. Meanwhile, new resources are being added to the high-yield team responsible for the strategy. Abou-Jaoudé says diversification allows him to make tough decisions like these on specific products.
With such a defined culture, finding the right partner was important. Given the alternatives of a management buyout, a private equity buyout or going public, it might seem surprising that Candriam opted to seek the embrace of another large financial institution.
To some extent, options were constrained by Candriam's size. But New York Life Investments was also a good fit. Not only is its parent company a 160-year-old, AAA-rated entity. The $500bn (€438.1bn) asset manager also had the flexibility to absorb a firm like Candriam from its 30-year experience of acquiring and nurturing a multi-boutique that includes ICAP and Cornerstone Capital in US equities, MacKay Shields in credit and Private Advisors and GoldPoint Partners for private equity and alternatives. These sit alongside teams managing real estate, loans and asset allocation.
"Every boutique has remained intact with its own branding," Abou-Jaoudé observes. "That corporate culture reflects our centres of excellence, but it also enables Candriam to sit comfortably next to the other boutiques: New York Life is giving us a lot of resource, but the management, culture and processes here remain the same."
Abou-Jaoudé's focus has recently shifted from transition to strategy. The US-centred New York Life products complement Candriam's, which will begin distributing some in Europe later in 2015. In the other direction, New York Life has already agreed a $200m mandate for one of Candriam's teams and more are in the pipeline.
"Before this, Candriam had zero distribution capability in the US," Abou-Jaoudé says.
The new owner's capabilities in illiquid markets fill an important gap in Candriam's offering in Europe. Abou-Jaoudé says that the skills required for debt private placements are such a natural extension of those in Candriam's high yield team that it will eventually enter this market – but otherwise the focus will remain resolutely on liquid strategies.
"We are focused on two main areas in pensions," he explains. "For the growing DC market we have role in asset allocation and specialist UCITS products. But for what remains in DB we want to continue offering tailored solutions where we see trends for SRI, asset allocation and, indeed, illiquid assets."
In addition, Candriam can now dedicate newfound stability and resources to raising its profile outside Belgium, France and Italy, especially in Germany, the Netherlands and the UK.
"We think there is a great opportunity in UK DC, and our new brand and the products we can bring from our US partner can really help there," says Abou-Jaoudé. "The UK consultants are also ready to look at us again, where before our corporate story wasn't stable enough."
Dexia Asset Management did a remarkable job to maintain growth through the difficulties of the past seven years. Free of these burdens, with a new brand and an international partner, the future looks even brighter for Candriam.
Equity buy-write strategies: A bridge into the equity world for the yield-starved
1

2

3

4

5

Currently reading

Strategically speaking: Candriam