Strategically Speaking: ChinaAMC
Asset management is one of the few areas of business where, so far at least, the Chinese have made little global impact. No Chinese firm was even in the top 100 in the 2016 IPE rankings. That is likely to change before too long. China is the first or second largest economy in the world, depending on which measure is used, as well as having the second largest stockmarket and third largest bond market. Admittedly, China is not a fully open economy. For a start it has capital controls in place. But over time its financial markets are likely to become increasingly open to foreign investors.
Building sophisticated financial institutions is not easy. Proficiency in manufacturing, even in its more advanced forms, does not automatically translate into financial know-how. Acquiring the knowledge to operate in contemporary financial markets requires considerable effort.
One way to gauge how China is progressing in this field is to examine one of its leading representatives. ChinaAMC is one of China's largest investment managers with assets under management of $173bn (€163bn). Although it was founded in 1998 as a firm focused on the retail investment market about 70% of its assets are now run for institutions. These include Chinese pension funds as well as foreign institutions such as sovereign wealth funds and central banks.
Xiaodong Tang – sometimes known as Tony – is in many respects typical of the urbane and ultra-bright technocrats who are often found in leading positions in China. He was educated at an elite Chinese university before going on to study at top educational institutions in the West.
Tang hails from the port city of Dalian in north-east China in what is now seen as part of the country's rust belt. It is near to North Korea and relatively close to Japan and Russia. He headed to the prestigious University of Science and Technology of China, based in Heifei in eastern China, for his undergraduate studies.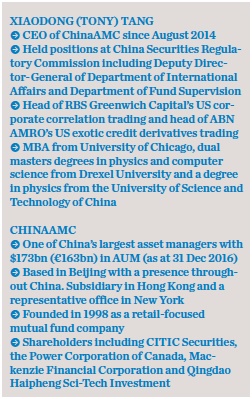 The ChinaAMC CEO sometimes pronounces words with a slight American twang: presumably a legacy of his education in the US, which included a stint at studying for a dual masters in physics and computer science from Drexel University in Philadelphia as well as an MBA at the University of Chicago.
At one point Tang was heading for a career as a theoretical physicist. He spent six months at the Oak Ridge National Laboratory in Tennessee where he studied the Big Bang Theory – that is, of course, the scientific explanation of the origin of the universe rather than the television sitcom!
However, at the time the prospects of finding a job in China in this area of science seemed limited. Tang, who was already interested in finance, decided to use his advanced maths and computing skills to find a job in the financial markets. He started by trading credit default swaps at JP Morgan before working his way up the financial hierarchy at different firms. "I tried to use my maths and quantitative skills to take advantage of the opportunities and till today I'm still trying," he says jokingly.
An unusual feature of his career is over five years spent at the China Securities Regulatory Commission. "I wanted to help the market in China to develop," says Tang.
In Tang's view a gulf still exists between the Chinese and western financial markets, although it is closing fast. "There is still a gap particularly in terms of investment philosophy," he says. He says Chinese investors, particularly in retail, look only at performance rather than taking into account risk or drawdown. Indeed one reason he is keen to encourage more foreign involvement in the Chinese market is that in his view outside investors will help make it more sophisticated. "They will stabilise the market. Reduce the volatility. It's a chicken and egg problem. That's why the inclusion of China in various stockmarket indices is crucial. The international investors will have to allocate according to the benchmark".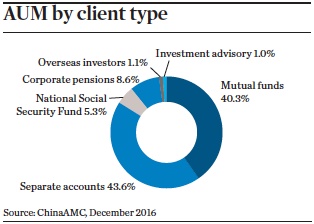 Tang says that the domestic pensions institutions stand out since, like their western peers, they tend to have a relatively long time horizon. "They want partial participation in the rally when markets rise but they also want protection when markets fall," he says. "It's challenging but it is also quite a sticky mandate". 
Their typical mandate consists of a combination of equity and fixed income assets. Although they can have up to 20% in equities he says the typical allocation is 6-10%.
ChinaAMC, like some of its local peers, is trying to pitch itself as a China expert when trying to win international business. "We are a China specialist. We don't have the ambition to be an international manager."
However, that still leaves many types of strategies to offer inside China. These range from indices to index enhanced products, actively managed products and absolute return products. "It all depends on the mandate and their investment philosophy," he says.
Although ChinaAMC has some European and US clients the bulk of them are Asian. "The further you are away from China the more negative your view of the country," he says. "I think it's quite natural; people have a tendency to avoid investing in markets where they don't feel comfortable or familiar".
There is a substantial foreign stake in the ownership of ChinaAMC. The Power Corporation of Canada, a diversified financial holding company, along with Mackenzie Investment, itself a subsidiary of the Power Corporation, have recently increased their combined holding in ChinaAMC to 30%. At the time of writing, this transaction was still awaiting regulatory approval.
Tang says that ChinaAMC has a "very close relationship" with its Canadian partner. It works with Mackenzie on product design, distribution and training. 
It has also co-operated with other subsidiaries of the Power Corporation such as Putnam Investments, a global asset manager based in Boston. Putnam in turn owns a majority stake in PanAgora Asset Management, a quantitative asset manager also based in Boston. Last July ChinaAMC announced a strategic relationship with the latter which involved offering a range of risk parity products developed by PanAgora to the Chinese institutional and retail marketplace.
The largest owner of ChinaAMC, at least indirectly, is the Chinese state. CITIC Securities, the majority shareholder in ChinaAMC, is a full service investment bank based in Shenzhen. It is in turn owned by the CITIC Group (formerly the China International Trust Investment Corporation), which is a state-owned enterprise.
Tang sees this close relationship with the Chinese state as an advantage. "It helps us to build a dialogue with the central bank and the securities regulators," he says. "It's a plus."
Overall he is modest about ChinaAMC's aspirations to develop an international presence. "It's not our ambition to become a global player since [outside China] it's a very different market," he says. "There is a cultural difference, a risk management difference and there are different stages of development."
However, there is perhaps just a hint that some Chinese asset managers could become global players over the longer term. "I'm not going to rule out the possibility that a couple of managers might become international but for most asset managers in China it will be difficult in the next five to 10 years."