At an uncertain time for equity markets, European investors discuss their strategies
Key points
Equity investors are nervous
Was last year's poor performance of equities just a correction?
Equity strategies are increasingly based on sophisticated processes
Investors prefer a qualitative and quantitative mix
The generally accepted, albeit arbitrary, measure of a bear market is price declines of 20% or more over a two-month period in a multitude of markets. The good news for equity investors is that, based on that measure, markets have yet to become bearish in sentiment. Last year's poor performance could just be a correction.
However, investors are nervous about the trajectory of equity markets. Volatility has returned after hitting record lows in 2017. The global economy is slowing and there are plenty of risk factors, from geopolitics to ballooning global debt. On the other hand, corporate earnings are expected to grow further in 2019. This makes for a complicated outlook that might push institutional investors to review their long-term strategies.
There is a variety of viewpoints and approaches to equity investing among European pension funds, if the selection of investors interviewed here is anything to go by. It is refreshing to see that investors are basing their choices of strategy on sophisticated thought processes. Deep and careful analysis, it seems, is the best way to deal with the uncertainty that lies ahead.
One thing is certain, though: investors are still convinced that equities should be a main building blocks of their long-term asset allocation. Equities, after all, should continue to deliver a premium over bonds, and remain a liquid asset class. Growing innovation in equity strategies is also giving comfort to investors that their portfolios should meet their return requirements.
APG
Netherlands
Gerben de Zwart, head of quantitive equity; Thijs Knaap, senior strategist
• Total assets: €480bn
• Allocation to equities: 34%
• Strategy: three building blocks - concentrated strategy, fundamental strategy, quant strategy
APG, the largest pension investor in the Netherlands, employs a wide range of tools in its equity strategy, but the starting point is straightforward. "We are a long-term, responsible investor and we strongly believe in active management, not just as a way to generate returns but also to pursue an active ownership style", says Gerben de Zwart, head of quantitive equity.
APG expects that equities will deliver a 3.1% premium on risk-free assets over the next 15 years. "Our estimate is a bit on the conservative side, owing to the effect of monetary policy, which has compressed most risk premia", says Thijs Knaap, senior strategist at APG. "Our biggest uncertainty is the direction of long-term interest rates. Very often, predictions that they would mean revert have been wrong. There are many structural factors that impact on these rates, some of which are ageing and physical capital being cheaper. But we struggle with that question. Predicting the equity premium is comparatively easier."
Based on that, Knaap says, APG is increasingly looking at less liquid assets as a potential source of return. The largest of APG's clients, ABP, allocates 26% to developed market equities and 8% to emerging market equities. On an absolute basis, however, APG's equity portfolio is large. The organisation has developed a three-way approach that spans across the spectrum of equity investment. The €130bn portfolio consists of an actively managed, concentrated strategy, a larger actively managed fundamental strategy and a quantitative strategy.
De Zwart says: "The internally-managed concentrated portfolio, which we refer to as our 'Focus' portfolio, has only around 30 holdings. Generally speaking, it consists of long-term holdings of between 5% and 10% of outstanding shares. We take an active ownership approach. The investment horizon is generally beyond ten years. We focus on quality companies with stable cashflows. It primarily consist of small and mid-cap European equities but we're building a similar portfolio of North American equities."
The fundamental portfolio has an investment horizon of between one and three years. It is an internally and externally-managed active fundamental portfolio with no style biases. "It's a more diversified portfolio targeting idiosyncratic alpha through a diversified approach", explains De Zwart. The portfolio has about 600 names in it.
"The quantitative strategy is a diversified, global portfolio that targets exposure to risk premia and market anomalies," he says. "We try to harvest traditional risk premia through more innovative implementation techniques. We are also exposed to alternative risk premia and are always on the lookout for new factors." The quantitative strategy is managed both internally and by external managers.
Underpinning all the portfolios is a focus on long-term and responsible investing. "The integration of ESG factors, according to our clients' policies, is really driving the development of our equity portfolios. In 2016 we introduced a carbon footprint budget. Next we will implement a new approach that consists of investing only in companies that behave well from an ESG perspective. It will be implemented across the whole portfolio. We feel we are ahead of the curve. What sets us apart is our mixed approach. We apply both normative screening and engagement."

Chetan Ghosh, CIO
• Total assets: £8.5bn (€9.4bn)• Allocation to equities: 20-25%
• Strategy: mainly active, with a focus on downside protection. Includes a maximum diversification approach.
"The starting point of our equity strategy is a recognition that equities is a asset class that has the ability to hurt us really badly in bad times," says Chetan Ghosh, CIO of the pension funds of Centrica, a large UK energy supplier.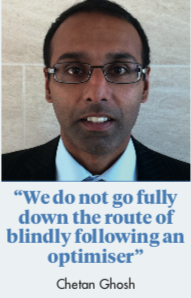 The fund's return target is 4% per annum. Ghosh explains that the asset class weights for the funds are determined using asset liability modelling, taking into account the trade-off between risk and returns from the various asset classes. "However, we do not go fully down the route of blindly following an optimiser," says Ghosh.
The long-term weighting to equities is between 20% and 25% of assets and downside protection is the core component of the equity strategy. The funds have a three-year downside risk constraint – a core driver of the equity strategy – as well as constraints in allocations to individual geographic regions.
Ghosh explains: "We have chosen to focus on trying to improve our risk-adjusted returns, which means improving the downside outcome. There are a variety of mechanisms to do that, including looking at the valuations of different regions or looking at the ability of overseas assets to provide us with a degree of tail hedge in bad times, perhaps through currency exposure. There are several factors that drive our allocation to the different regions."
"We feel we are well diversified," he says. "In constructing our portfolio, we have a mantra about wanting to get good balance between a variety of factors, including market capitalisation, industry and geography. We definitely try diversify prudently, which means departing from the global market cap."
The funds' equity strategy include active mandates as well as a maximum diversification mandate, which has ensured lower downside volatility, according to Ghosh. The equity portfolios do not have any particular style bias. "We would argue there are a lot of biases within the index," says Ghosh. "That is why, to achieve diversification, we tend to be exposed towards smaller and mid caps and are spread more evenly in terms of geographic allocation than the global index. We have a higher weighting in emerging and frontier market equities. We are also evenly balanced in terms of managers that have a value orientation and growth orientation, even though those are arbitrary classifications that we don't particularly believe in," says the CIO.
The overarching objective of protecting the portfolio is achieved through a bias towards active approaches, according to Ghosh. "Our active managers have demonstrated they're able to protecting the portfolio in downside events," he says. "The ability to protect portfolios from downside risk is often in an individual manager's DNA. Those managers are often been better at analysing what are the flaws of other market participants and how to take advantage of that. That is a sustainable way for long-term value creation," argues Ghosh. "We have one manager who looks at sell-side equity analysts and attempts to identify when they have been over-exuberant to too pessimistic about their recommendations."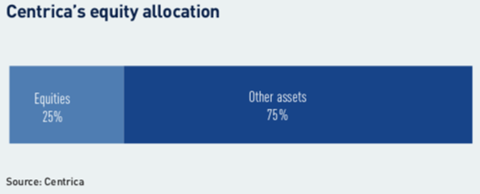 KZVK-VKPB
Germany
Axel Rahn, head of asset management
• Total assets: €12.5bn
• Allocation to equities: 25-30%
• Strategy: active with a mix of value, momentum and quality growth, plus passive replication of a RAFI index
"Ask five people about the equity risk premium, and you will get five different answers," says Axel Rahn, the head of asset management at KZVK-VKPB, the German pension fund for church employees and clergy.
The first-pillar pension fund allocates between 25% and 30% to equities, based on an estimate that the asset class will annually return deliver between 6% and 8% over the long term. The fund's decision-making process is based on traditional models, but involves internal discussions about the state of the markets.
Rahn explains: "We look at traditional ratios, like price to earnings, price to book or dividend yield and compare to historical levels. We also compare different markets. Today we can see that US equities, although they tend to command a premium, are overvalued as that earnings growth is mostly priced into the markets.
"However, considering other data such as momentum and correlations with other asset classes, and taking into account geopolitical risk as well as estimates of global growth, our conclusion is that equities are still attractive compared with other asset classes. But given the downside potential we have a neutral allocation," he says.
The fund is a strong believer in the equity risk premium. "Surely, on a short-term basis you can make money by being short equities, but being short in the long term can be very expensive. As long-term investors, we cannot forgo equities. Of course, if we saw signs of a recession, we would reduce our weight. But we do not see them at the moment," says Rahn.
The organisation has debated active versus passive approaches, but it maintains a firm belief in active management, according to Rahn. He says: "If you invest passively, you at least bear the cost of replicating the benchmark, and therefore you should be behind the benchmark due to transaction costs. Providers of passive products try to mitigate transaction costs by doing security lending. But we do not believe that works either, because it is essentially an premium to insure a counterparty for other market-related risks."
Through its equity portfolio, the fund tries to harvest empirically robust premiums, such as value, momentum, or small caps. Rahn says: "We try to identify managers that are able to gather these premiums and add substantial alpha. We believe in empirical evidence, though we accept that finance is not physics, and the evidence can change."
There are a variety of ways to harvest equity premiums, however, and KZVK-VKPB is open to debate fundamental questions about equity investing. Rahn adds: "We can see, for instance, some evidence that concentrated portfolios deliver outperformance, and have hired some managers who have this approach, with initial positive results. We also believe in diversification, to an extent. To achieve that, we have tried to blend a momentum and a value manager and this, too, had positive results. A fundamental principle we follow is, 'never disturb a working system'. We tend to be quite pragmatic."
The externally-managed portfolio includes value, momentum and quality growth mandates, as well as passive replication of a RAFI index. Rahn concludes: "In the end, we see ourselves as a fund-of-funds manager."

Peter Lindegaard, head of listed investments
• Total assets: DKK164bn (€22bn)
• Allocation to equities: 25%-30%
• Strategy: mostly active fundamental (except for Japan). Concentrated portfolios of Danish and European equities
Industriens Pension, one of the largest defined contribution (DC) multi-employer pension funds in Denmark, has a "broadly diversified portfolio", according to Peter Lindegaard, where listed equities account for about 26% of assets. This is lower than its peers, but as he points out: "Implicitly, we have a higher exposure to equity risk through other asset classes than indicated by our exposure to listed equities. Our portfolio is generally growth oriented." The fund has a target to deliver returns of 3% a year after inflation over the average lifespan of a membership and Lindegaard believes equities will deliver. Historically, the fund has outperformed this target, but most investors expect it to be more challenging in the future.
The equity portfolio is largely managed actively, except for a passive allocation to Japanese equities. There is a home bias, with 6% of assets allocated to Danish equities, as well as a small overweight to global emerging markets. The portfolios of Danish and European equities are internally managed.
Industriens' equity portfolios reflect a belief in active management. The European portfolio, is quite concentrated, consisting of between 60 to 70 stocks and carrying a tracking error. "The portfolio has a high active share," says Lindegaard.
"One of the reasons we believe in active management is quite simple. We have had good alpha contribution from external managers and have experienced good returns as a result. The other is that we believe concentrated mandates are often better than broad mandates. To the same extent, more equal weighting of the indices is a better idea than market cap weighting. If you invest passively, you will end up with very concentrated portfolios in some major constituents of an index."
Being active also helps Industriens with its ESG agenda. Lindegaard says: "If you buy the index, you can screen out some companies. But it is easier to pursue your ESG objectives if you take an active position on what is in your portfolio at all times. Our portfolio is one-third less exposed to carbon than the broad market. One of the reasons for that is that our managers steer clear of coal companies, because they understand that it is not the fuel of the future. They invest in companies that are more in line with our long-term objectives."
The portfolio has delivered, but is still evolving. Lindegaard explains: "We think we can continue to find good fundamental active managers. However, I am not excluding that we will incorporate some factor mandates in the future. Some factors have done very well over the years. Also, at the moment, we have a global benchmark but are set up for regional or country mandates at the same time. Over the coming years, we might look at giving out truly global mandates."
There is an element of tactical trading in the strategy, but this is mostly model-based, and the portfolio is geared towards harvesting long-term risk premia. "Our members are workers that might be with us for more than 35 years. We have a very long investment horizon, and we believe there are some risk premia that will come to fruition if you have enough time," says Lindegaard.
However, Lindegaard worries about future correlations. "In the case of a large fall in equity markets, I am not sure that investing in fixed income can save us. Yields on fixed income are so low it is difficult to expect they will fall further," he concludes.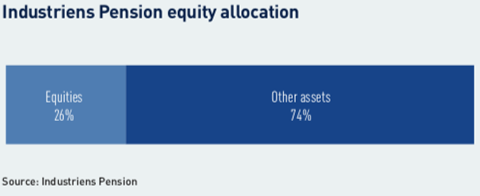 Niina Bergring, CIO & deputy CEO
• Total assets: €3.5bn
• Allocation to equities: 38%
• Strategy: active fundamental, concentrated, focuses on quality cashflows
The set-up of the Finnish pension system means the solvency of individual pension insurance companies is a function of the solvency of the whole system. The return requirement for each provider is calculated on the basis of its liabilities as well as system solvency. This means each provider cannot diverge from an asset allocation strategy that is not designed in an entirely free manner.
Yet, each provider competes to achieve higher returns, and small asset allocation differences can be significant. Niina Bergring, CIO and deputy CEO of Veritas, one of Finland's four private sector pension providers explains that while solvency and returns are reported and compared, her goal is to deliver long-term value.
She insists Veritas has an "old fashioned" approach to equity investing, but the reality is the approach is based on investment beliefs. She says: "We have a relatively concentrated portfolio because our philosophy is that we want to make truly active, long-term, sustainable investment decisions."
"Being a small team, we have decided to stay away from a silo mentality. One person is responsible for each of the asset classes we manage directly, then we have a four-person team doing manager selection for all asset classes. We manage the total portfolio as a team, and everyone understands their decisions in relation to the total portfolio. That means we can move quite flexibly between asset classes and take equity-like risk outside of equities. It also means we can be fairly aggressive and opportunistic within asset classes," she says.
According to Bergring, diversification has a place, but larger investors tend to be over-diversified and lose efficiency as a result. "To implement our equity strategy we look for truly fundamental, active and long-term investors. They may hold 20 stocks in a portfolio for a long time, and when they analyse companies, they do a massive amount of research. We are old fashioned in that way, we like to understand companies based on their cashflow profile," she says.
This approach allows Veritas to implement its sustainability agenda, says Bergring. "If you try to understand deeply the assets you own and the multitude of risks they will be facing, suddenly investment becomes very future-oriented, very holistic," she argues.
One of the benefits of the Finnish pension system is pension providers can be 'index-agnostic', since individual solvency is defined in relation to the solvency of the system. Bergring says: "We do not want our managers to focus on the index. We want them to select investments that will carry us through the good and the bad times. Of course, we will review their performance, but we feel we have an absolute-return, index-agnostic mindset."
The key to Veritas' manager-selection process is understanding the finer details of a manager's portfolio, strategy and team. From that follows close monitoring of how the manager behaves. "The ideal situation for us is never having to change a manager, partly because of how much work it takes to select one. We will accept underperformance as long as we can understand why. If a manager departs from its strategy or a key person leaves, that is a bad sign," says Bergring.
Finnish equities are managed internally, while the rest of the equity portfolio is divided into regional mandates. "You need specialists on each region," says Bergring. She does not like labels and reluctant to say that the portfolio has a value tilt. "It's a kind of quality-cashflow portfolio, with somewhat defensive characteristics," she concludes.

Investor perspectives: Playing the long game
1

Currently reading

Investor perspectives: Playing the long game

2

3

4