The annual IPE Conference and Awards 2019 took place in Copenhagen, during 3 and 4 December.
The conference highlighted and explored the most essential topics and challenges facing Europe's highly diverse pensions industry, including sustainable finance, risk, reward and liquidity, and other political and economic challenges that the 2020s will bring.
Leading industry players discussed solutions in open debates, keynote presentations and specially designed panels during a thought-provoking comprehensive two-day event, which also featured dedicated sponsor-led investor workshops.
The evening awards ceremony celebrated various categories, including gold awards (best European pension fund, outstanding contribution, pension fund achievement of the year, and long-term investment strategy), silver, bronze, country/regional, and themed awards.
ATP was named European Pension Fund of the Year. The top prize was one of six awards scooped by Denmark's biggest pension fund.
Conference buzz
"There is now a lot of activity focused on reducing risks. But the biggest risk is that you will not achieve any returns in the coming decades."
– Jaap van Dam, director of investment strategy at €238bn Dutch asset manager PGGM and chair of the European chapter of the 300 Club.
"Never in my career at any time has it ever seemed like it wasn't a particularly difficult and uncertain period"
– Chris Brightman, CIO of Research Affiliates
"There's a squeeze between longevity issues – people are not dying according to plan any longer and it's also a global phenomenon – and on the other hand very low expected returns in the future, so something has to give."
"To put it bluntly, if my pension is invested in long-term illiquid assets, I would prefer my pension company to be run by a younger CEO."
– Lars Rohde, governor of the central bank Danmarks Nationalbank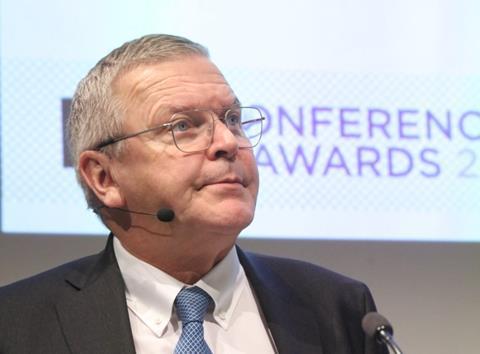 "Pension consultants think QE is a Faustian bargain, a bargain made with the devil you can never get out of. And that's because QE has become deeply ingrained in the psyche of investors."
– Amin Rajan, CEO of CREATE-Research.
"Today's externalities are predictors of tomorrow's risk, which is why investors need to know them."
– Pavan Sukhdev, founder and CEO of GIST Advisory; president of WWF international; former special adviser and head of UNEP's green economy initiative.
"It is you [as an asset owner] who has to decide with your advisers what is a Paris-aligned world, because you can only decide Paris-alignment based on a full self-sufficient economy. No individual company or sector can claim Paris-alignment because there are way too many assumptions about the other sectors."
– Andreas Hoepner, professor at University College Dublin and an independent member of the technical expert group advising the European Commission on sustainable finance.