A "very strong" digital infrastructure helps Swiss-Swedish ABB Group knit together its multitude of different pension funds around the world, according to Elisabeth Bourqui, head of pensions management at the technology multi-national.
Speaking at a pension fund strategy forum during IPE's conference in Prague, Bourqui said that the digital system helped to bring together the combined liabilities of the company's dozens of pension funds.
The system was also useful for analysing the local situation for each fund, as well as for communication with the various schemes when generating a broader picture for the overall management, she explained.
Bourqui said that ABB Pensions had entered into a partnership with Dutch pensions adviser Ortec Finance, which had carried out local asset-liability management (ALM) studies to establish unique local liabilities, taking into account, for example, individual schemes' profiles and local regulation.
She emphasised that this required a fine-tuned understanding of individual schemes' liabilities and the specific local interest rate situation.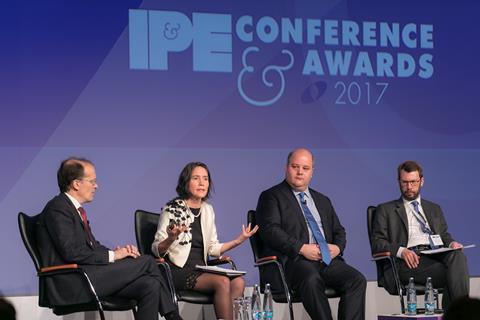 INTEXTLINKTEXT; Elisabeth Bourqui, ABB; Vincent Mortier, Amundi; Liam Kennedy, IPE" src="/Pictures/web/u/u/a/Highlights-IPE-29th-Nov—-Morning-0_660.jpg" />
ABB's head of pensions management indicated that the ALM studies helped to integrate the market cycle for equity into the long-term investment policy for the pension funds' assets, which total approximately €9.5bn.
Bourqui added that the ABB pension funds had invested heavily in real assets for its long-term investment policy. It total real estate allocation is approximately 12%.
A vote among pensions funds and asset managers at the strategy forum showed that 14% did not have any investments in real assets, whereas 7% had invested more than 10% in the asset class.
Vincent Mortier, deputy chief investment officer at Amundi, indicated that the asset manager assumed that returns on real estate and private equity would be 4% and almost 9%, respectively, in 10 years' time.
Also during the panel discussion Onno Steenbeek, director of strategic portfolio advice at the €460bn Dutch asset manager APG, explained that the fates of its pension fund clients – including the €403bn civil service scheme ABP – were intertwined, despite the individual schemes having different objectives. "We need to help them with that," he said.
Steenbeek said APG looked at a scheme's pension target, costs, contribution rate, risks and sustainability as criteria for establishing a proper asset allocation.
ABB's Bourqui collected two awards at Tuesday's ceremony in Prague: the country award for best pension fund in Switzerland, and the Gold award for Pension Fund Achievement of the Year.
APG took home the Climate-Related Risk Management award.