---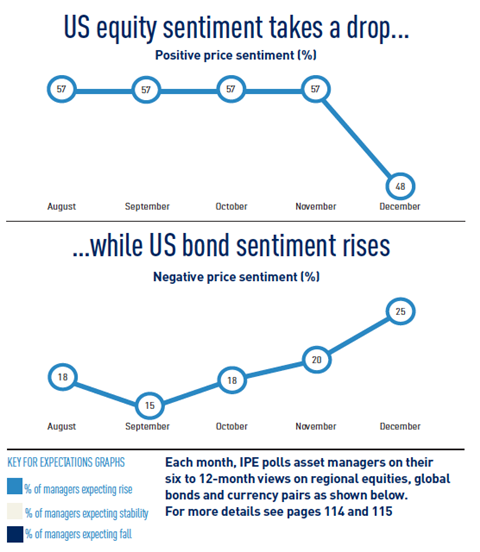 At times we aim to find the mountains within the molehills of manager expectation shifts. In our defence, any curvature is worthy of recognition. Sometimes, changes (or lack thereof) come along that are worth diving into. In the prior survey, it was the four-month lack of change within the high sentiment toward US equity markets to rise that was significant. During the current period, hyperbole aside, change has come.
Bonds
It has been over two years since sentiment towards all bond prices shifted as positively as they did in the most recent survey. The US bond sentiment differential (positive minus negative) is nearing its multi-year high.The yen bond price differential has surpassed its highs, and even the sterling differential increased the most in two years. The two-year time frame is important, as it covers the period following the Brexit vote.
Equities
It is not often that sentiment toward equity markets falls as much, but given the last time it happened was also in 2018 could either make my point false, or highlight whay a year 2018 has been. US equity sentiment has not only jumped once by a multi-year high, but also crashed twice by similar amounts. In between it all, it also stayed the same for four months. The significance of the downward shifts in sentiment is most recently rivalled by 2015.
Currencies
The trends coming from currency pairs have not deviated over the long-term, but a shift has happened. The sum of expectations for dollar strength versus euro, yen and sterling has been in decline, and the expectations for the dollar to weaken has risen, but the net of the two had remained positive, meaning expectations were ultimately for dollar strength. Those lines crossed in the most recent survey pushing net sentiment toward the dollar into negative territory for the first time in a long time.
Supporting documents
Click link to download and view these files