Asset selection
With the shift to a strong negative bond sentiment in the UK, markets have again split. For the UK and EU, the figures are more negative and trending down.
By contrast, net equity sentiment is trending upwards. Brexit seems to be staggering towards an ending, with an imminent general election in the UK. Impeachment in the US is not a big uncertainty either, as Republicans seem blind to the evidence, so the process should unravel in the US Senate. President Trump remains an irrational, therefore unpredictable factor.
The gap between net equity and net bond sentiment is growing. With political risk receding, this means that analysts expect excellent Christmas sales and an early recovery. For European markets, the risk is of a Japanese-style deflation trap. For some time, energy price developments have served as a support for inflation. This effect may end if the weather in spring is mild.
Country allocation
Euro-zone net equities as well as bond sentiment are drifting apart. They are not yet back to June levels, the last month when the figures looked 'normal', but their shift is encouraging. Favourable Brexit developments would further improve the figures.
US equities sentiment is rising, while bond sentiment is trending towards zero. Political risk has drained from UK net sentiment figures. Bond figures are moving at a more sedate pace, yet deeper into negative territory in what looks like a trend break rather than a correction.
While Japanese net bond sentiment has remained stable, the latest figures for equities sentiment confirm that Japan analysts maintain that the worst is over and the future is bright. Indeed, aggressive Chinese policies have been relaxed except in relation to Hong Kong and Japan's growth (and peace) is not influenced by increased tension over Kashmir. Japan stands to profit from US growth and is less exposed to European economic weakness.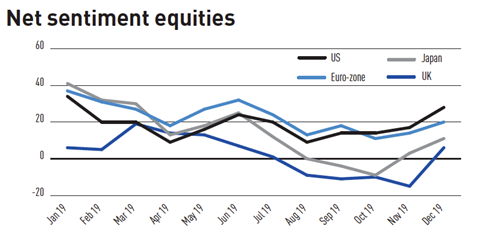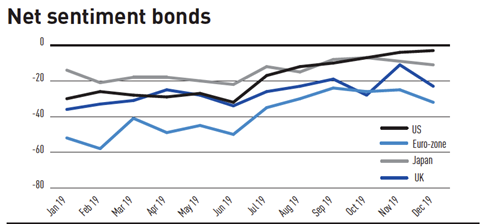 Peter Kraneveld, international pensions adviser, PRIME bv