Ireland's sovereign development fund is fully established and building up a sizeable and diverse portfolio. Jonathan Williams talks to director Eugene O'Callaghan about the fund's development
Two years after its launch, the Ireland Strategic Investment Fund (ISIF) has proven itself, according to Eugene O'Callaghan, its director. "It's certainly been through the proof-of-concept stage. That's reflected in the portfolio we've begun to build` up, and reflected in a very strong pipeline, too."
Initially announced five years ago, the €8bn venture was seeded from the remnants of the National Pensions Reserve Fund (NPRF), which was also overseen by O'Callaghan, and given a dual mandate of achieving investment returns and stimulating Ireland's post-bailout economic growth. While initial commitments were generally towards loans to small and medium-sized enterprises (SMEs), the banking sector's recovery has seen ISIF offer higher-risk capital where, according to O'Callaghan, there is still a gap. "It's very important for our mandate, in the context of economic impact, that we're additional – we're not achieving anything if we're just replacing willing private sector investors, or banks."
Acting as a cornerstone investor allows ISIF to be a catalyst and, to date, its €2.4bn in committed capital has attracted €6.7bn in investments. The role as cornerstone investor has seen initial commitments to fund launches and the establishment of property joint ventures with partners such as KKR – but also initial public offerings (IPOs). This was the case when it acquired 15% of life sciences company Malin in March 2015. "There wasn't a lot of willing capital here, and our being there was really helpful to give comfort to some international investors."
It was not just a desire to support the IPO that led ISIF to invest but also assurances from the firm that €150m would be invested in local life-sciences companies, leading to the creation of 200 full-time roles within five years. These positions are in addition to the nearly 19,000 jobs created to date by the ISIF's activity.
Job creation is only one of the metrics used to demonstrate impact, and the fund publishes bi-annual economic impact reports, detailing salaries paid, the percentage of goods exported and how deployed capital is geographically spread across Ireland. While these numbers are key to demonstrating its success, O'Callaghan says it is important to make ISIF's activities accessible and comprehendible. "We've expanded our reporting to be a bit more verbal, a bit more qualitative, a bit more case-study driven, and I think that will enhance the pure quantitative economic impact metrics we are producing."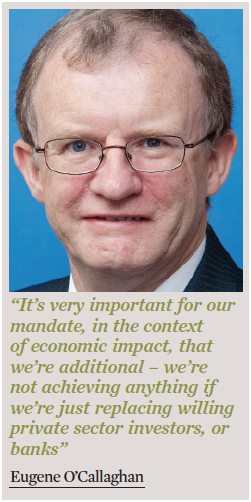 To this end, the latest report shows how two housing initiatives could see the construction of 15,000 homes, or one renewable energy project it has co-financed could provide cleaner power for 80,000 homes – similar to the impact metrics employed by the UK's Green Investment Bank.
ISIF is in no hurry to deploy its capital. Despite stating that all assets would be deployed within four years of the fund's launch, O'Callaghan now says it might be 2022 before the NPRF portfolio is brought into line with ISIF's new mission. He says the longer time frame is the result of investments taking longer to draw down than anticipated, despite a "pretty steady" pace of commitments, removing the necessity to sell the NPRF's existing global portfolio.
However, despite the slower than expected allocation of capital, the government seems pleased with O'Callaghan.
In a vote of confidence, the government asked ISIF to invest the proceeds of its sale of AerLingus to International Airlines Group. The ensuing ring-fenced €335m Connectivity Fund has since made investments – a re-allocation of existing NPRF bond issuance by the operators of Dublin Airport, and a stake in a sub-sea fibre optic network from New York through Dublin to London.
But the Connectivity Fund's size should not be seen as a limit to the ISIF's investments to boost physical, digital and energy connectivity. O'Callaghan says future investments could straddle both portfolios. "It's really that the government wants to ensure there is a minimum of the proceeds of AerLingus re-invested in connectivity, but if there's more than that, then yes, that's great too."
O'Callaghan expects connectivity to remain key for Ireland. Asked about the UK's decision to leave the European Union, he points to the opportunities it could present the Irish economy, if not the ISIF itself, from Brexit, as business looks to move offices to European cities, including Dublin. "We will be very hopeful Ireland will get a reasonable chunk of whatever moves out of London, and we are finding, as a country, that Brexit is creating opportunities that weren't there six months ago."
Pensions In Ireland: Funds still under pressure
1

2

3

Currently reading

Ireland Strategic Investment Fund: Top marks for achievement

4

5