Italian pension fund portfolios tend to be less diversified and domestically focused than other European institutional investors. This looks set to change with a turn towards alternatives
Key points
Italian pension funds' strategic allocations to alternatives are growing in number and size.
Industry-wide pension funds, large and small, have increased activity in the sector.
The demanding regulatory framework can make deal structuring complex.
First-pillar funds are increasingly focusing on the domestic economy.
A growing number of Italian second-pillar pension funds are building strategic allocations to alternatives. This trend includes first-time as well as current investors, who are expanding their existing allocations.
Surveys show that institutional investment in alternatives has intensified over the past three years. According to Mercer's European Asset Allocation survey, the strategic allocation to alternatives by Italian pension funds went from 10% of portfolios in 2014 to 20% in 2016.
A survey by AIFI (the Italian association of private equity, venture capital and private debt) shows that fundraising in the private debt sector increased by 65% between 2015 and 2016, reaching €632m last year, and that pension funds provided 14% of the capital raised between 2013 and 2016. Last year, Italian private equity assets grew 77% to €8.2bn, thanks to strong fundraising among foreign investors. However, domestic investors represented 100% of the pension fund capital raised in the sector.
This is significant because alternative investments are spreading among 'fondi negoziali', the industry-wide schemes based on collective labour agreements. Founded in 1995, their assets under management have grown slowly, and have been lacking internal resources until recently. This explains their tendency to maintain conservative investment strategies, mostly of a balanced nature. Casse di previdenza, the first-pillar pension funds for professionals, and funds predating the introduction of fondi negoziali (such as open defined contribution funds or corporate pension funds) tend to have more sophisticated strategies.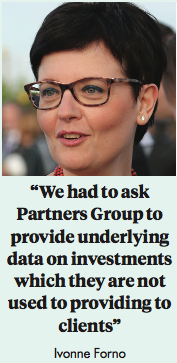 Diversification through alternatives such as private equity, private debt and infrastructure is a welcome development. It matters for pension fund members, who have their savings invested in less correlated asset classes, and the economy, which is in need of investment. Generally, Italian pension funds are targeting domestic and foreign alternative assets, but there is an emphasis on domestic investing.
This is driven by a favourable regulatory framework. At the end of 2014, a new framework for fondi negoziali was adopted, allowing more flexibility in terms of allocation. COVIP, the regulator, has also pushed fondi negoziali to internalise investment. Furthermore, the recent budget law (no.232, 11 December 2016) expanded the existing tax incentives for domestic investments.
There has also been governmental pressure on funds to invest in the real economy, amid talks of a collective vehicle for pension funds to invest. Although, none of this has had an impact as significant as the changing preferences of investors. Funds are beginning to embrace alternatives as a strategic asset class as their search for yield widens and as they strengthen internal resources.
The fact that smaller fondi negoziali are taking steps in the alternative investment market is a signal that investors are more confident.
Byblos, the fund for the paper, publishing and media industry, with AUM of €765m at the end of 2016 has launched a search for a private debt fund. Byblos seeks to invest €30m in the fund, which has to target a size of at least €150m and must not allocate to distressed debt or non-performing loans (NPLs). This search is still on-going. However, Byblos had appointed BGB Weston as adviser, tasked with supporting it in the search for suitable private debt investments.
Other 'fondi negoziali' have also made their first investments in the sector. Earlier this year Prevaer, a €400m fund for employees of the air transport sector, announced a €10m investment in The European Middle Market Private Debt I SCSp fund, a private debt fund managed by BlackRock. This was Prevaer's second such investment, following €5m placed with a fund of private debt funds managed by Fondo Italiano d'Investimento, a public-private asset management company investing domestically.
At the end of 2016, Priamo, the €1.35bn fund for employees of public transport workers, had also invested in the Fondo Italiano d'Investimento fund, allocating €1.4m.
Alifond, a €1.3bn fund for employees of the food industry, invested €5m in the Supply Chain fund managed by Groupama Asset Management. This focuses on Italian direct lending, particularly commercial credit.
Larger funds within the negoziali peer group are developing a blueprint for alternatives. This could see other schemes build up allocations to the sector more quickly and efficiently.
One example is Laborfonds, a frontrunner within its peer group. The €2.5bn regional pension scheme for workers in the Trentino-Alto Adige region has set a strategic allocation of 10% to alternatives within its 'linea bilanciata' option. This is the largest sub-fund in terms of AUM and members. Over the past 12 months, it has been implementing its first private equity allocation within the sub-fund. This follows a first-time private debt portfolio created in 2015.
Laborfonds' first investment in private equity amounts to €75m investment and is split as follows:
l €25m in global private equity, via a Partners Group vehicle;
l €25m in European infrastructure, with InfraCapital (part of the Prudential Group);
l €20m in Italian renewable energy, via the Quadrivio Green Energy fund;
l €5m in local social housing, through Fondo Housing Sociale Trentino, a co-investment of Fondo Investimenti per l'Abitare, managed by Cassa Depositi e Prestiti.
This is being followed by a further €25m investment in European infrastructure. Decisions on implementation should be made by next autumn.
In many ways, Laborfonds has pioneered a way for fondi negoziali to invest in private equity. The regulatory requirements remain strict and demanding. As such Laborfonds has had to negotiate diligently, particularly with foreign managers, in order to close deals that satisfy regulatory requirements.
Ivonne Forno, CEO of Laborfonds, explains how dealing with a global private equity manager such as Partners Group was challenging. "We had to ask Partners Group to provide underlying data on investments which they are not used to providing to clients", says Forno. Laborfonds signed a three-party and a service-level agreement with Partners Group and its custodian, State Street. In addition, Partners Group also signed an agreement with Previnet, a service provider that will collect data on behalf of Laborfonds.
Laborfonds also agreed with Partners Group that the Italian version of the agreements would be binding. Forno says this was a first for the asset manager.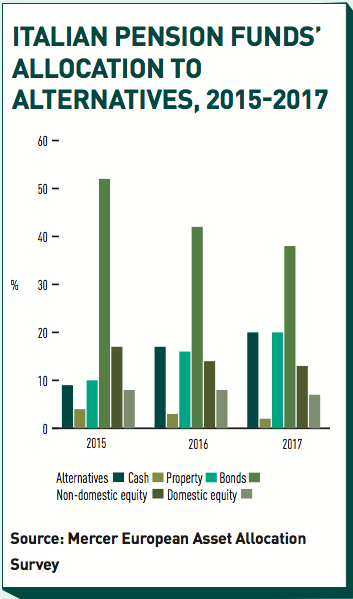 From a governance perspective, Laborfonds installed a representative on the advisory boards of the funds it invested in. According to Forno, these requirements are needed in order for the fund to comply with regulation.
Forno says: "We are very happy and proud with the results of this team effort, and we give credit to our managers for working hard towards our goals. But we would not have signed off the investments until all our requirements in terms of governance and reporting had been fully satisfied. This is how we operate."
Forno adds that she is sharing her experience with other funds, hoping that they also may invest in alternatives through pooling.
Laborfonds is looking to allocate further to private equity or private debt to reach its 10% strategic asset allocation target.
Outside the fondi negoziali peer group, pension funds are more acquainted with alternative investments. However, private equity and private debt are still niche that are only just becoming popular.
Last year, the pension scheme for employees of the BNL BNP Paribas banking group decided to make its first allocation to private equity and infrastructure. The €1.2bn scheme allocated €10m to domestic private equity funds and €15m to pan-European infrastructure. Principia III Health, an Italian private equity fund that specialises in life sciences, and Deutsche Bank's Pan European Infrastructure II fund were selected.
Romano Leligdowicz, head of asset management at the scheme, says: "Most likely we will expand the programme by selecting other funds. We aim to create a structured portfolio of unlisted assets, and have begun looking at private debt and SME lending."
In parallel, the scheme decided to cut its allocation to funds of hedge funds. Leligdowicz said this was because the portfolio was no longer showing the decorrelation and capital protection features it did when formulated. The scheme is studying how to achieve better diversification by building a portfolio of income-focused alternative UCITS funds.
Investing in private equity and infrastructure was a challenge, despite its experience in other alternatives, says Leligdowicz. "It was a natural choice, due to the diminished return capacity within traditional asset classes. But, these asset classes require a different skillset if compared with investing in hedge funds.
"Thankfully, our affiliation to a bank means we have internal expertise. Nevertheless, we took specialist advice on these investments from an external consultant."
Among casse di previdenza, the first-pillar privatised pension funds for professionals, investment in unlisted assets is more established. A recent trend has seen casse di previdenza team up to invest in the domestic economy.
Earlier in 2017, INARCASSA, the €9bn architects' pension scheme, and Cassa Forense, the €10bn lawyers' pension scheme, invested in Fondo Quattro R, a €711bn fund focused on Italian businesses in need of recapitalisation. Inarcassa is also joint owner of Arpinge, a company that acts as a sponsor for Italian infrastructure projects with Cipag, the surveyors' pension scheme and Eppi, the industrial engineer's scheme.
ENPAM, the €18m pension scheme for general practitioners and the largest of the casse di previdenza, has an explicit strategy of investing in the domestic economy. Alternative investments are an important aspect of that strategy.
The scheme has allocated 5% of overall assets to what it calls 'mission-related' investments. These include investments in healthcare, made via private equity or through other non-traditional means, that directly benefit its membership.
At the same time, Enpam has introduced a strategic bias towards Italian assets, which it has branded 'portafoglio strategico Italia'. Initially, this will mean increased exposure to Italian equities and corporate bonds. But increasingly the scheme will also allocate to private equity, according to Pierluigi Curti, the fund's chief financial officer.
The pension fund industry as a whole still looks forward to a top-down initiative that could build a tighter bond between domestic institutional capital and the Italian economy. Such initiatives, such as a government-sponsored fund, have been discussed but no action has been taken as of yet.
The recent finance law designed piani individuali di risparmio (PIR), retail vehicles that offer significant tax advantages for investment in SMEs. The industry has asked that a similar opportunity is provided for pension funds.
However, after years of individual efforts, and thanks to regulatory changes, Italian funds have built stronger foundations for an increased activity in the alternative investment market.
This is where the link between pension fund capital and Italian businesses could become even stronger.
Italy: Offering an alternative
1

Currently reading

Italy: Offering an alternative

2

3

4

5

6

7