The world's largest pension fund is introducing a new performance-based fee structure in a bid to strengthen the alignment of interest with its active asset managers.
Japan's ¥163trn (€1.2trn) Global Pension Investment Fund (GPIF) has "drastically" cut the base fee rate to the same level as institutional passive accounts. It has also scrapped a cap on performance-based fees.
GPIF has also introduced a "carryover mechanism" to its fee structure, designed to promote long-term investment (see illustration, below).
Under this mechanism, the pension fund will hold back a portion of the performance-based fees calculated each year "to ensure that the amount of fees is linked with medium- to long-term investment performance".
In the first year of the new fee structure being in operation, GPIF will pay 45% of the performance-based fee to the asset manager and carry over the remainder. From the second year onwards, the fees paid and retained will be a proportion of the sum of the performance-based fee for that year and the carryover from the year before.
In connection with the long-term fee structure, GPIF promised to commit to "multi-year" contracts for its asset managers.
The pension fund said it recognised that if asset managers were going to be under pressure to deliver good investment performance, it was in the pension fund's interests to commit to "lengthy" contract periods to enable managers to meet their targets over the medium to long term.
Such an arrangement was unprecedented for the management of traditional assets such as bonds and equities, according to the GPIF.
The full report detailing GPIF's new fee structure is available on its website .
Addressing poor performance
The backdrop to the changes was poor performance by the pension fund's active asset managers, GPIF said.
Around 20% of GPIF's assets are actively managed, but during the 2014-16 period only a few funds had outperformed their targets.
The asset owner recognised it could become better at selecting funds and that it was working hard to increase sophistication in this area, but said its fee structure also had a part to play.
The GPIF's current model – fixed annual charges with partial performance-based fees – meant asset managers were paid "considerable sums regardless of their investment performance", the pension fund said.
"They therefore have little incentive to set target excess return rates appropriately, to be innovative in seeking excess returns, and to control their management capacity, so a resolution of this issue was regarded as being far off," said the GPIF.
The performance fee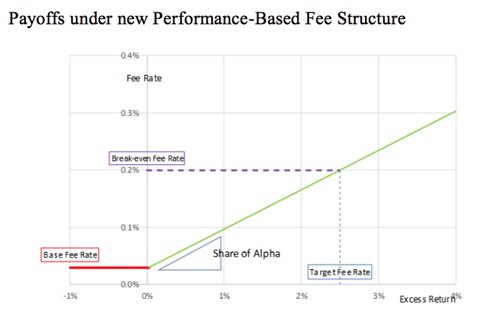 The carryover mechanism