Valdis Dombrovskis has assumed responsibility as commissioner in charge of the flagship Capital Markets Union (CMU) project. But he has also assumed the added complication of the withdrawal of the UK, the EU's biggest capital market. The previous commissioner, Jonathan Hill, might consider himself lucky to have made a quick exit given the difficulties the CMU project faces.
At a press conference Dombrovskis, a former Latvian prime minister, said: "The possibility of Europe's largest financial centre moving outside the EU makes the case for deeper capital markets across the EU all the more urgent. The [CMU] is a single market project for all member states. It will also make EMU [European Monetary Union] more resilient, as integrated capital markets help to better absorb shocks."
Erik Berggren, senior adviser for financial services at BusinessEurope also says the CMU project "is as necessary as ever," adding: "We do hope that the momentum will continue as before". BusinessEurope also notes that the supply of finance, particularly to small and medium enterprises (SMEs), is a key barrier to growth in member states such as Spain, Italy and Portugal.
Angus Canvin, senior adviser for regulatory affairs at the UK's Investment Association, whose members manage £5.5trn (€6.6trn) in client assets, says: "With all the spadework having been done by the European Commission, a change of commissioner may be immaterial."
However, the European Banking Federation is cautious about CMU. A spokesman says: "We have always supported the CMU because it leads to a more diversified funding landscape but we do not believe it will greatly shift finance from banking sources. The CMU is basically based at the London-end. It is very much an Anglo-Saxon thing."
Following a recent conference in Brussels, Rosana Mirkovic, head of small business affairs at the Association of Chartered Certified Accountants (ACCA) said: "Capital markets will not flourish across Europe unless SMEs and other investors are willing to embrace non-debt finance and be comfortable with the risks in doing so."
Speakers at the ACCA conference identified barriers to the EU passport for venture capital funds, including tax on registration charges, a rigid or prescriptive definition of eligible SMEs, and a short list of eligible fund managers.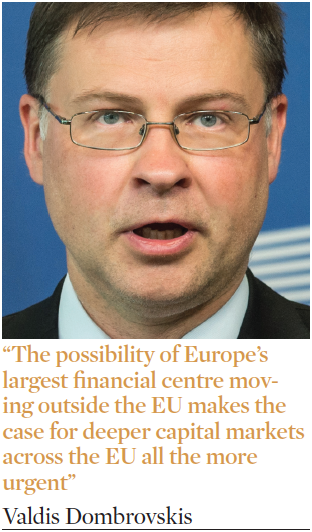 In fact, the Commission has proposed prohibiting such fees and simplifying registration by amending the relevant 2013 Regulation on venture capital funds (EuVECA) in its proposal for upgrades to the existing Regulation on European social and entrepreneurship funds.
According to the Commission, the new framework will strengthen the fight against market abuse across commodity and related derivative markets. It will ban the manipulation of benchmarks, such as LIBOR, and reinforce the powers of regulators.
This may satisfy some people. But Dombrovskis's in-tray is still stuffed with other dossiers, including the Market Abuse Regulation and the Directive on Criminal Sanctions for Market Abuse. Here again, the aim is to increase investor protection and confidence.
Other high-priority matters to boost investor confidence include dealing with insolvency rules, prospectuses and taxation. Also pending is a plan to adopt a legislative proposal aimed at harmonising insolvency proceedings across the EU. It intends to prepare a principles-based legislative initiative, building on national regimes that work well, before the end of this year.
The Commission will also publish a proposal for legislation in response to a public consultation on its Common Consolidated Corporate Tax Base (CCCTB) this year. The CCCTB faced extraordinary delays prior the arrival of Hill.
How will Dombrovsksis cope with a programme that has seen multiple setbacks since 2004? He may welcome Brexit given the UK's opposition to the plan, which identified it as a prelude to EU-wide tax unification.
Similar reactions to Brexit come from Sven Giegold, the German Green Party MEP who specialises in finance. "We might be better able to realise a true capital markets union without the UK," he speculates.
Likewise, Nicolas Véron, of Brussels think-tank Bruegel, describes any post-Brexit situation as an "opportunity Europe should not miss". This would imply Brexit is a boon for CMU.
Giegold also says that investors will not trust their assets being subject to "foreign" law until unification of civil court proceedings is achieved. He could point to Italy, where bankruptcy court cases average eight years. Matteo Renzi, Italian prime minister, hopes to reduce the period. Can Dombrovskis do more than wish Renzi luck?
On the agenda this autumn is the modernisation of the crucial Prospectus Directive. Karel Lannoo, CEO of the Brussels-based Centre for European Policy Studies finds fault with the latest draft. He comments that, although it may go further than its predecessors, it will not lead to an effective market that cross-border investors can take advantage of.
"Notwithstanding the Regulation, the primary issuance of securities is still very much a national matter throughout the EU," Lannoo says. The think-tank head argues, in a commentary from the European Capital Markets Institute (ECMI), that while the text goes somewhat further than the European Commission has previously entertained, it leaves any CMU "a distant ambition".
Lannoo says that, as far back as 2003, Hans Eichel, the former German finance minister, proposed a single prospectus agency for issuers. This still has to materialise. The matter should be handed over to the European Securities and Markets Authority; before the Brexit vote, the UK would probably have opposed such a move.
Others might respond by saying that this is unfair on the Commission. Its officials consistently have to balance a range of interests against the crucial political interest of achieving approval from national governments. Whatever the status of the current prospectus rules, the package has now cleared various stages and is expected to see final political agreement soon.
Also this year, the Commission is expected to publish responses to its consultation on cross-border distribution of investment funds. In the autumn, the Commission will call for expressions of interest on fund-of-funds investing.
Looking ahead, during 2017 the Commission plans a "study on discriminatory tax obstacles to cross-border investment by pension funds and life insurers". It also expects to have published a review of the EU framework to enhance capacity to preserve financial stability. In 2017 and 2018 it also plans a study on the conflict-of-interest laws relative to securities ownership.
Finally, this September a 'CMU Barometer' will report on how the CMU project is faring. It is the brainchild of BetterFinance, the retail investors' think tank, in association with the Federation of European Securities Exchanges.
The report will evaluate the areas in which the CMU is advancing, is stuck, and where there is no progress at all. No doubt Dombrovskis, a former scientist, will observe such numerical assessment with interest.