One of President Donald Trump's promises has been to loosen regulation on all businesses to boost the economy. A casualty could be shareholders' right to vote on executive compensation or the so called 'say-on-pay', which was granted by the Dodd-Frank financial reform act that came into effect in 2011. But even if Trump's deregulation objectives succeed, experts on corporate governance, such as Douglas Chia and Gary Larkin at the Conference Board, an independent research organisation, say companies will continue the practice.
The reason, as Chia and Larkin wrote recently, is: "All but a small cohort of companies… have passed the say-on-pay test with flying colours [in] the past five years, so most would see no harm in continuing the practice, especially if it means staying out of the next public pension fund voting campaign."
Companies won about 92% of shareholder votes supporting proposed executive compensation in the 2017 proxy season, but many Russell 3000 constituents failed to reach the critical 70% level of support, indicating a broad degree of dissent among shareholders on executive pay.
Pat McGurn, special counsel and head of strategic research and analysis at the proxy advisory firm Institutional Shareholder Services (ISS), says: "For the first time there was some high-profile negative voting at large companies such as ConocoPhillips. Another big company with many negative votes was IBM."
Pension funds often lead the opposition on pay. At IBM, seven retirement systems – CalPers, CalSTRS, Ontario Teachers' Pension Plan, Canada Pension Plan Investment Board, Texas Teacher Retirement System, Florida State Board of Administration and Illinois State Board of Investment – rejected ratifying CEO Virginia Rometty's pay, which was approved by only a 54.3% vote. Noticing that Rometty's total pay rose to $50.9m (€45.3m) in 2016, up from $20.8m in 2015, ISS recommended voting against her pay, stating: "In addition to routine pay, the CEO received a sizeable premium-priced option award, the design of which does not appear particularly rigorous. Also, the lack of disclosed short and long-term incentive program goals is concerning, particularly in light of the high level of CEO pay."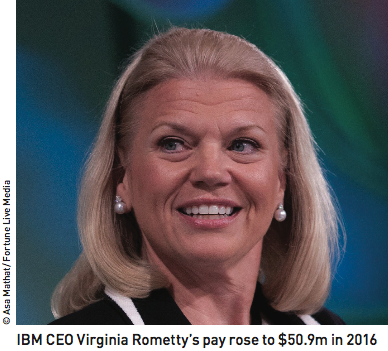 McGurn comments: "Indeed the big issue on the US market is not the absolute size of the compensation, like it is in Europe, but the compensation in relation to the company's performance." Indeed, IBM's performance has been disappointing for investors. Revenues and profits have fallen since Rometty became CEO in January 2012, and the stock price has declined 15% versus a 90% rally of the S&P500 index to June 2017.
McGurn adds: "Say-on-pay is only an advisory vote, a kind of non-binding referendum. But when the negative votes are 30% or more, companies take note. They don't want the situation to escalate, so they engage with pension funds and other institutional investors, and change something."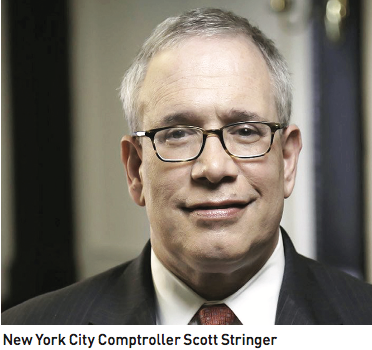 That is exactly what happened last year. A typical CEO at a large US company got an 8.5% raise in 2016, raking in $11.5m in salary, stock and other compensation, according to a study by executive data firm Equilar for the Associated Press. That is the biggest raise in three years.
But CEO pay dropped for nine of the 10 companies scoring the lowest in say-on-pay votes. For example, last year auto supplier BorgWarner had 60% of voting shares opposing or abstaining on CEO James Verrier's pay, so his total compensation dropped 29% to $12.3m.
Among other corporate governance issues, proxy access ranks as the shareholder right with the most momentum, according to Chia and Larkin.
"A broad swathe of stakeholders supports the ability of shareholders to not only nominate directors to run against a company's chosen slate, but to put the names of those nominees on the company's proxy card," explain Chia and Larkin. "Fuel for the proposal comes in large part from New York City Comptroller Scott Stringer, through his Boardroom Accountability Project."
In fact, at IBM the seven pension funds that were against the CEO's pay also voted in favour of the proxy-access proposal filed by Stringer on behalf of the five pension funds of the NYC Retirement Systems. Under the proposal, a shareholder or group of shareholders holding a combined 3% of IBM stock for three years will be able to nominate up to two, or 25%, of the board's directors.
"Already more than 60% of the S&P500 companies have adopted a similar bylaw," says McGurn. "So far no investors have taken advantage of this opportunity. Now the focus is on raising the bar or making it easier to get proxy access."
The 2017 proxy season's biggest surprise was the considerable action on environmental and social issues, according to ISS. Majority support was reached for two climate change-related proposals, at Occidental Petroleum and PPL Corporation, and a gender diversity proposal at Cognex Corporation.
"At Exxon Mobil two huge passive asset managers, BlackRock and Vanguard, supported the climate change risk resolution," adds McGurn. "That was a new sign that passive managers are getting more active engaging corporations. One reason is that their clients, especially pension funds, ask them to do so."