Some US pension funds say they may be paying too much for their investments in private equity and are seeking different approaches. These range from managing private equity investments directly – an option that the California Public Employees' Retirement System (CalPERS) is evaluating – to divestment, a move already taken by Dale Folwell, newly elected treasurer of North Carolina.
Some pension funds are disappointed with the performance of their private equity investments, while others are seeking greater fee transparency. The latter is the case for the $315bn (€289bn) CalPERS, which is to review its holdings and explore other options this year.
These include buying a private equity firm or creating a separate company for investing in the asset class, acting as co-investor in more customised accounts with outside managers, and making private equity investments directly.
CalPERS has discovered that, over the 20 years to 30 June 2015, private equity was the best-performing asset class, but also the most expensive one (see figure).
It started discussing the issue of private equity fees in 2015 when it realised it did not know how much it had paid because of often opaque structures. It emerged that the cost had been $3.4bn in performance fees since 1990.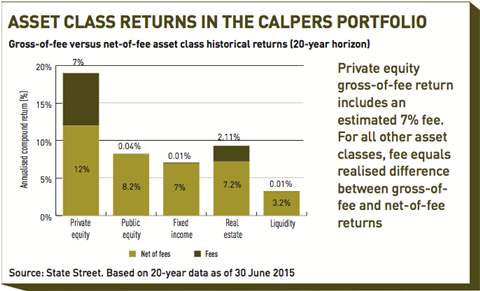 Most private equity funds require investors to pay up to 2% of assets under management and share as much as 20% of profits. But a recent analysis of more than 70 pension funds across the US for fiscal 2014 by the Pew Charitable Trusts, discovered that the funds paid more than $4bn in hidden fees, mostly to private equity managers.
Has this been worthwhile? Yes, according to the American Investment Council's study of 155 US public pension funds. As of 30 June 2015, private equity investments by public pension funds yielded a median 10-year annualised return of 11.4%, compared with public equity's 7.6%, real estate's 6.3% and fixed income's 5.2%.
But these are just median returns. "The problem is that pensions have a history of being casual investors in these types of asset classes," Ben Carlson, director of institutional asset management at Ritholtz Wealth Management, wrote recently for Bloomberg. "Unless you have superior skill and resources available to identify or access top-quartile or even top-decile private equity managers, you're almost certain to do worse than you would in the public markets while taking on much more risk."
According to Carlson, private equity is becoming crowded. He mentions a recent research note for Credit Suisse by Michael Mauboussin: "In 1980 there were only 24 private equity firms and deal volume only modestly exceeded $1bn. Today, there are more than 3,000 private equity firms in the US and assets under management for buyout funds are roughly $825bn, up from $80bn in 1996 and less than $1bn in 1976." Carlson concludes: "This competition will make it harder to earn the illiquidity premium investors seek in this private investment."
New York City's $63bn teachers' and $58bn civil employees' funds are unhappy with their private equity investments even though they have earned an annualised return of 9.15% and 9.1%, respectively, after fees since the late 1990s. These returns are less than the 9.5% they would have earned by putting the money into a low-cost stock index fund replicating the Russell 3000 benchmark, which the plans expect their private equity portfolios to beat by three percentage points a year.
This is why Scott Evans, CIO of New York City's pension funds, decided to change policy. He says the current private equity portfolio, made of 220 different funds, is "overdiversified", so will concentrate new investments into about 30 large firms and another 30 "emerging managers", typically firms owned by women or minorities in which the city has high conviction.
Evans explains: "This is an asset class where it pays to be narrow and to be deep with the partners you have confidence in."
Much more radical is the approach of Folwell. He was elected North Carolina's first Republican treasurer in 140 years partly because he proposed to invest the state's pension fund in low-cost index funds and to manage them in-house, saving a minimum of $100m a year in fees by the end of his four-year term.
He is trying to terminate or renegotiate long-term contracts with some private equity and hedge fund managers such as Blackstone Group and Warburg Pincus. He said: "Alternative investments increase complexity and reduce value."