---
Investors have lost some of their enthusiasm for US REITs – real-estate investment trusts – after their poor performance in the third quarter. From July to September, the FTSE Nareit All Equity REITs index gained 0.5%, compared with a 7.6% return for S&P 500 over the same period. The return of the REITs index has trailed behind S&P 500 by more than seven percentage points for the first three quarters of the year.
For long-term investors such as defined benefit (DB) pension funds, however, REITs – companies that own, operate or finance income-producing real estate, and that are listed on the stock exchange – have historically delivered higher investment returns with less volatility, according to a study by the pension fund benchmarking firm CEM Benchmarking.
The study looked at the performance of 12 asset groups in the portfolios of about 250 DB pension funds over a 19-year period (1998-2016). It showed that REITs were the second-best-performing asset with 11% average annual total return net of fees, below private equity's 12%, but better than private real estate's 8.5%.
"One reason why REITs outperform private real estate is the cost. Their fees were 4% of gross return in the period 1998-2016 compared with 11% for private real estate, not to mention 15% fees for private equity and 17% for hedge funds. That is an important attribute for pension funds that are conscious about costs," says John Worth, the executive vice-president for research and investor outreach at the REIT lobbying group Nareit. "We believe that also DC plans should take advantage of REITs' qualities, and especially TDFs [target date funds] should increase their investments in REITs," he says.
The optimal allocation of US REITs in a retirement portfolio for workers with different retirement horizons, according to a Wilshire study commissioned by Nareit, ranges from 15% of the portfolio in REITs for a young worker with 40 years to retirement, to just over 7% for an investor near retirement age. So it is much higher than the current TDF allocation of 3.5%.
"The Wilshire study shows that including REITs in a TDF portfolio increases returns and reduces risks," says Worth. "Over the 42-year investment period from 1975 to 2017, the 'optimised' TDF portfolio would have resulted in a final value that is 16.7% higher than a portfolio without REITs."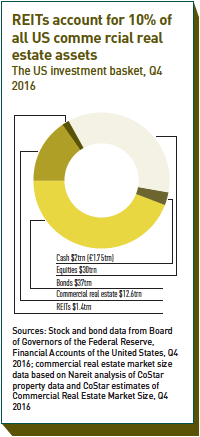 A partially different view comes from David O'Meara, senior investment consultant at Willis Towers Watson . "REITs have a role, because they own commercial properties and their rents generate income," he says. "Their returns have some tie with inflation. But they are not necessarily the best alternative asset class. REITs performed phenomenally well before 2018, thanks to real estate's rebound from the financial crisis. But this year has been different. For some investors REITs used to be considered akin to 'safe equities', an alternative to bonds, but with interest rates rising, bonds have become more competitive.
"For TDFs, other interesting alternative investments are public and private infrastructures. The problem is that large TDF providers don't have internal capabilities to select private equities, hedge funds, and real estate. They should find specialists to do that work, but it's operationally challenging and there is a lot of fear of litigation. So it is going to happen but slowly."
O'Meara is also sceptical of the attention to fees. "Fiduciaries should look more at the value of what they pay for; if they look only for cheap products they leave many good opportunities on the table."
Much of the current litigation is exactly about fees, says Neil Lloyd, head of US DC and financial wellness research at Mercer . "The investment argument in favour of alternative assets is good. More illiquid assets would add more value to TDFs, but how much would they cost? The environment is not favourable to alternatives, and fund managers prefer to stay safe 'with the herd'."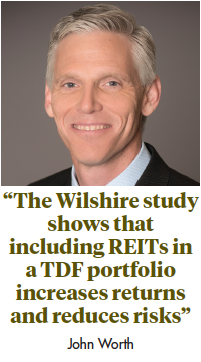 REITs are liquid and reasonably priced. However, they do not improve the adjusted-risk return by a great deal, according to Lloyd. "The problem with TDFs that had the worst performances during the last severe financial crisis was not their holding illiquid assets; it was having a lot of equities and high-yield credit," he says.
Among investment companies with TDFs invested in REITs, MFS Investment Management has an allocation of about 5% in REITs for the funds with a target date from 2045 to 2060. "Part of our strategy is to invest in assets that are less correlated to stocks and bonds, and more similar to commodities," says Natalie Shapiro, TDF portfolio manager and quantitative research analyst at MFS. "We don't invest more in alternatives because investors expect returns in line with the general market, even though their retirement date is 20 or more years away. We are working to get our clients more focused on the long term."